In August 1942 a battalion of 450 young ANZACS dug in around a remote jungle village high up in the Owen Stanley Ranges of New Guinea. They formed Australia's ragged last line of defence against a seemingly invincible Japanese war machine which had swept unchecked through Asia and the Pacific.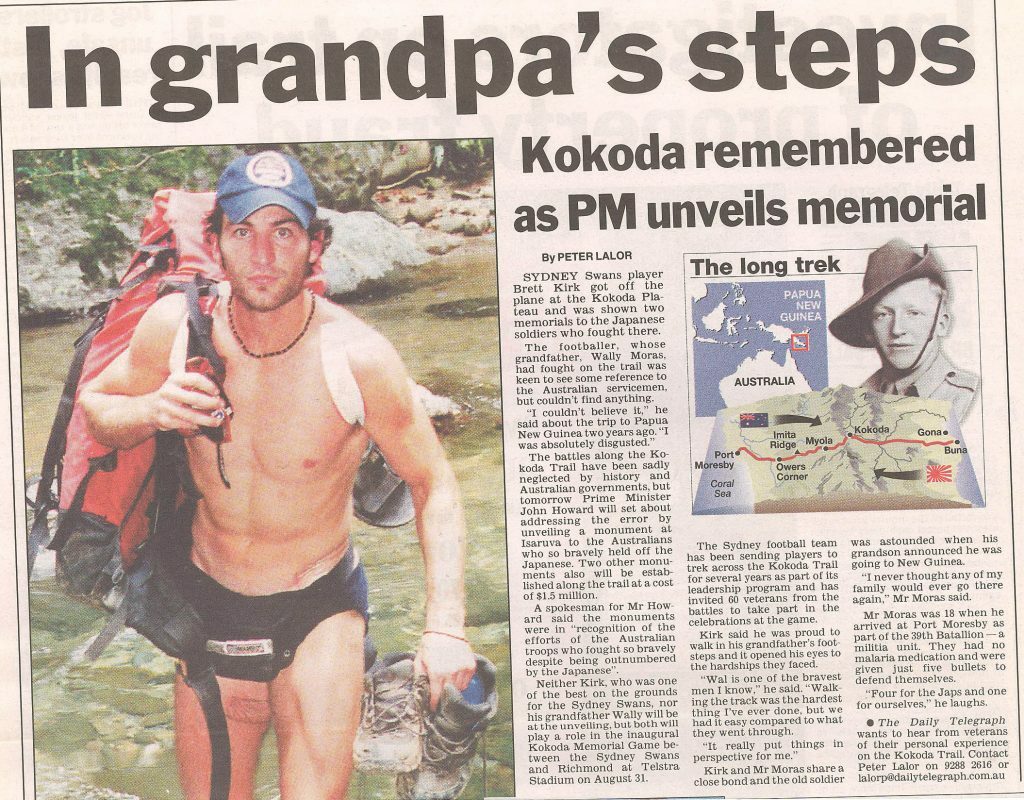 The village was called Isurava. The narrow jungle track winding through it was called Kokoda!
The Battalion was the 39th. The average age of the Diggers was 18½ years. They had been hastily trained and were ill-prepared for combat. They were heavily outnumbered and seriously outgunned. They had already been fighting the Japanese for six weeks in some of the most hostile jungle terrain on our planet. But they were all that stood between an invading army of 10,000 Japanese soldiers and their families back home in Australia.
The battle which was about to erupt has been likened to the ancient Greek battle of Thermopylae where 300 Spartans held a mountain pass against thousands of invading Persians nearly 2,500 years ago. Unlike the legendary Greek Spartans our Diggers remain largely unremembered and unhonoured.
When the fanatical Japanese army burst from the cover of the surrounding jungle all hell broke loose. The bravehearts of the 39th Militia Battalion held their ground but after three days and nights of savage hand-to-hand combat fewer than 200 gaunt figures were left standing.
These young warriors were on the verge of annihilation when the battle-hardened men of the 2/14th Australian Infantry Battalion emerged from the jungle to reinforce their position.
But it was not long before they too were in trouble.
At this point a motley group of about 30 wounded, sick and starving stragglers were being evacuated back along the Track when they heard of their plight. Slowly they turned around and hobbled back to battle to help their mates – just one of the many selfless acts of sacrifice that now typifies the spirit of Kokoda.
History records that we lost the battle of Isurava – but we never lost our fighting spirit!
Desperate battles continued along the Track until the Australians rallied on the last line of defence at Imita Ridge and began the offensive which drove the Japanese back into the sea at Buna and Gona. By this time the names of Butchers' Ridge, Brigade Hill, Ioribaiwa Ridge, Templeton's Crossing, Deniki and Kokoda had been emblazoned on the battle honours of proud Australian army units.
These battle honours symbolise the spirit of Kokoda – a spirit of mateship, courage, trust, respect, loyalty, stamina, endurance, selfless sacrifice and strength in adversity – enduring human qualities that inspire ordinary men to achieve extraordinary results against all the odds.
During six tough days in December six Sydney Swans footballers – Andrew Schauble, Rohan Wharfe, Brett Kirk, Gerard Bennet, Leo Barry and Ryan O'Keefe demonstrated that they are worthy inheritors of that spirit.