The human carnage from the Great War caused Lieutenant Colonel Sir Frederick Kenyon to set out a bold vision to honour our war dead in his report to the Imperial War Graves Commission in 1918:[i]
Kenyon was aware of the sensitivities of commemoration:
'My endeavour has been to arrive at a result which will, so far as may be, satisfy the feelings of relatives and comrades of those who lie in these cemeteries; which will represent the soldierly spirit and discipline in which they fought and fell; which will typify the Army to which they belonged; which will give expression to those deeper emotions, of regimental comradeship, of service to their Army, their King, their Country and their God, which underlay (perhaps often unconsciously) their sacrifice of themselves for the cause in which they fought, and which in ages to come will be a dignified memorial, worthy of the nation and of the men who gave their lives for it, in the lands of the Allies with whom and for whom they fought.'
As a result Commonwealth war cemeteries were tasked with incorporating two central structures: a secular Stone of Remembrance and a Christian-inspired Cross of Sacrifice. Rudyard Kipling recommended the inscription 'Their name liveth for evermore' for each Stone of Remembrance, a biblical text from the Book of Ecclesiasticus. He also penned a simple tribute for the headstones of the unidentified dead: 'A soldier of the Great War. Known unto God.'
Today, 7762 of our veterans from the War in the Pacific are buried in Commonwealth war cemeteries at Bomana, Lae and Rabaul. Of these 1643 remain unidentified and 'Known unto God'.
Concept
Our concept is to ensure 'their names liveth for evermore' through educational scholarships in Papua New Guinea.
Each scholarship will represent the seed of an educational oak tree for PNG students.
We chose the Oak tree as it is a universal symbol of strength and knowledge which is associated with honour, nobility, wisdom and longevity. An oak tree can take up to 50 years to mature and live for more than 1000 years.

Our educational oak trees will emerge from the headstones of our war dead which are carved from granite – the worlds oldest and most durable rock.
We will do the planting – others will fertilise them in future years.
Each student scholarship will be identified by the regimental number of a veteran and each one will be provided with an extract of their service record.
We would hope that sometime in the distant future, a PNG student from a remote mountain village will be able to say:
"if it had not been for the 'VX341182 Pte Jones Kokoda Scholarship' I would never have graduated as a doctor, a nurse, a teacher, a lawyer, a pilot, a designer, or a tradesman!"
Our Vision
To honour the legacy of our war dead in Papua New Guinea through the establishment of perpetual scholarships in their name.
Partnerships
Kokoda Scholarships will be based on partnerships established between kindergartens, schools, tertiary institutions, donors, Network Kokoda,[i] and a Kokoda Trust to be established in PNG.
A Memorandum of Understanding will be established between Adventure Kokoda, Sister Schools, Network Kokoda, the PNG Department of Education, and PNG schools in the following table: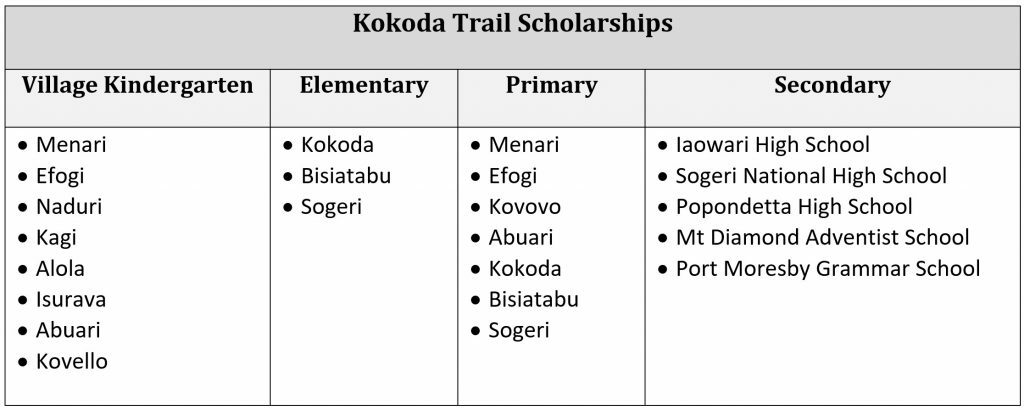 Village Schools
Schools beyond the national capital, Port Moresby, are often disadvantaged by a lack of resources and trained teachers. They are also limited in the level of local support they receive due to the subsistence nature of their local economies.
Notwithstanding this local communities are aware of the value of education. This is evident in the long queues of parents and students at school-gates at the beginning of each year as they attempt to find a placement. The commitment of local 'school boards' in each village is also indicative of the value they place on education.
Under our Kokoda Scholarships program each village school across the Kokoda Trail will be required to provide details of each village school board member together with a list of teachers and students for each class. Names will be verified with the PNG Department of Education.
Scholarship funds will be allocated for educational materials for teachers and students based on the recommendations of the PNG education curriculum. They will be transferred to each School Board at the commencement of each term and be acquitted by the end of the term. Adventure Kokoda trek leaders will monitor the program and provide progress reports during each term.
Primary-Secondary Schools
While primary and secondary schools are generally better resourced in regard to administration, trained teachers, and local infrastructure many struggle to meet the most basic needs of students.
Our most noticeable observation of these schools over the past 30 years is the dedication of teachers to make the most of the resources they have, the willingness of students to learn, the high level of mutual respect between them, and the willing support of their local communities.
The dedication of teachers is evident of the fact that they often have to work for long periods without pay, or walk long-distances over a couple of days, to collect it. They also have to improvise because of a lack of teaching aids and a regular supply of educational supplies.
Students are also disadvantaged by the difficulties their parents have in meeting the demands for 'parental contributions' to the school as most do not have a regular source of income within their subsistence economy.
Sister School Relationships
Over the past decade many Australian school groups have trekked across the Kokoda Trail to enhance the personal and leadership development. The experience inevitable has a profound impact on them and many would welcome an opportunity to establish an ongoing relationship with a local school.
We plan to facilitate 'sister-school' relationships as part of our Kokoda Scholarships initiative.
Scholarship Categories
Tertiary scholarships will be based on military honours awarded posthumously to our war dead in Bomana War Cemetery.  Scholarships will be awarded equally to male and female Year 12 graduates from the Port Moresby Grammar School who wish to continue their studies at a tertiary institution of their choice. Scholarships will be based on the following categories:
Victoria Cross: $4000 pa (Tertiary)
Distinguished Service Order: $3000 (Year 11)
Distinguished Conduct Medal: $3000 (Year 10)
Military Cross: $2000 (Year 9)
Military Medal: $2000 (Year 8)
Kokoda Trail Schools
Village Kindergarten: $2 per Week
Elementary: $3 per week
Primary: $5 per week
Secondary: $10 per week
---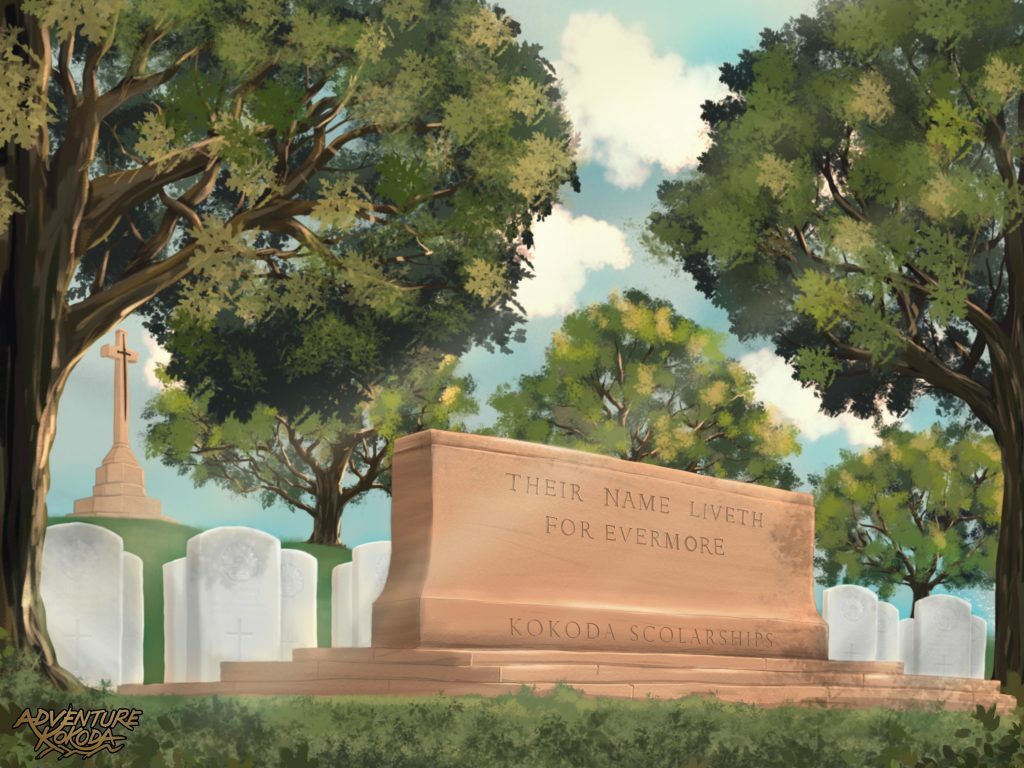 ---
[i] https://www.iwm.org.uk/history/their-name-liveth-for-evermore