by RASHMII BELL
WITH last weekend's observance of the 75th Anniversary of Victory in the Pacific (VP), the month of August has become a time of solemn reflection as I contemplate my own understanding of this period of wartime; its significance and place in public conversations and acts of genuine commitment to the nurturing of the relationship between Australia and Papua New Guinea (PNG); past, present and future.
In 1990, I emigrated to Australia to continue a primary school education that would be marked by an absence of teaching about Australia's historical connection, its colonial administration of, and joint wartime effort with my home country, PNG.
Just as I was settling into the routine of singing 'Advance Australia Fair' at school assembly and unwrapping morning teas of jam pikelets, a small handful of hikers were trying their hand at navigating a wartime trail across PNG's Owen Stanley Range. Among them was a Vietnam Veteran of the Australian Army whose training had extended to include qualification as a military free-fall parachutist and former record holder for the New South Wales ultramarathon race. The following year, he would lead 20 trekkers on a pilgrimage to commemorate the 50th anniversary of the events that took place along a wartime route, where today, thousands of Australian trekkers pay homage — the Kokoda Trail of the Kokoda Campaign in 1942.
By the time I was walking through my high school's front gate in Brisbane's northern suburbs, journalists and celebrities were seeking the organisation and leadership skills of the trekker who by that time, was emerging as Australia's prominent figure along the Trail and amongst its village communities. Media stories ran, cover stories featured, and the documentary 'The Angry Anderson Kokoda Challenge' was televised and viewed by almost three million. Kokoda was back in the mind of Australians.
Simultaneously, the hardy trekker had now been elected to the NSW Parliament, serving as Parliamentary Secretary for Veteran Affairs. He began lobbying the Australian and PNG Governments to protect and honour their shared wartime heritage across the Trail. Such was his commitment that he advanced PNG K20,000 for the PNG Government to establish the Kokoda Track Authority, to manage the wartime route's emerging trek tourism industry and ensure Trail communities received shared benefits.

Perhaps if my senior high school study of Modern History had acknowledged the War in the Pacific, the part time trek leader/full time parliamentarian's re-discovery of the battle site at Isurava may have etched in my mind the significance it would hold for me, personally, later on. A magnificent Memorial was officially opened by Papua New Guinea's Prime Minister, Grand Chief Sir Michael Somare, and Australia's Prime Minister, John Howard, in 2002.

By the time I had graduated from university in Queensland, began working and moved on to enrol my eldest child in primary school, the established Kokoda identity had retired from the NSW Legislative Council, and in 2015 was inducted as an Officer of the Logohu (OL) by the PNG Government 'for service to the bilateral relations between Papua New Guinea and Australia and especially in the development of the Kokoda Trail and its honoured place in the history of both nations over the past 25 years'.

Only a few short years later, I would stand alongside him at the Isurava Memorial.
THEMATIC to title, an oil painting by Kokoda Veteran 1942 and New South Wales Artist of the Year (1988), Allan Waite, greets the reader as the cover image of the chocolate tone-encased memoir by Charlie Lynn, 100 Treks ACROSS THE KOKODA TRAIL.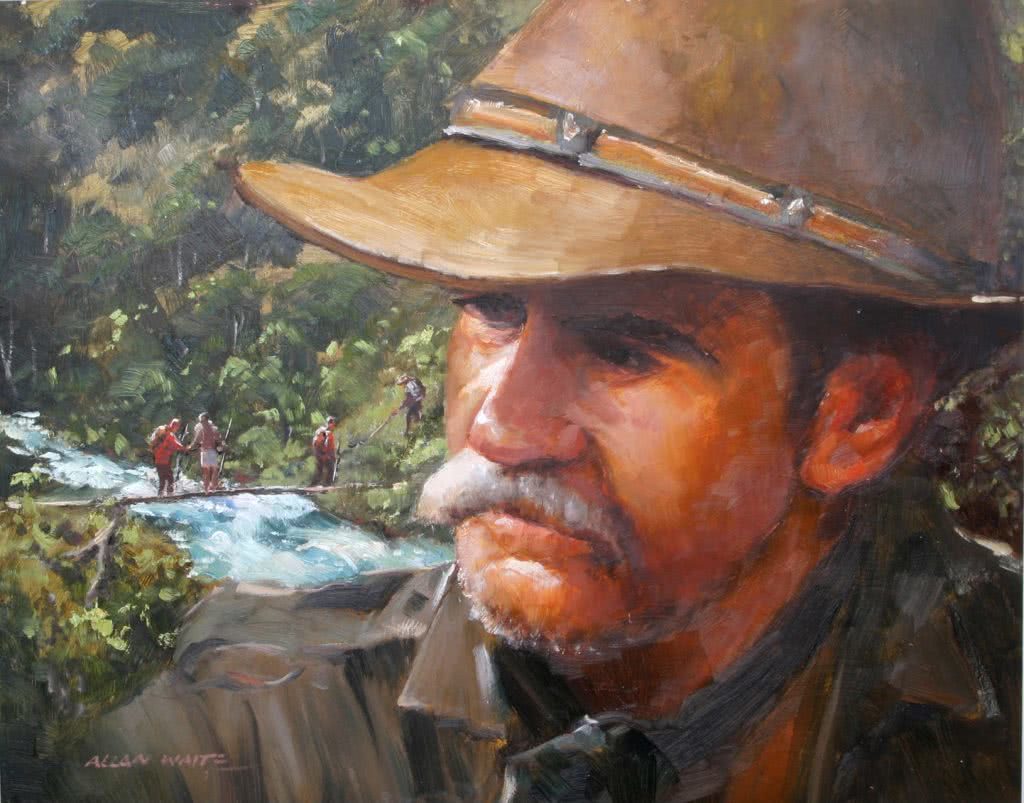 His signature Akubra sits aptly as an overhanging shade, providing temporary relief from the blistering heat to the backdrop of Australian trekkers and Papua New Guinean Carriers (Porters) manoeuvring across a log bridge, a fast-flowing river cascading below.

Similarly, the insert page's collage by Dani Banco features Charlie at the various phases of his life ; 'younger' and smiling and in side-by-side embrace with an Orokaiva couple in traditional dress, in mid-flight as a qualified military free-fall parachutist, and at ease in a stance I am all too familiar with; on the Trail, midway through delivery of a brief wartime history lecture to trekkers — complete with names, dates, data, literary text and full recital of a poem penned in respite during battle.

Comprehensive, detailed and highly disciplined in knowledge and conduct, it is reflection of a man of his distinction and official title; Major Charlie Lynn OAM OL.
The collage is a fitting segue to publisher Glenn Armstrong's introductory words, which encompass the panoramic 30-year commitment of the prominent figure of Kokoda; the Trail and outlying Provinces from which his humanitarian efforts, assisted by a wide network of compassionate Australians, has impacted and influenced Papua New Guinean lives and communities.
Reiterating that "Charlie Lynn's commitment to PNG is broader than his involvement with the Kokoda Trail", Armstrong summarises a chronological account of Charlie's arrival at Kokoda. From lending a guiding hand as benefactor and advocate of sustainable tourism managed by PNG's KTA, to his unwavering presence as a legally registered foreign trek operator of PNG's wartime Kokoda tourism industry – from its embryonic operations to its present day million-Kina revenue generation. Charlie's philanthropy has seen him steer the establishment of several non-government organisations (Australia and PNG-based) that have gone to expand and widen its reach, and managing fundraiser events to benefit PNG's population in acts of nurturing the historical bond between the people of our two nations.
Armstrong's outline serves not so much (though deservingly so) as a record of personal achievement, but as a demonstration of Charlie's diverse investment and vision in fostering positive bilateral relations through allocating time and resources to Kokoda and its people over a 30 year period through his company, Adventure Kokoda. An archive of striking full-page colour photographs have been weaved and nestled throughout the book but it is left to the subject to narrate his own story.

If you have had the chance to sit with Charlie, the ensuing sections of his hardcover tome deliver the same clarity and effectiveness of communication as you'd receive in-person.

Charlie writes in the same way he speaks; concise, lined with optimism and healthy dose of humour, and punctuated with a speedy recollection of facts and figures by only those who are fastidious with record-keeping can manage. It is a mastered skill from which the reader benefits as Charlie moves through setting out his memories. Orbost in country Victoria is where it all began.

As a young boy, who was immersed in 'Mother Nature's wonderland' of surrounding bushlands, Charlie would go on to compete in fun runs, marathons, ultramarathons and memorably, a combined run and parachute jump in Fort Lee, Virginia (USA). An idea by two Papua New Guineans to stage a race across the Trail to coincide with the 50th anniversary of the Kokoda campaign, marked the beginning of what has now evolved into a three-decade relationship.

And yet, Charlie's introduction to PNG took place years prior, as a young boy in his country town on the Snowy River in East Gippsland. VX 41453 Private Keith Charles Lynn had served in the 37/52 Battalion at Milne Bay, Lae and Finschhafen and so Charlie grew up listening to his father recount stories from the 'war in New Guinea'. Charlie's familiarity with Kokoda would register in hindsight when recalling a task during his 1979 posting at the RAAF Base in Richmond, when tasked with lifting of an old warplane "from a location east of Goroka" for transfer to Port Moresby.

Moving through from his first trek of Kokoda, to decades of leading young Australian students, professionals and a string of celebrities, including a trekker would who go on to become Australia's current Prime Minister, Charlie and his trek company's mastery at leading trek groups on pilgrimages, following in the footsteps of grandfathers, fathers and uncles are on display in 100 Treks ACROSS THE KOKODA TRAIL.

The collection of full-page photographs convey the comradery, sombre reflection and gutsy determination required to navigate the rugged terrain. In the same way, the images highlight trekkers' respectful observance for the way of life for generations of nieces, nephews and grandsons to continue, as their forefathers did. Adventure Kokoda's conscientious effort at prioritising mutually respectful relationship is, as I observed on the Trail, reciprocated through warm receptions and wholesome interaction between community members and trek groups.
The book is replete with commentary by those who have trekked alongside, and those who have observed from across the Coral Sea, Charlie's heart-expanding dedication that include his calls for reform to welfare and work conditions for today's PNG Guides and Carriers engaged in the Kokoda trekking industry, and the development and ongoing success of engaging young Australians with Kokoda through the Kokoda Youth Leadership Challenge program.

As is his passion for involving all in learning about Australia and PNG's shared wartime history, Charlie treats the reader to an armchair experience of Adventure Kokoda's 10 Day trek via the wartime route. Whether a past trekker, or one currently training or reading for general interest, following Charlie's itinerary is effective in conceptualising the pilgrimage.

Owers Corner, Ofi Creek, Efogi, Bombers Campsite, Lake Myola 1 and 2, Eora Creek, Templeton's Crossing – Charlie continues his narration until trek's end on the Kokoda Plateau about the Trail's terrain, trek rest points, significant battle sites and a catalogue of the names of those who sacrificed their lives.

As I observed during my trek, the stark absence of commemoration along the Trail leaves questions as to the commitment to honouring and preserving PNG and Australia's shared wartime past, despite the interest and revenue the wartime route (through trek tourism) has generated for both countries. It is an existing weakness which Charlie highlights at several points nearing the closing section of his memoir. As an amalgamation of his long-standing key concerns regarding the effectiveness of the Kokoda Trail's dual management by Australia and Papua New Guinea, the sections are a vital read to familiarise oneself as, without considered reflection, one might consider the Kokoda Trail and the trek tour operator dynamic as an aseptic conversation. But that is not his final word, nor his motivation.

In amongst his closing words of gratitude to his beloved father, colleagues, the Papua New Guinean Carriers and Guides of his trek company Adventure Kokoda, the communities of the Trail, friends, family, and his ever-constant and wife, Jill; we are reminded why Charlie Lynn has been conferred with Papua New Guinea's principal Order of Logohu awarded for distinguished service to Papua New Guinea, or to a local community, sustained over a period of at last ten years: "I encourage all trek operators to follow our lead and 'give back' to the community in Papua New Guinea."

A photograph captures a moment of him and I standing at Isurava Memorial.

It's some hour after sunrise on the morning of 15 August 2018, when the Papua New Guinean Guides and Carriers (Porters) of Adventure Kokoda have led and concluded a moving Dawn Service. He and I move to stand in front of one of the four, striking granite pillars. We call over one of my fellow trekkers and share jokes as she proceeds with testing her photographic skills. 'Mateship' hangs firmly in the backdrop as my Trek Leader, Major Charlie Lynn OAM OL and I beam early morning smiles into our phones' cameras.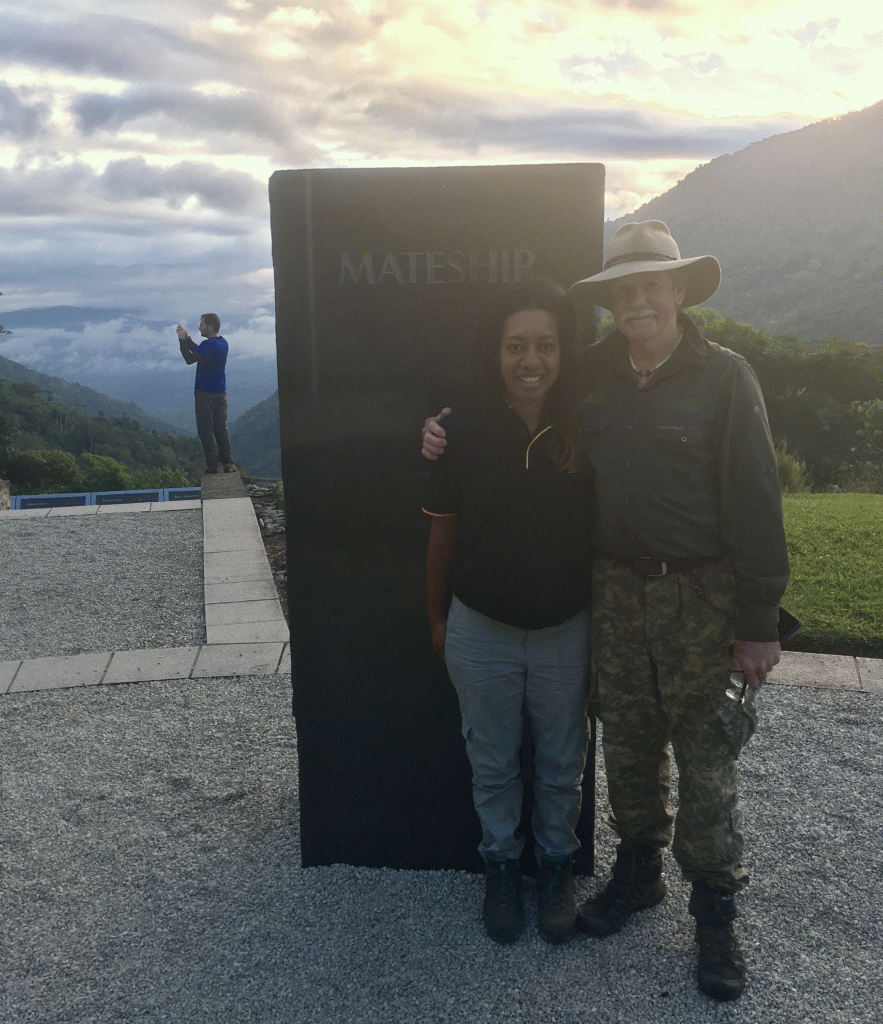 For the school years when I was not taught about PNG and Australia's shared military history through the Kokoda Campaign 1942, and the reading material that I've since pursed in adulthood, 100 Treks ACROSS THE KOKODA TRAIL is instructive in understanding its significance to our present day and future bilateral relationship.

100 Treks ACROSS THE KOKODA TRAIL by Charlie Lynn with Glenn Armstrong, TLA Media Pty Ltd (Aus)/ TLA Media Ltd (PNG) , $69.95 via www.kokodatreks.com/treks/merchandise