The 50th anniversary of the Kokoda campaign provided an opportunity for it to emerge from the shadow of Gallipoli. Our vision was tempered by the volatile law and order situation in Port Moresby at the time; a lack of information on the nature of the trail; and the logistics required; and a lack of corporate and civic awareness in Australia.
Sydney Morning Herald: 13 February 1992:
"Fancy a bit of jogging on the Kokoda Trail? Or for soldiers, maybe a forced march competition over the 100-kilometres or so of this famous terrain.

"All might be possible, if former Australian Army major and marathon-promoter Mr. Charlie Lynn has his way with an ambitious program to commemorate the 50th anniversary of the Kokoda campaign of World War 11.
"Mr. Lynn, who served 21 years in the Army, including a tour of Vietnam, is passionate about his project. Already, the anniversary of the fall of Rabaul on January 24, 1942, when an Australian battalion was decimated, has passed without comment.

"Rabaul was an Australian protectorate at the time," Mr. Lynn said. "It was the first time enemy troops had ever invaded Australian soil."

"Mr. Lynn, has formed a company, Kokoda Epic Pty Ltd with television producer Mr. Patrick Lindsay, launched his promotional campaign in Sydney yesterday, aimed at corporate sponsorship, which if successful will include:
April 15-25: The Kokoda Remembrance Trek – a trek between the village of Kokoda and the war cemetery at Bomana and the war cemetery at Bomana to participate in official Anzac Day commemoration ceremonies.
November 3-8: The Kokoda Epic Run – an international endurance footrace across the Kokoda Trail.
November 8-18: The Kokoda Military Challenge – an endurance contest between armed service teams from Australia, Papua New Guinea, the US and Japan to see which can complete a forced march across the Kokoda Trail in the fastest time.
1992-1995: The Kokoda Corporate Challenge – an endurance contest between corporate teams from Australia, Papua New Guinea, the US and Japan to see which can cross the Kokoda Trail in the fastest time.
"Mr. Lynn was the brains behind events such as the Sydney-Melbourne Ultramarathon and the Anzac Day Marathon.

"He helped plans the Vietnam Welcome Home Parade in 1987 and he has been working with the RSL to draw up plans for perpetuating the Anzac Spirit.

"The only way we can appreciate what happened on the Kokoda Trail is to get executives to walk on it," he said. "When they get to the war cemetery at Bomana, I think they will appreciate the sacrifices that were made. Especially when some of those killed were only 18 years old."

"Andy why not? Such men downed tools and went out to confront overwhelming numbers of Japanese trying to reach Port Moresby across the Owen Stanley Ranges. The first clash was in July 1942, and it ended with Australian victory the following November.

"Mr. Lynn said: "I have already had an enthusiastic reception to the idea from the groups I have spoked to, including a Chamber of Commerce I spoke to last night."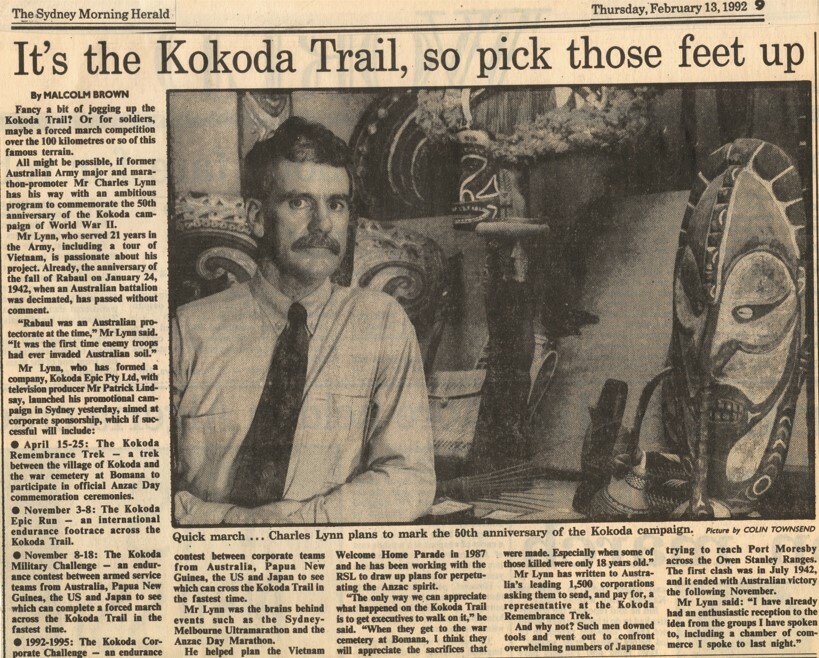 Sydney Morning Herald: Corporate captains shun Kokoda Trail: 23 March 1992
The following article by Malcolm Brown in the Sydney Morning Herald made it possible for us to organise a viable trek as our numbers increased from one trekker, to two, then 10 – and we finished with 20 – it was the trigger for the beginning of a trekking industry that has become the most popular 'bucket-list' item for Australians from all walks of life – but as they say – every great journey starts with the first step! This was it.
"Thank you for inviting us to participate, but unfortunately we are unable to send a representative." was a fairly common response to Major Charlie Lynn's invitation to corporate Australia to participate in the Kokoda Remembrance Trek, the 50th anniversary walk along the Kokoda Trail.

"One company sent a form letter, stating: 'Dear Sir/Madam, I am in receipt of your letter requesting a donation. I very much appreciate that only very limited funds have been allocated for such requests."

"Major Lynn, a retired Regular Army officer and event director for Kokoda Epic Pty Ltd, and a driving force behind moves to commemorate this decisive battle of World War 11, was "a bit disappointed'".

"He had sent out 1,500 letters to corporations through Australia and gone to 88 Australian cities asking each organisation to send a representative.

"The plan was that the corporation should fund their representative to go on the expedition, which would leave Australia on April 15, start on the trail on April 17, and finish at the Bomana war cemetery outside Port Moresby on April 24, the eve of Anzac Day.

"It would be a physical challenge, Mr Lynn agreed, and certainly different from the air-conditioned environment of corporate executives, but a sure-fire way of getting the message across as to what was achieved in the darkest days of World War 11.

"The result? About 100 letters declining the invitation, or writing it off as another appeal for money. There was just one corporate representative prepared to go.

"That was Mr. Ian Webster, chief executive of Universal Press Pty Ltd, which owns UBD.

"There was one other positive response, from Mrs. Jessical Delaney, of Melbourne, but she was the sister of corporate managing director. She wanted to go because her father had fought on the Kokoda Trail. So she was not representing corporate Australia.

"And not one response from civic Australia.

"Mr. Webster, 39, said yesterday that he was in training for the trek, jogging daily, but 'staggered' to discover that he was the only corporate representative going.

"I am going because it is high time we got out of this recession mode and got a bit of adventure back into our life.

"It will give a few physical challenges one is not confronted with in normal life.

"It will give a chance for a bit of reflection on the Anzacs and the sacrifices people made in the war."

"Mr. Websters father was a soldier serving in air supply in New Guinea, part of whose job was to resupply troops on the Kokoda Trail.

"Major Lynn attributed the poor response to apathy and a lack of knowledge of the importance of Kokoda. A group of about 10 will do the 100-kilometre trek."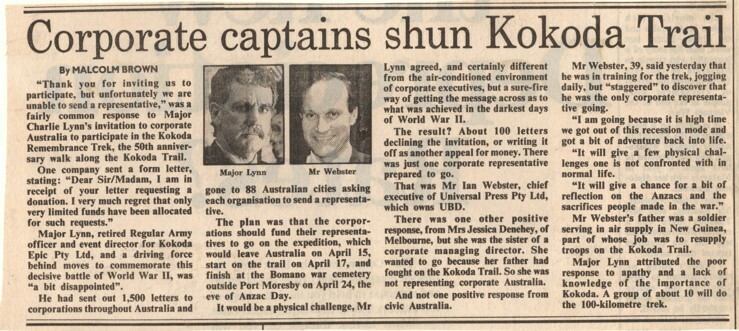 The Bulletin with Newsweek – a national magazine at the time – sent a young reporter, Helen Pitt, to join our 50th anniversary trek. It turned out to be such a profound experience they ran it as a cover story with a 5-page feature article. This led to more enquires which allowed us to organise another trek – then another – and another after that. The rest, as they say, is history.