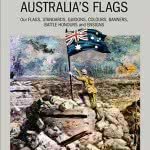 This morning I had the honour of attending the official launch of Major General Gordon Maitland's book 'The Story of Australia's Flags which was hosted by the Department of Veterans Affairs in Sydney.  It follow on from his previous publication 'Honours and Awards of the Australian Army. Both are published by Playbill Military Productions and are essential references to anybody with an interest in the customs and traditions of our Australian military forces.
In his dedication to his book Major General Gordon Maitland wrote:
'Australians formally announce themselves by flying our flag or singing our National Anthem.
'Sometimes we may do so more informally by flying a flag bearing an image of one of our unique fauna or by singing Waltzing Matilda.
'Another favourite song is: 'We are one, but we are many, and from all the lands on Earth we come, we share a dream and sing with one voice – I am, you are, we are Australian'. It was written by Bruce Woodley and Dobe Newton in 1987 and is owned by Telstra. I am biased and would prefer 'flag' to 'dream'.
'No doubt my upbringing contributed to my bias for I am of that generation which, at school, recited:
I honour my God; I serve my King; I salute my flag.
'Like many of our wonderful ways it has been lost by progress [?] (more…)