The Kokoda Tour Operators Forum scheduled to take place in a 5-star Brisbane hotel on 23-24 November 2023 should be cancelled and either conducted via Zoom – or switched to Port Moresby.
Last week we were advised the number of Australian and PNG officials travelling to Brisbane from the DFAT Kokoda Initiative, the PNG Environment Conservation Protection Authority and the Kokoda Track Authority (KTA) will outnumber Australian tour companies who have registered for it.
It would therefore make more sense to set up a Zoom meeting which would save thousands of dollars on business class airfares, international hotel rooms, meals and transport. These funds could then be directed towards community projects across the Trail to assist villagers in the lead-up to Christmas.
The lack of tour operators registered for the forum indicates a lack of respect for the process which has not resulted in a single outcome from any KTA forum conducted in Australia over the past 14 years – apart from setting the date of their next international forum!
Kokoda tour operators are still waiting for the Minutes of a KTA Forum conducted in Cairns six years ago on 14 November 2017.
This was a crucial forum as PNG tour operators were unanimous in the need to protect the welfare of guides and porter by reducing the maximum weight to 18 kg, providing them with proper uniforms, sleeping bags, foam mats, and a 'walk-home' allowance at the end of each trek.
Their motion was resisted by the Australian Kokoda Tour Operators Association (KTOA).
The 'PNG Guides and Porters Association' representative was 'persuaded' not to attend the meeting and the former CEO of the KTA never tabled the motion.

The Australian KTOA was therefore able to influence the PNG KTA to protect their business model which is based on minimizing costs during their treks at the expense of the guides and porters they employ.
A lack of good governance by the KTA also allows KTOA members to avoid paying tax in PNG on the profits they generate from Kokoda tourism.
Australian officials involved in the DFAT Kokoda Initiative, CEPA and KTA should therefore remain in PNG and catch up on their work.
For example, they have not published an Annual Financial Report since the current CEO of the KTA was seconded from the Department of Provincial and Local Level Government Affairs in an Acting capacity in 2018. Tour operators therefore have no idea where the money the KTA has collected for trek permits since then has gone.
The KTA has not published a regular monthly newsletter since 2014 so nobody has any idea what they do.
All we know is what they don't do!
They don't have a booking system for campsites. They don't have a trek itinerary management system so nobody knows who is on the trail at any time. They don't have any micro-business plans to help villagers earn additional money from trekkers. They don't have a trail maintenance plan – or a campsite development plan. They don't offer any protection for the welfare of guides, carriers and campsite owners. They refuse to provide assistance to villagers needing urgent medical treatment. They don't maintain a database. They don't have a single management protocol in place. They don't answer critical emails. Etc. Etc. Etc.
Of equal concern is the fact that the agenda they have cobbled together does not justify the expense of an international forum – nor does it reflect any understanding of the needs of tour operators, their paying customers, or the subsistence villagers they are supposed to support.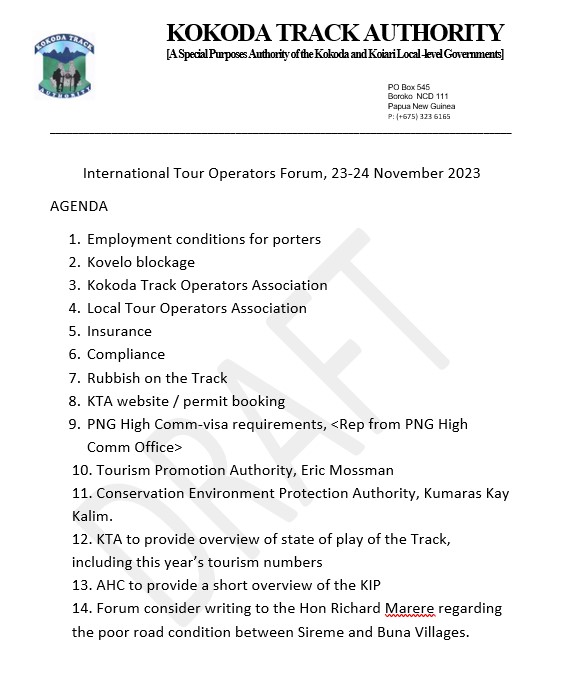 Following are brief comments on each of the proposed agenda items:
1. Employment Conditions of Porters
This topic has been discussed at every KTA Forum since 2015.
No action has ever been taken due to opposition from the Australian Kokoda Tour Operators Association (KTOA) which was established to protect their business model of minimising costs in PNG at the expense of the guides and porters they engage.
2. Kovello Blockage
This is a direct result of the failure of the KTA to ever produce a financial report. As a result, nobody knows where the K1 million they collect in trek permit fees each year goes. Nothing has been allocated to Kovello so they have taken the law into their own hands.
It is also due to the failure of the DFAT Kokoda Initiative-CEPA to conduct village-based workshops to discuss the local needs of villagers. As a result, there is a high level of distrust and frustration within village communities who are now just spectators to a passing parade of trekkers.
3. Kokoda Tour Operators Association
The Kokoda Tour Operators Association is a shameless lobby established in 2016 to protect the business interests of a group of 11 Australian tour operators.
In 2023 only eight members remain – half of these four have have phased doen their operations and are rarely seen on the Trail.
However, while their effective numbers have reduced by more than 50 percent their influence has increased significantly since Mick O'Malley of Australian Kokoda Tours was elected President.
According to IPA records the Business Name 'Australian Kokoda Tours' lapsed on on 31 August 2023.
Despite this the KTA continues to issue trek permits to Australian Kokoda Tours in breach of the IPA Act as well as their own license conditions for tour operators.
IPA records indicate KTOA members treat the PNG Investment Promotion Authority (IPA) Act with contempt and none have ever paid tax on the profits they have generated from Kokoda tourism in PNG.
The KTA have been advised of these facts but have turned a blind eye to them.
The modus operandi of the KTOA has been exposed on the following two links:
1. The Battle of Kokoda
2. Kokoda Tour Operators Association Exposed
4, Local Tour Operators Association
This is an irrelevant topic for an international forum. It would be more efficient and effective to distribute a written brief on the status andpurpose of the Association.
5. Insurance
The requirement for Kokoda tour operators to have a valid Publicity Liability Insurance policy has been discussed at every Tour Operators Forum since 2009.
No substantive action has ever been taken by the KTA to enforce the legal obligation they have in this regard.
The KTA has never conducted any due diligence checks on this issue in the past and have failed in their duty of care on this important issue by continuing to issue trek permits to tour operators who do not have any form of public liability insurance.

6. Compliance
The majority of Australian Kokoda tour operators ignore the need to comply with the IPA Act and the KTA 'Commercial Operations License Conditions 2012'.
The KTA have been advised of the extent of non-compliance on numerous occasions but have chosen to ignore it.
As a result there is a proliferation of illegal tour companies operating along the Kokoda Trail.
7. Rubbish on the Track
There is no need for this issue to be included on an agenda for an international forum as it can be addressed in newsletters and monitored by rangers.
8. KTA Website/Permit Booking
The current KTA website is an embarrassment – it is poorly designed, outdated, contains incorrect and irrelevant information, and lists tour operators no longer exist and others who operate illegally across the Trail. It is not supported by a database, has no linkages to social media platforms, and no provision for interactive feedback.
The KTA has made numerous announcements regarding a online campsite booking and trek permit systems since 2009 but nothing has ever happened.
There is no need to discuss this at an international tour operator's forum as it is clear that nobody in the KTA understands the issue.
Submissions made to them in good faith to rectify this issue have been ignored.
Click here fior the link to The Kokoda Track Authority
9. PNG High Comm-Visa Requirements – Rep from PNG High Comm Office
This information can be easily disseminated via newsletter.
10. Tourism Promotion Authority – Eric Mossman
The Tourism Promotion Authority has been relegated to membership of a CEPA Kokoda Initiative Committee, an advisory body that has usurped the KTA Board appointed by the Minister for Provincial and Local-Level Government Affairs.
A discussion paper on any planned marketing initiatives for Kokoda tourism would be more appropriate and cost effective.
11. Conservation Environment Authority (CEPA), Kumaras Kay Kalim
Since CEPA assumed control of the Kokoda Trail in 2009 trekker numbers have fallen by 46 percent.
This has resulted in a cumulative loss of more than K40 million in foregone wages, campsite fees and local purchases for villagers across the Trail.
The proposed CEPA 'Kokoda Track Management Authority (KTMA) Bill will result in the permanent management of the Kokoda Trail as an environmental resource for the benefit of foreign aid-funded environmentalists rather than as a tourism enterprise for the economic benefit of traditional landowner communities across the Trail.
If it is successful PNG will become the only country in the world to allow their most popular tourism destination to be managed by environment bureaucrats – it will be akin to a suicide note for Kokoda tourism.
CEPA have also failed to develop an environmental management plan for the Trail since they took control of the Trail and have not even placed a single interpretation sign for the vast range of flora and fauna across the Trail.
The following links expose the modus operandi of the DFAT Kokoda Initiate and CEPA regarding the future management of the Kokoda Trail as an environment issue rather than as a tourism enterprise:
1. New Kokoda Management Bill a Suicide Note for Kokoda Tourism
2. Foreign Interference Concerns re Proposed DFAT Kokioda Track Management Authority for PNG
3. Review of the DFAT Kokoda Track Management Authority Act

12. KTA to provide overview of state of play of the Track, including this year's tourism numbers
This information can be distributed via newsletters.
Tour operators already know the state of play along the Trail as they are constantly trekking across it and dealing with village communities along the way – the only time KTA staff visit the Trail is via helicopter for brief visits to selected places.
The KTA used to distribute monthly trekker statistics to all operators but unilaterally decided to stop this practice in 2014 – they also decided to stop distributing monthly newsletters at the same time.
Since then, tour operators have been kept largely in the dark. No reason has ever been given for treating their paying customers with such contempt.
The KTA has also failed to publish any annual financial reports so nobody has any idea how they spend the estimated K1 million each year. There is little evidence of these funds being invested to provide employment across the Trail, to assist with campsite development, or to even build a single toilet that meets the hygienic requirements of foreign tourists.
Anecdotal advice indicates that the KTA now spends all of the income received from trek permits on administering themselves.
Unless the KTA is prepared to issue monthly figures relating to the number of trek permits issued to tour operators plus an annual figure for each licensed Kokoda tour operator this agenda item will be a complete waste of time.
13. Australian High Committion to provide a short overview of the KIP (Kokoda Initiative Program)
AHC can provide this information via newsletter to all stakeholder involved in Kokoda tourism.
There is absolutely no need for taxpayers to fund and an international airfare, together with transport and accommodation costs just to have an official read the information to the forum.
14. Forum consider writing to the Hom. Richard Marere regarding the poor road conditions between Sireme and Buna Villages.
This is a PNG Provincial Government issue and not relevant to an international tour operator's forum.