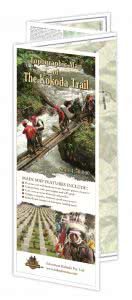 Trekking the Kokoda Trail in Papua New Guinea will be a little easier with the release of the first topographical map to be produced in 37 years.

The map has a scale of 1:50,000 and contains contour lines with spot heights and Global Positioning System Grids; the location of wartime villages, battle-sites, fire-support bases and logistic support areas; detailed map inserts for each major battle of the Kokoda campaign; villages, campsites, lookouts, water points; and traditional and wartime names of mountains, rivers, creeks and significant features.
Until now the only topographical maps of the Owen Stanley Ranges were 1:100,000 produced by the Australian Army Survey Corps in the early 1970s. These maps were developed from wartime sketch maps, patrol reports and air photographs. They were useful but difficult to navigate with because of the scale and seriously out of date with the changes in tracks and the relocation of villages.
The introduction of the Garmin GPSMAPS 60 hand-held receiver with highly sensitive antennae allowed satellite signals to penetrate the thick jungle canopy and provide accurate longitudinal and latitudinal recordings for the first time.
Over the past four years Charlie Lynn, who has trekked Kokoda 60 times over the past 20 years engaged a cartographer to plot his recordings using sophisticated mapping software. He equipped each of his trek leaders from Adventure Kokoda with a Garmin GPSMAPS 60 and obtained wartime maps from the Australian War Memorial and the National Library in Canberra. Information was gathered from more than 30 crossings of the Kokoda Trail during this period and consolidated by Laurie Whiddon of Map Illustrations
Special mapping expeditions were also planned with local landowners and trek guides to find the original wartime routes using the 1:100,000 Army Survey maps as a guide. These were eventually located and recorded. These expeditions also identified the wartime locations of villages and the exact location of the various battlesites.
The map identifies all airfields and helicopter landing zones along the trail and will be made available to all airlines and helicopter companies in PNG for use in emergency situations.
The map has a comprehensive narrative of the Kokoda campaign which allows trekkers to follow the wartime history of the trail.
The map has been folded to allow trekkers to easily view one day's trekking at a time. This feature provides a topographical overview of the day ahead together with a cross-section profile of the climbs and descents.
The map was used by the PNG Accident Investigation Commission for their official investigation into the aircraft crash in the Kokoda corridor on 11 August 2009 as there were no other suitable maps available.
The map can be viewed at www.kokodatreks.com