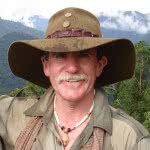 The most relevant guide to the potential of a wartime tourism industry in PNG is the continued growth in Australians making the pilgrimage to Gallipoli.
Each year up to 9,000 Australians visit the Dawn Service at Anzac Cove.  Thousands more visit it at other times of the year. It is now becoming a pilgrimage for more than a million Turkish people also visiting Gallipoli each year.
In just two years' time (2017) Australia and Papua New Guinea will commemorate the 75th anniversary of the Kokoda campaign. This will be a historic occasion because it will be the 'last parade' for surviving veterans.
Two of the key objectives we wished to achieve when we proposed the establishment of a management authority for the Kokoda Trail in 2002 were:
to establish 'Kokoda' as a model for a wartime tourism industry in PNG; and
to ensure villagers along the trail received shared benefits from the emerging Kokoda trekking industry.
Papua New Guinea has the potential to be a world class adventure-tourism destination but it has to address negative perceptions in regard to safety and reliability – particularly after the 'Black Cat Track' murders.  This will require a focused investment in national marketing and support for the development of niche adventures such as wartime pilgrimages, eco-trekking, white-water rafting, caving, bird-watching, diving, surfing, fishing and culture. [Read more…]