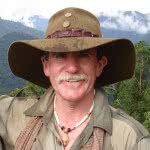 The most relevant guide to the potential of the Kokoda trekking industry is the continued growth in Australians making the pilgrimage to Gallipoli.
Each year up to 9 000 Australians visit the Dawn Service at Anzac Cove. Thousands more visit it at other times of the year. It is now becoming a pilgrimage for more than a million Turkish people also visiting Gallipoli each year.
Papua New Guinea has the potential to be a world class adventure-tourism destination but it has to address negative perceptions in regard to safety and reliability – particularly after the recent 'Black Cat Track' murders. This will require a focused investment in national marketing and support for the development of niche adventures such as wartime pilgrimages, eco-trekking, white-water rafting, caving, bird-watching, diving, surfing, fishing and culture.
People who participate in these niche adventure activities are generally more aware of the sensitivities of culture and environment and do not expect 5-star accommodation and service. They are also more tolerant of 'surprises' that are often experienced in the 'land of the unexpected'. (more…)