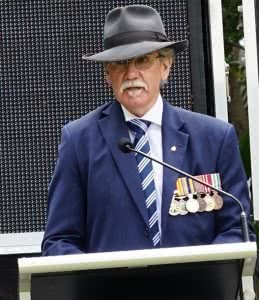 Kokoda Day Speech by Charlie Lynn MLC at the Kokoda Track Memorial Walkway, Concord – 3 November 2014
Today we commemorate the 72nd anniversary of the day the Australian flag was raised by our troops after they had recaptured the village of Kokoda. This ceremony would never have happened if our allied naval forces had not thwarted Japanese plans for a seaborne invasion of Port Moresby in the battle of the Coral Sea in May 1942 and the battle of Midway in June 1942.
Japanese plans for the capture of Port Moresby were continually disrupted by the heroic actions of our fighter and bomber pilots who continually bombed Rabaul and the Japanese landing fleets on the northern beaches at Buna and Gona. Our coastwatchers and commandos were instrumental in reporting and harassing Japanese plans and movements.
This left them with the only option of a land assault via a series of unknown native tracks connecting remote native villages across the Owen Stanley Ranges – to become known as the Kokoda Trail. [Read more…]