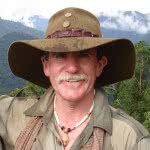 The recent publication of 'Australia's Secret War' by Hal Colebatch is a disturbing reminder that not all Australian's supported our diggers as they fought and died along the Kokoda Trail and in other campaigns during World War 11.
Colebatch's research has lifted the scab off the suppressed and hidden story of the war waged from 1939 to 1945 by a number of key Australian trade unions against their own society and against the men and women of their own country's fighting forces at the time of its gravest peril. In a review of the book, Miranda Devine wrote:
"One of the most obscene acts occurred in October, 1945, at the end of the war, after Australian soldiers were released from Japanese prison camps. They were half dead, starving and desperate for home. But when the British aircraft-carrier HMS Speaker brought them into Sydney Harbour, the wharfies went on strike. For 36 hours, the soldiers were forced to remain on-board, tantalisingly close to home. This final act of cruelty from their countrymen was their thanks for all the sacrifice."
'Australia's Secret War' was published by Quadrant and is available at http://quadrant.org.au
It is a timely reminder that not all Australians were heroes as we approach the Centenary of Anzac in 2015 and the 75th anniversary of the War in the Pacific in 2017.
There is no doubt that the politically correct brigade will attempt to reinterpret our military history by exposing 'Anzac myths', denigrating the 'glorification of war', uncovering stories of 'rape, pillage and plunder' and attributing war to the evils of capitalism, Fortunately the majority of Australians will seek to commemorate these historical anniversaries with the respect they deserve. [Read more…]