'What? Provide for the welfare of natives on the Kokoda Trail – you've got to be kidding!'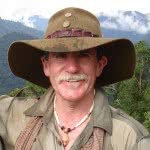 That's not exactly what they said but the Australian based Kokoda Tour Operators Association (KTOA) submission to a review of the PNG Kokoda Track Authority (KTA) ridiculed a suggestion that they should have to provide for the welfare of their guides and carriers. This could create an 'entitlement mentality' they wailed!
What is really required, according to the KTOA, is a combination of 'education – hard skills – and thought process'.
They don't explain how they would 'educate' a subsistence villager to carry loads far heavier than the maximum allowed for their 'fuzzy-wuzzy angel' forebears in 1942 – or how they would 'educate' them to sleep on freezing, wet ground without a sleeping bag or mat in the upper reaches of the Owen Stanley Ranges – or how they would 'educate' their bodies to be physically sustained on packets of two-minute noodles.
The KTOA assertion that 'for successful commerce, all parties must bring something to the table – there cannot be a hand out mentality' is reminiscent of a colonial blackbirder addressing a native work-party in the late 19th Century.
Whilst their submission acknowledges 'the legitimate right of landowners to participate in and benefit from the Kokoda Track tourism experience' they maintain that 'this right needs to be translated to viable means by which this can happen; education and mentoring is needed to develop the skillsets required and the appreciation that self-sustainable change and development requires a contribution from oneself'.
WTF! This surely takes patronising arrogance to a new level. (more…)