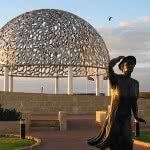 71 years ago today HMAS Sydney died fighting.
The Australian light cruiser HMAS Sydney and her gallant crew were lost shortly after sunset on 19 November 1942 off the Western Australian coast.  The ultimate fate of HMAS Sydney remained a mystery until 2008. Today we know that the shattered hull of HMAS Sydney lies on the bed of the Indian Ocean 1n 2500 metres of water, 240 off Shark Bay.
Nine months before the ship and her crew met their fate they marched past this very cenotaph. They had just returned from distinguished service in the Mediterranean in which she had inflicted disproportionate loss on enemy navies.
One of those who marched through Sydney on his return from the Mediterranean was Stoker James Stuart of Redfern.  He had acquired a bosun's call from HMAS Sydney and left the instrument with his family. He never returned to collect his souvenir and today it is in the collection of the Hornsby RSL.
HMAS Sydney had been launched in 1934, one of three light cruisers ordered by the Australian government as part of an expansion of the Royal Australian Navy. The others were HMAS Perth (sunk in Sunda Strait in 1942) and HMAS Hobart (badly damaged but survived the war) and the heavy cruiser HMAS Canberra (sunk near Sabo Island at Guadalcanal). [Read more…]