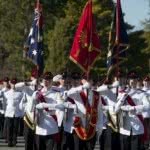 Public interest in the Kokoda campaign over the past decade has been accompanied by the emergence of pop historians and wannabees whose new-found 'passion' for our veterans seems to coincide with the opportunity to make a quid out of it. Many seem to share a couple of traits – they have never served in uniform, they have a strong bias against America, and they try to outstrip each other in their denigration of General Sir Thomas Blamey.
Their ignorance of the significance of military traditions is evident in their refusal to acknowledge the Battle Honour awarded to the 10 infantry battalions who fought in the Kokoda campaign i.e. The Kokoda Trail.
These prejudices have manifested themselves in the emergence of 'Kokoda Track' as the more acceptable politically correct term. This will eventually correct itself as people become more aware of the tradition behind the awarding of a Battle Honour and its significance on the Regimental Flag or 'Colour'.
The term 'Colours' broadly encompasses the four distinctive forms of Honourable Insignia that are the symbol of the spirit of a regiment, for on them are borne the battle honours and badges granted to the unit in commemoration of gallant deeds performed by members of the unit from the time their unit was raised. [Read more…]