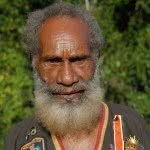 Trekking Kokoda will never be the same without the presence of distinguished elder, Faole Bokoi, to welcome trekkers as they enter Menari village.
Faole was a former luluai (clan leader), village constable and mail carrier under Australian colonial rule. It is unlikely that he was a wartime carrier due to his estimated age. The Australian New Guinea Army Unit recruited boys over the age of 16 years as carriers. Faole would therefore have been 98 years old at the time of his passing.  The average life span for PNG males is currently 62 years. It would have meant that Faole would have been 73 years of age when I first met him 25 years ago. I would have estimated his age to be 50-55 years at that time.
This is not meant to detract from the value of his service to his people as the task of carrying mailbags from Owers Corner to the changeover point on the crest between Crossing 1 and Templeton's Crossing would have been arduous and dangerous. After meeting his fellow Orokaiva mail carriers from Kokoda there would be an exchange of mailbags and Faole would return to Owers Corner.
Faole was a wonderful caring man and a respected elder in Menari.
We are proud of the fact that we were able to contribute to his welfare through our trekkers donating approximately $2,000 each year for the opportunity to be photographed with him.  We also paid for an operation on the feet of his grand-daughter, Nancy who was a baby at the time. I recently met Nancy at Owers Corner and she is now a normal healthy teenager as a result of the operation. [Read more…]