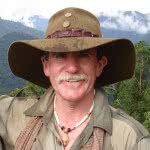 Ownership of the naming rights of the Kokoda Trail is a keenly contested point of debate in Australia.
Do they belong to the nation which retains sovereign ownership of the land between Owers Corner and Kokoda i.e. Papua New Guinea?
Or the Papuan Infantry Battalion and the 10 Australian Battalions who were awarded the battle honour 'Kokoda Trail'?
Or the custodians of political correctness amongst the Australian commentariat who dislike the name 'trail' because of its American connotation?

Over the past decade almost 40,000 Australians have trekked across the Kokoda Trail in Papua New Guinea. Most trekkers are motivated by the wartime history of the Kokoda campaign and this has led to a range of books and television stories on the subject. It has also led to some extensive debate about the official name of the trail.
Contemporary debate over the name evolved after former Australian Prime Minister Paul Keating kissed the ground at Kokoda on the 50th anniversary of the campaign in April 1992. This was accompanied by much 'talkback' noise about 'trail' being an American term and 'track' being the language of the Australian bush (ignoring the fact that our bush is criss-crossed with fire-trails). This suited Keating's agenda for an Australian republic at the time.
The debate suited those in the Australian commentariat who harboured a strong anti-American bias over their engagement in Iraq around the time of the 60th anniversary of the Kokoda campaign. As most of the commentariat had never served in the regular armed forces they could be excused for not appreciating the esprit de corps associated with a battle honour. This, however, does not excuse them for ambushing a name that doesn't reflect their political bias.
'Kokoda Track' has since emerged as the politically correct term in Australia in spite of the fact that the battle honour 'Kokoda Trail' was awarded to the Papuan Infantry Battalion and the 10 Australian battalions who fought in the Kokoda campaign. It is also in defiance of the Papua New Guinea government who gazetted the name 'Kokoda Trail' in 1972. (more…)