"In recent years the academics have discovered New Guinea. Grave, plump, portentous, they swarm north in their hundreds each winter, generally finishing somewhere near Goroka in the Eastern Highlands where at times they become so numerous that every bush and stone seems to conceal a lurking bureaucrat or anthropologist. After a few weeks or a few months they return home to prepare brisk solutions for all the problems which beset the land. Too often they see New Guinea coldly as an exercise in nation-building to be carried out as quickly as possible, with one eye on the taxpayer at home and the other on some ranting demagogue in the United Nations".
Keith Wiley. Assignment New Guinea. 1965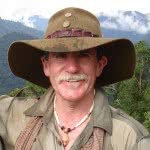 Olgeta,
We met 28 years ago when you welcomed me into your villages on my first trek with Alex Rama in 1991. At the time you told me that few people trekked across the trail – probably less than 100 each year – and you only made a few kina selling your vegetables at markets.
The following year Paul Keating put Kokoda on the map when he became the first Australian Prime Minister to visit the plateau since the war. He was moved by the experience and his words resonated throughout Australia.
The first 20 trekkers I led across the trail to honour the 50th anniversary of the Kokoda campaign in 1992 were also moved by the significance of the occasion; the traditional welcomes you provided; and the support of your guides and carriers.
(more…)