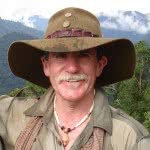 When I first trekked Kokoda in 1991 I was both surprised and disappointed at the neglect of such an important part of our military heritage. The track bypassed the famous 'golden staircase' on Imita Ridge; major battlesite had been reclaimed by the jungle; ordnance from the campaign lay rusting in the mud; no official monuments or memorials had been erected; and the people who had supported us so selflessly during our hour of need had been forgotten.
It was evident that the Kokoda Trail had been ignored by successive Australian governments since the end of the Pacific War in 1945.
In 1992 I submitted a paper calling for the PNG Government to recognise the benefit of developing Kokoda as an adventure destination:
'In the short term PNG should focus its tourist development on its natural assets – the country and its people. And it should develop policies to cater for the niche adventure market.
'The Kokoda Trail is an ideal model. The trail has a special aura because of its significance in the war. The rugged beauty of the Owen Stanley Range and the nature and disposition of the villagers along the trail are unique attractions to the adventure tourist.
'Tourism along the trail will create social and economic benefits for the villagers. Local guides will be employed, food will be procured, accommodation will be used, and artefacts will be purchased. (more…)