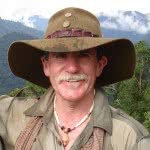 In a recent response to an article published in The Spectator magazine the President of the Kokoda Tour Operators Association, Sue Fitcher, wrote that 'All KTOA businesses are run from Australia'.
This is the nub of the problem for the Kokoda Trekking Industry.
The current review of the Kokoda Track Authority (KTA) should seek to understand why this is so because PNG will never realise its potential as a tourism destination if international operators have to run their businesses from their home countries.
The PNG trekking industry which started with so much promise in the late 1990s is now on its knees because of dysfunctional management and government indifference.
After PNG established a local management authority in 2003 trekker numbers surged by 423% from 1074 trekkers to 5621 in 2008. However since the Australian Government assumed control trekker numbers have crashed by 42% to 3267 in 2017 despite an expenditure of more than $50 million of Aid funding through the Kokoda Initiative.
The numbers indicate that something is seriously wrong. (more…)