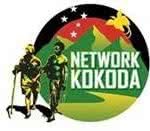 2017 KOKODA DAY COMMEMORATIVE DINNER
Sheraton on the Park Hotel, Sydney
Keynote Speaker:
The Hon Charlie Lynn OL 
Three days ago we commemorated the centenary of the Australian Light Horse mounted cavalry charge at Beersheba – one of the most spectacular allied desert victories in World War 1.
Today we commemorate the 75th anniversary of the Kokoda campaign – one of the most desperate campaigns fought by Australian troops in World War 11 – and the first ever fought on Australian territory.
For some inexplicable reason neither of these two historic victories are deemed worthy of inclusion in our education systems today.
Tonight though, I want to focus on the men who saved us – not hose who betray us.
On this day 75 years ago the depleted ranks of two Australian brigades paraded before their commander, General Vasey, as the Australian flag was raised on the Kokoda plateau. It was the culminating point of one of the most desperate campaigns fought in some of the most inhospitable terrain on the planet. Wartime journalist Osmar White was witness to the conditions. He wrote:
'The pain of effort, the biting sweat, the hunger, the cheerless shivering nights were made dim by exhaustion's merciful drug . . . surely no war was ever fought under worse conditions that these. Surely no war has ever demanded more of a man in fortitude. Even Gallipoli or Crete or the desert'.
White certainly didn't mean to demean Gallipoli, Crete or the desert – he was simply trying to put the conditions they had to endure into perspective. (more…)