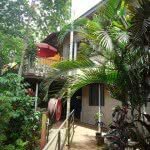 At the turn of the 19th Century Irish writer, Beatrice Grimshaw, described Sogeri as "one of the most beautiful places in the world". She had a cottage built overlooking the majestic Rouna Falls where she might enjoy the "excellent health" that she had observed in the other white residents of the district. The Sogeri Plateau at the foothills of the Owen Stanley Ranges is about half-way between Port Moresby and the start of the Kokoda Trail at Owers Corner.
The plateau was formed by a volcanic eruption thousands of years ago. The river Laloki runs through the cannon at Rouna and provides the Port Moresby with water and electricity.  Some claim that Rouna Falls are similar to the Sisters Falls in Brazil.
The Koiari people, whose ancestors were fierce warriors, occupied the Sogeri plateau. They lived in treetop houses as a form of protection against surprise enemy raids.
Today the plateau is a popular escape from the scorching heat, razor-wire and bustle of Port Moresby which has been criticised (somewhat unfairly) as 'one of the world's worst cities'.  At almost 1000 metres the scenic plateau is green and moist with cool, airy mountain breezes, secluded lodges, an Inn and the exclusive Koitaki Country Club. It is hard to imagine General Sir Thomas Blamey addressing the battle weary troops of the 39th Battalion near the current clubhouse in 1942. [Read more…]