Comments in response to newspaper articles are often more instructive than the article itself. Former Australian diplomat to PNG and current Federal MP, Dave Sharma, recently wrote of our need to respect PNGs sovereignty as we move supplies and people to help them fight Covid.
One cynic pointedly remarked on the 'disproportionate attention to Covid rather than HIV, malaria, typhoid fever, diphtheria, typhus, cholera and drug resistant tuberculosis'.
Another said he was once told 'it's pointless to care about an issue more than the person you are trying to help'.
Both comments provide a reality check regarding the challenges we face in offering help to PNG.
This was demonstrated in an urgent appeal to fund an Isolation Ward at a Provincial Hospital to combat a serious outbreak of drug resistant TB in the area. A benefactor who had trekked Kokoda twice provided the funds which enabled the ward to be prefabricated in Brisbane and shipped to Lae. PNG Customs then demanded an exorbitant fee which caused the ward to sit on the wharves for almost six months before it was resolved.
An Australian construction company, which had completed a large aid project in the area, agreed to erect and landscape the building on a pro bono basis – an Australian NGO raised further funding to equip it and train local medical staff.
The project was then delayed a further 12 months due to a 'tribal' dispute between the hospital's medical and administrative staff. It was not hard to imagine them stepping over the bodies of patients as they went to work to continue their dispute each day!
It was evident that the NGO and benefactor cared more for the medical needs of the local population than the officials they were trying to help. Failure, and the loss of future philanthropic support, was the inevitable result!
During this time, the parents of a small boy requiring urgent medical treatment, trekked from their village to Kokoda to hitch a 90km ride on the back of a truck to their Provincial Hospital on two occasions. They were turned away each time because the hospital did not have any oxygen for the operation. We came across the distraught couple near the village of Hoi and arranged to fly them back to Port Moresby and covered the cost of the operation. It was simply not a situation we could walk past.
Sharma noted that it is important we respect PNG's agency and sovereignty. 'We are there to support and assist' he wrote, 'but they are in the lead'.
These are noble words but completely unrealistic in a PNG setting if our management of the Kokoda Trail is indicative of our wider aid relationship.
Since DFAT assumed responsibility for the Trail aid projects have been based on what Australian officials thought they needed rather than taking the effort to establish what villagers really wanted – which is a complex and time-consuming process.
As a result, villages now have schools, health centres and museums they never asked for, but do not have sufficient teachers, health workers, equipment or supplies to meet their daily needs. Many now stand as monuments to false expectations and simply reinforce a 'cargo-cult' mentality which remains prevalent in PNG today.
Officials with an ideological disposition quickly learn how to 'win friends and influence people' via selective promises re the disbursement of aid funds. They understand that PNG officials will sign off on any program that either has an aid dollar attached to it or enhances their 'big man' status within local communities. This allows DFAT officials to then claim, 'this is what PNG wants', while reminding us of their 'sovereignty'.
Their responsibility for the 'sovereignty' of Australian taxpayer funds seems to elude them!
A school recently built at Isurava village, which relocated after the war, was based on DFAT officials asking them if they would like one! It was certainly not based on need as the population of the village has been declining since the Isurava Memorial was opened on the original village site in 2002. Most of the villagers have since relocated back to the original site which is about an hour away.
Approximately 50 villagers remain at the site selected by DFAT who proceeded to build two modern classrooms with a capacity for up to 50 students and three modern toilets. This seemed excessive for a village that can only muster 13 elementary students aged between 3-6 years! As an added bonus they now have the best ratio of toilets per student across the entire Kokoda Trail with a couple of the young ones needing help to get up onto the seat!
It makes a mockery of the supposed intent of the DFAT-Kokoda Initiative 'to improve conditions along the Kokoda Trail' where they are yet to provide a single hygienic toilet for the 50,000 Australian taxpayers who have paid more than $5 million in trek fees to trek across it over the past decade – their sovereign right to clean crappers is yet to be acknowledged by them!
After the building was completed a delegation of eight DFAT officials chartered a helicopter to fly in for an 'official opening'. Such extravagant examples of PR overkill may enhance their PowerPoint presentations for Canberra but they do little to enhance our image in the eyes of local communities who cannot understand why we do not provide a similar helicopter service to assist them in evacuating seriously ill or injured villagers.
During one of my early treks across the Trail I ventured down to a school nestled in a valley between the villages of Kagi and Naduri – a 15-minute 'skip' down for nimble footed students each day.
Traditional classrooms had been built by enterprising villagers who were then in the process of building a 'haus' for teachers assigned from other Provinces. Nearby were two modern aid funded classrooms which had sat uncompleted and unused for around three years. According to the locals the AusAid contractors sent a photo of another classroom they had completed to the Government and received a final payment. As a result, they had not returned to complete the job.
I asked the locals why they did not finish it. 'Not our school – AusAid school!' was the reply!
Unfortunately, 'AusAid' officials do not have any 'skin in the game' so it matters not whether a project succeeds or fails in meeting the needs of local villagers. Blame for failure is easily shifted to their PNG counterparts – with a knowing wink and nod over a G&T among friends at the local yacht club!
Covid has inconveniently exposed an aid strategy that seems to be based on entrenching dependency along the Kokoda Trail as no successful initiatives have been introduced to support micro-business initiatives at the village level, or to enhance its wartime heritage, since Australian officials assumed responsibility for it in 2008.
Over the past decade more than 50,000 Australians have trekked Kokoda and experienced the warm hospitality of local villagers and observed the reality of life in subsistence villages. Many would now like to contribute to help them through the current crisis. Unfortunately, DFAT failed to assist in the development of a database or any philanthropic programs despite numerous requests over recent years. As a result, they do not have the contact details of any trekkers, or the means of protecting any contributions against corrupt practices should any wish to donate. Villagers have therefore had to revert to subsistence lifestyles without any form of income or philanthropic support.
Covid has also exposed the extreme dysfunction of the PNG Kokoda Track Authority (KTA) which operates under the auspices of the DFAT- Kokoda Initiative. The organisation has never accounted for the millions of dollars it has received in trek fees over the past decade or distributed any funds to the villagers it was established to support in recent years. The cessation of trekking due to Covid has revealed they have nothing left in the bank. One can only wonder where all the money has gone?
DFAT would therefore be better advised to seek input from the 'teachers, engineers, doctors and former kiaps' Dave Sharma refers to in his article post Covid. Many remained in PNG after independence, became citizens, and raised families. They are well qualified to comment on the intricacies of the 'Melanesian Way' but are rarely consulted.
Kokoda has emerged as PNGs most popular tourism destination with local guides, carriers and villagers acknowledged as their best ambassadors . It has the capacity to be economically sustainable as a commercial enterprise, however DFATs insistence that it be managed as an environmental asset managed by bureaucrats rather than as a tourism asset run by business managers, will ensure it will remain as an aid-dependent social experiment for their own benefit.
If we cannot get the Kokoda management model right we have little chance of ever breaking the yoke of aid-dependency elsewhere in PNG.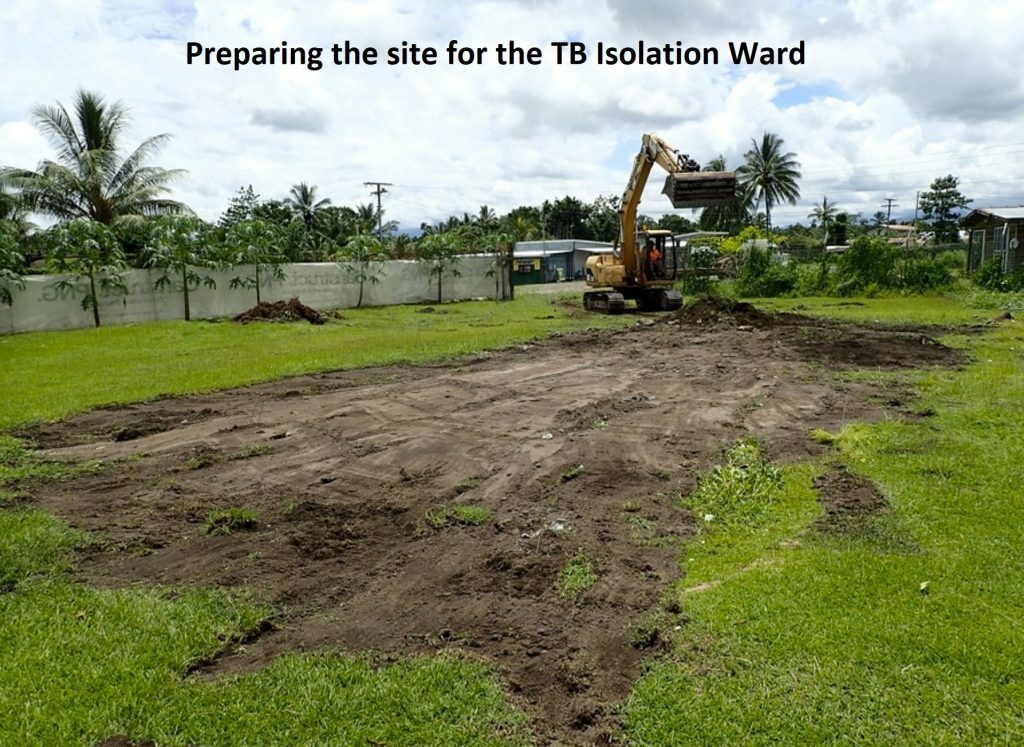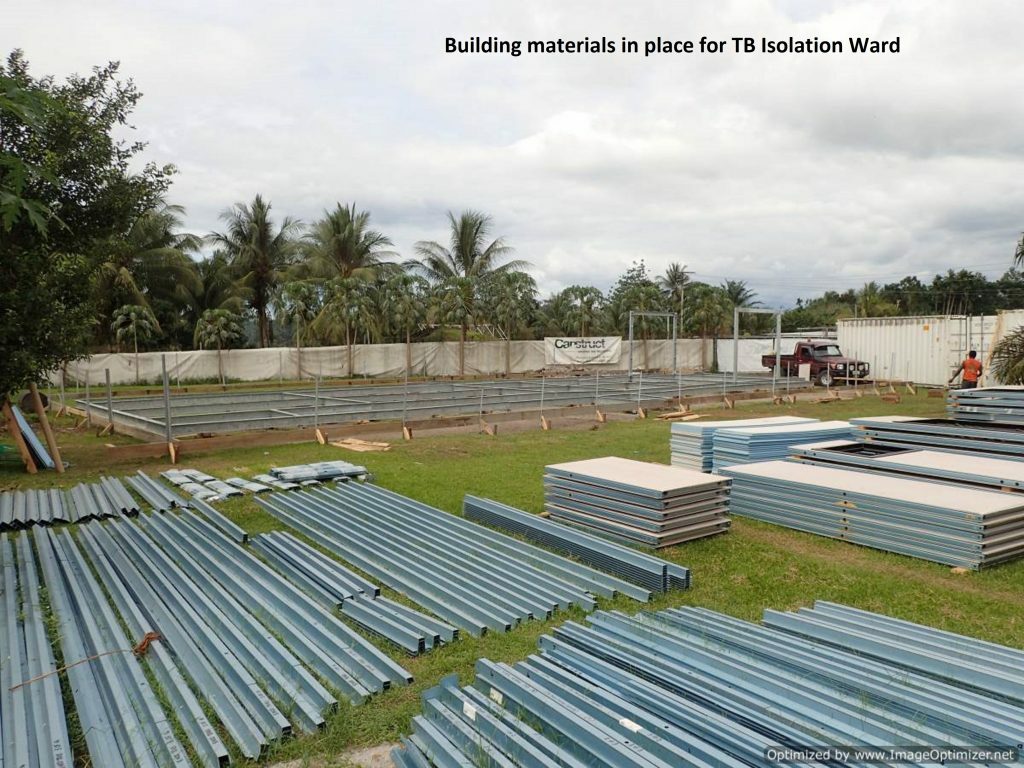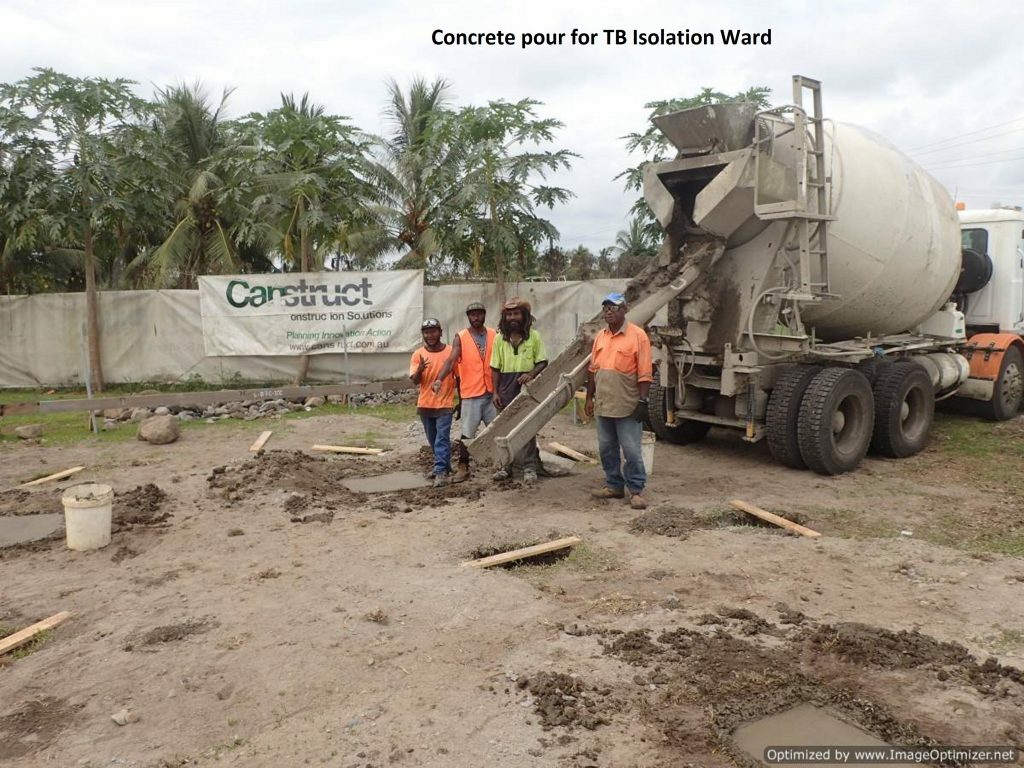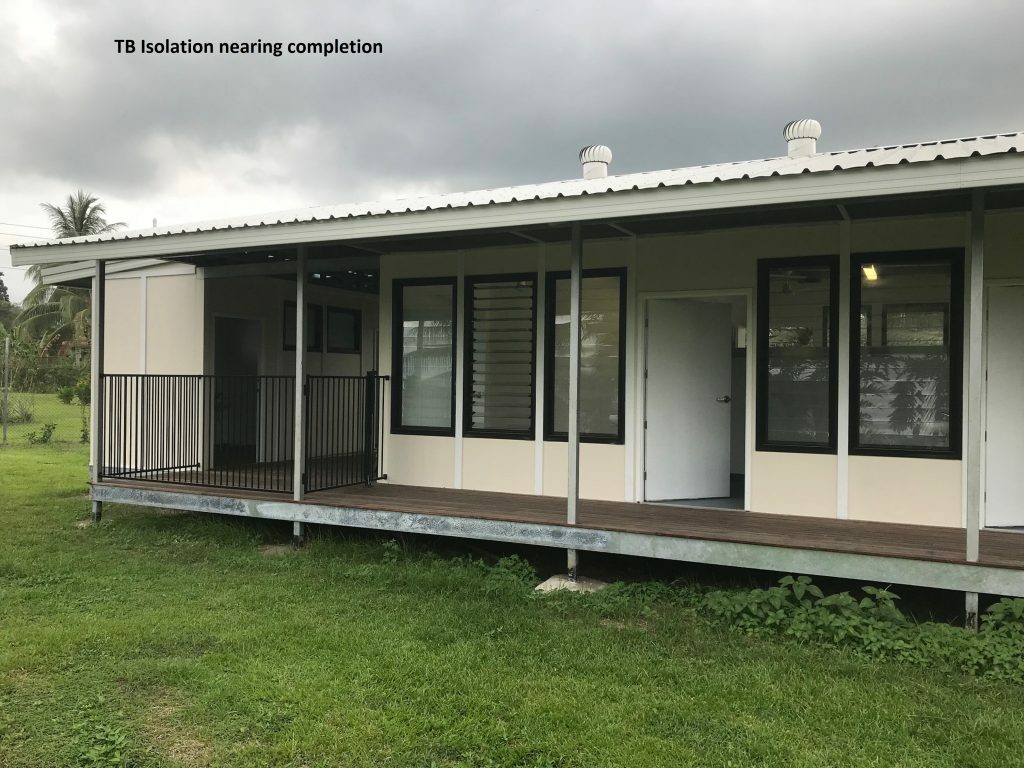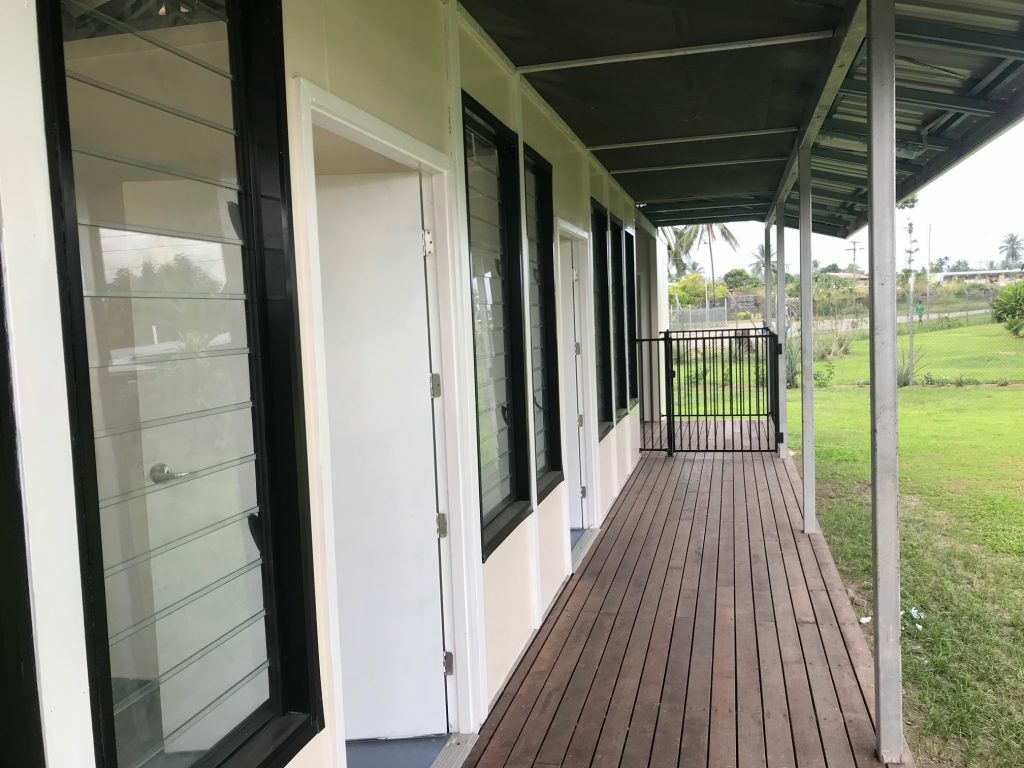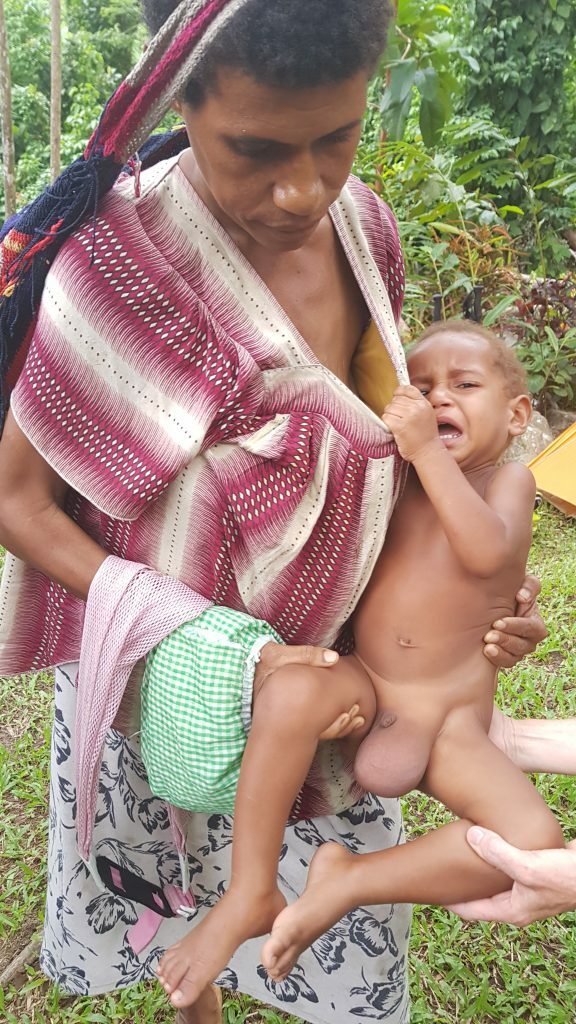 The mother presented this baby to me near Hoi village as we were completing our trek. They advised that they had been to Popondetta Hospital twice but had been sent back home because they didn't have any oxygen to operate – no other offers of help were made to them. This is not a situation where you can pat the baby on the head, wish the mother well and leave. We therefore made space on our charter aircraft, flew them to Port Moresby, arranged accommodation for the family, booked the baby into the PoM International Hospital for an operation after paying $3000 in advance and later arranged for their return flight to Kokoda.

This was the third emergency evacuation we had to arrange from the Trail at our expense – of more concern is the fact that neither the DFAT Kokoda Initiative nor the PNG Kokoda Track Authority have any interest in this aspect of life across the Trail – we have recommended a PNGK50 Welfare Levy be imposed to cover such emergencies but they are either not interested or too lazy to do anything about it.
This lack of compassion for the welfare of local villagers is contrary to the spirit of Kokoda and is a shameful slur on current attitudes within the Kokoda Initiative and Kokoda Track Authority regarding the disbursement of aid.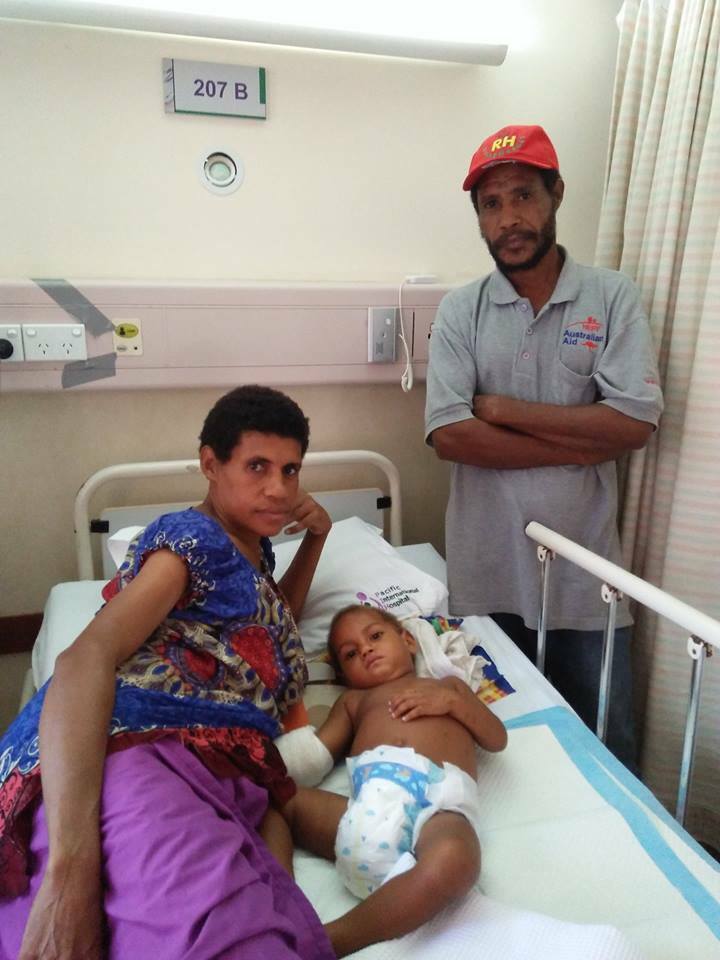 Mum, dad and baby in the Port Moresby International Hospital after a successful operation.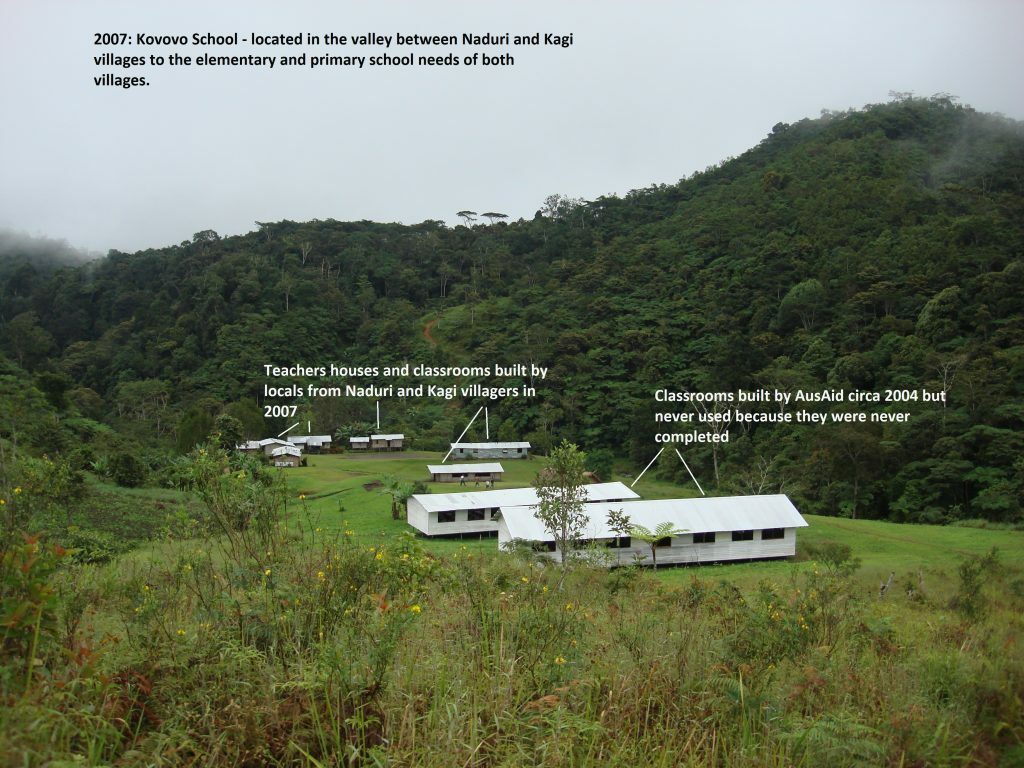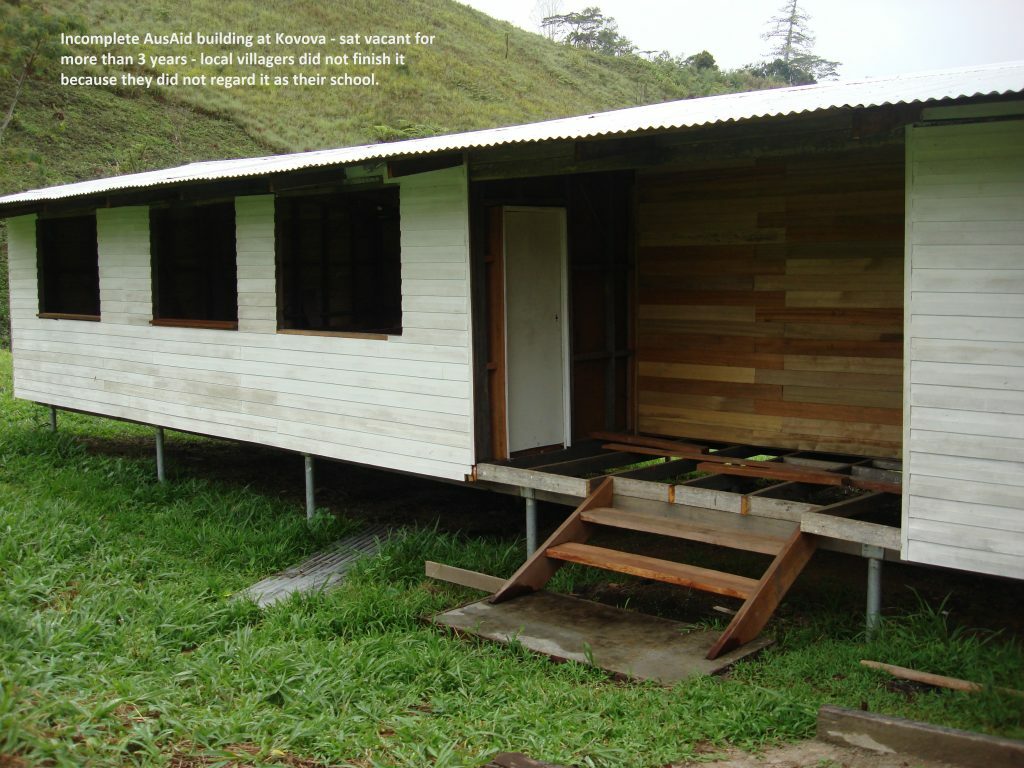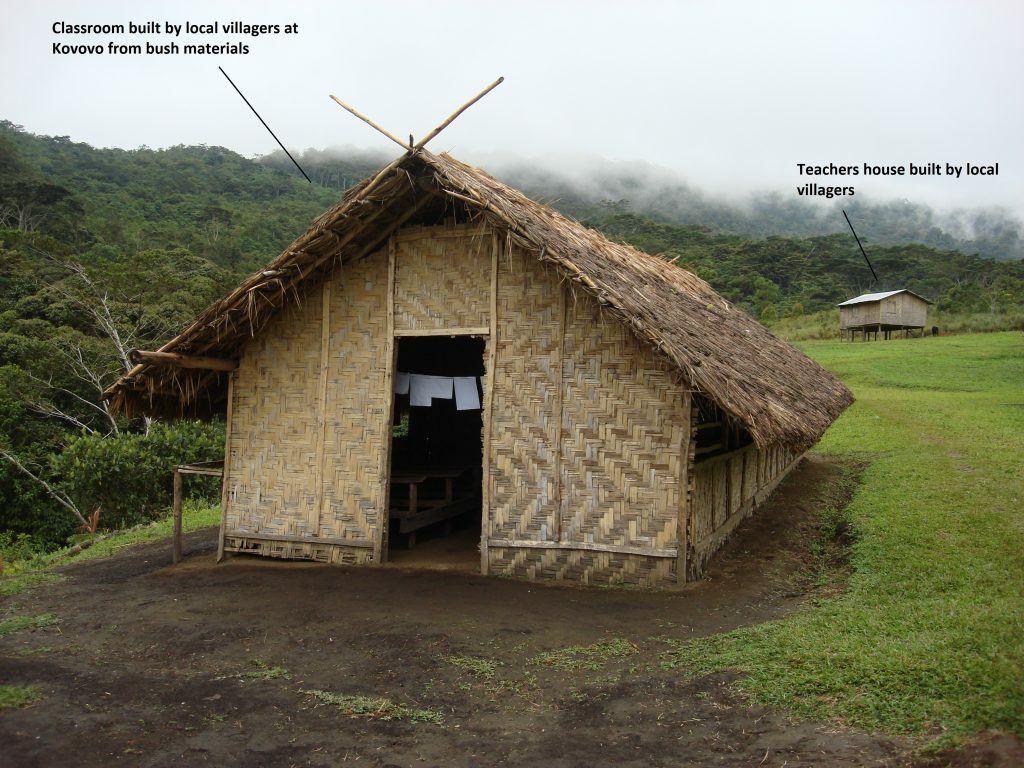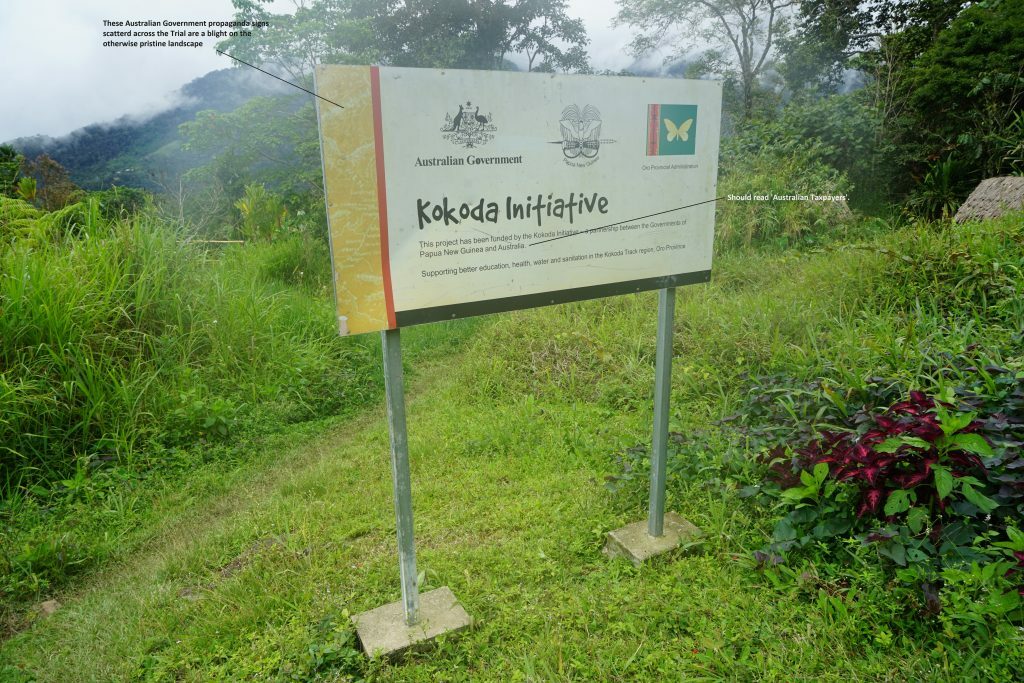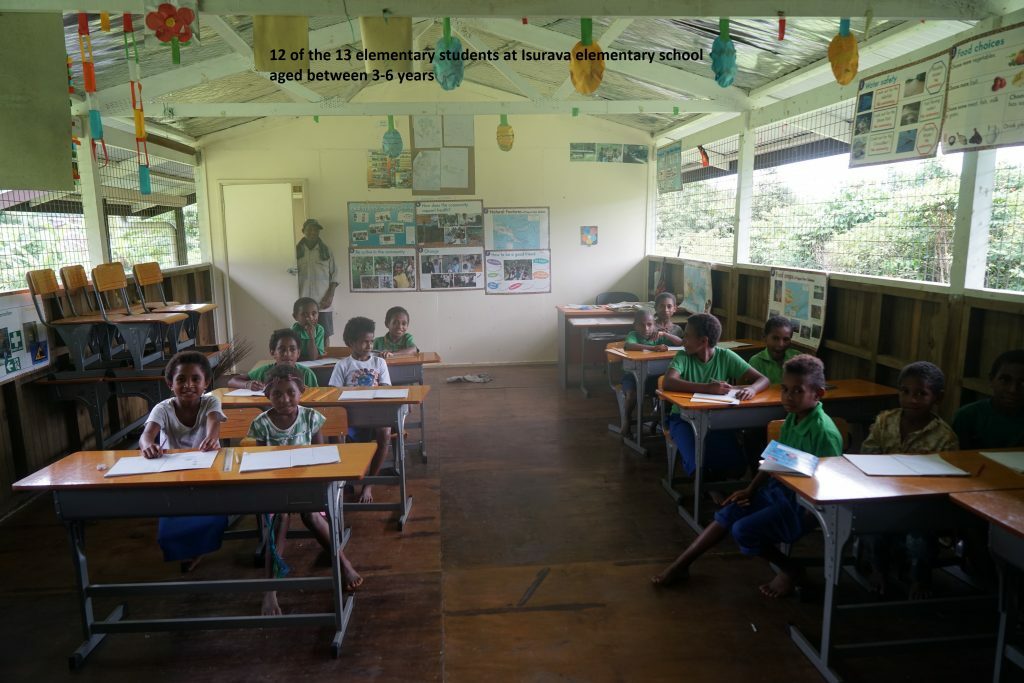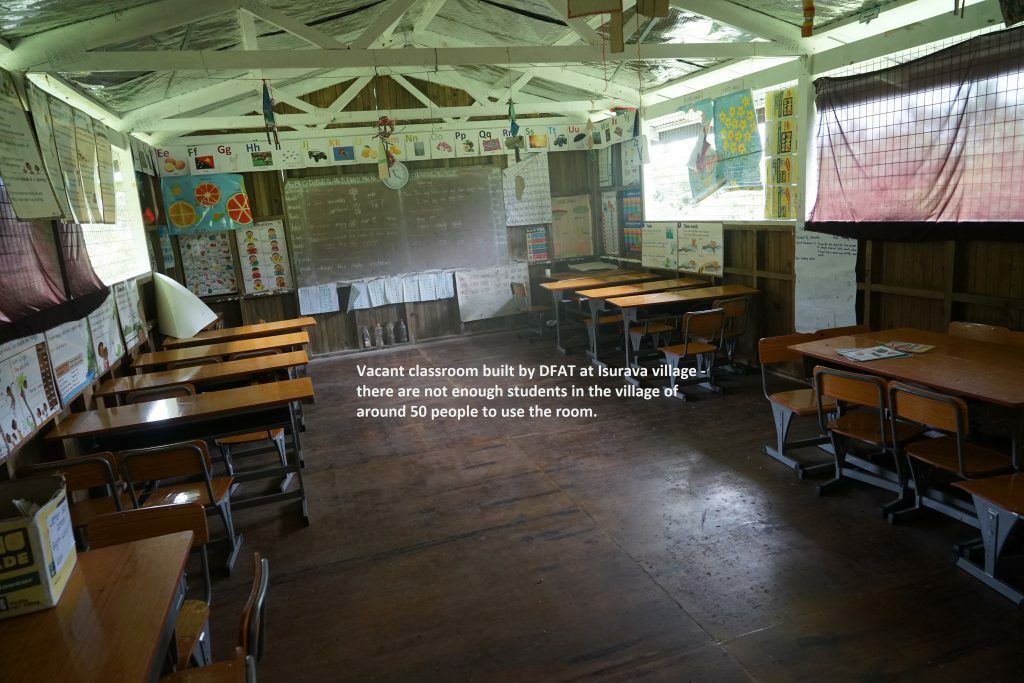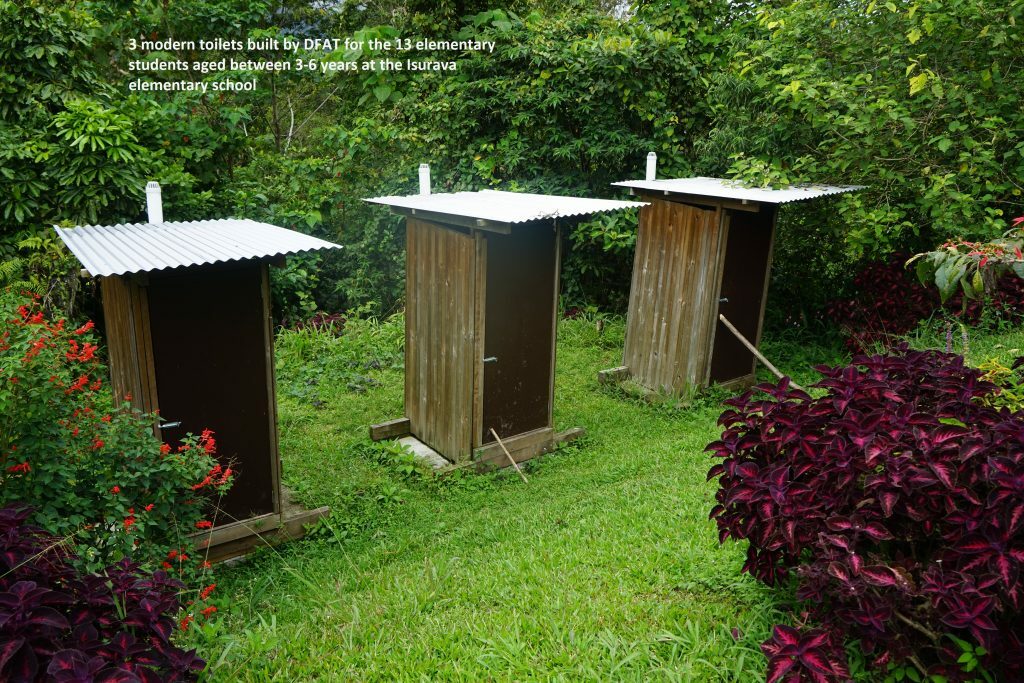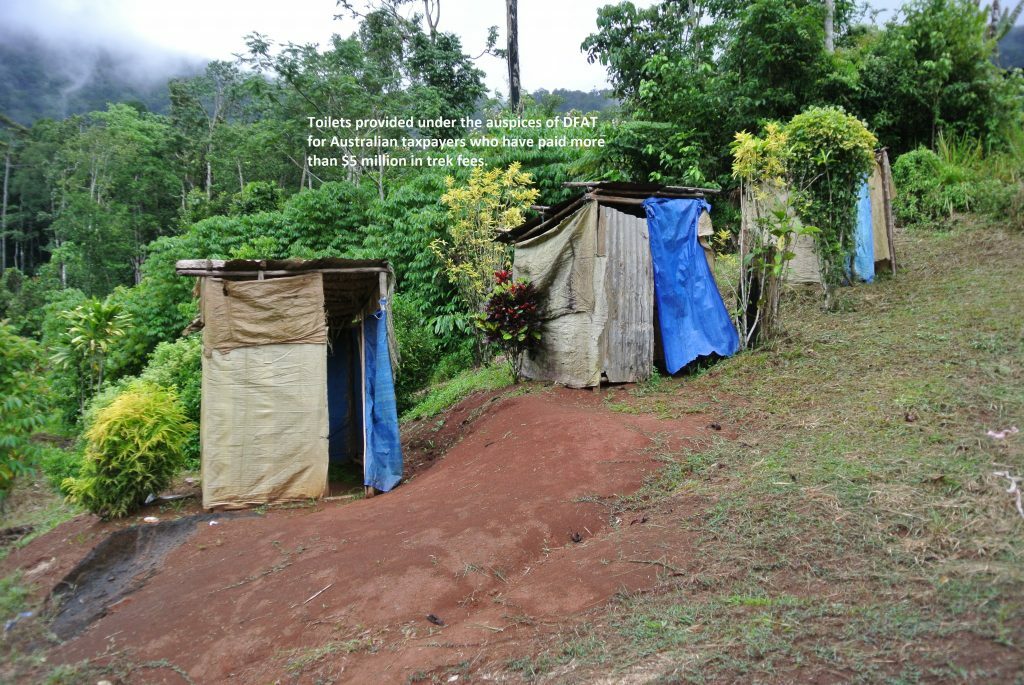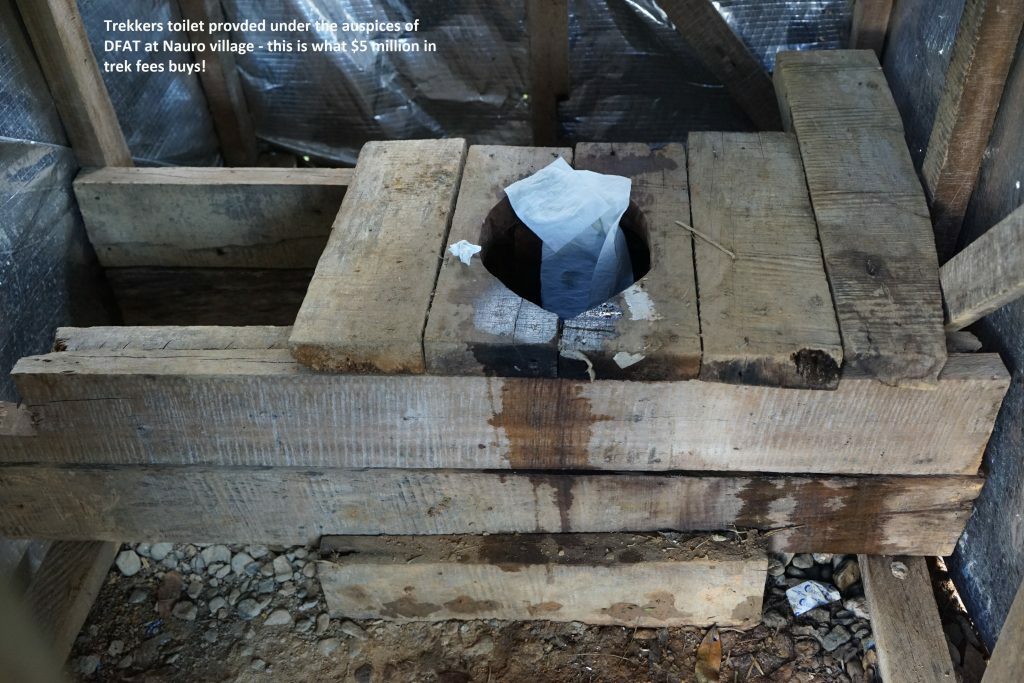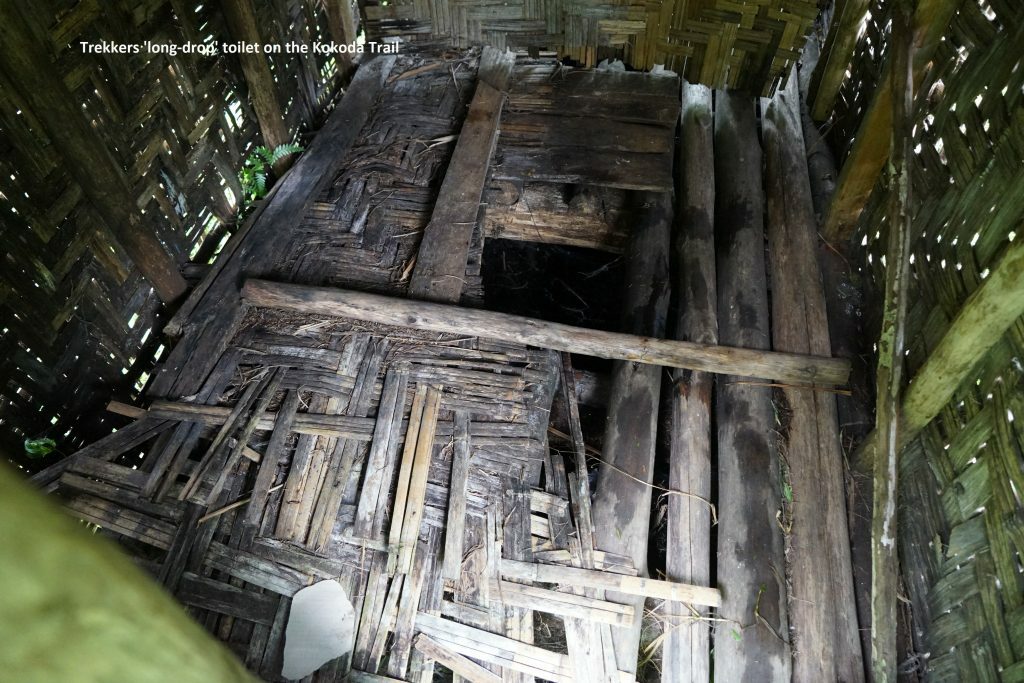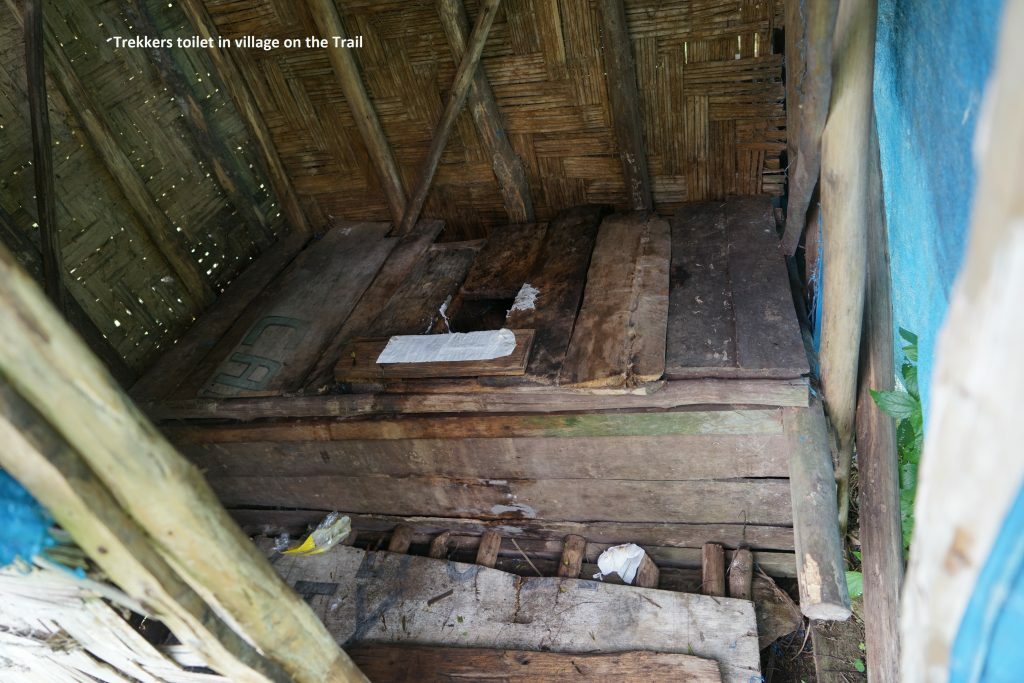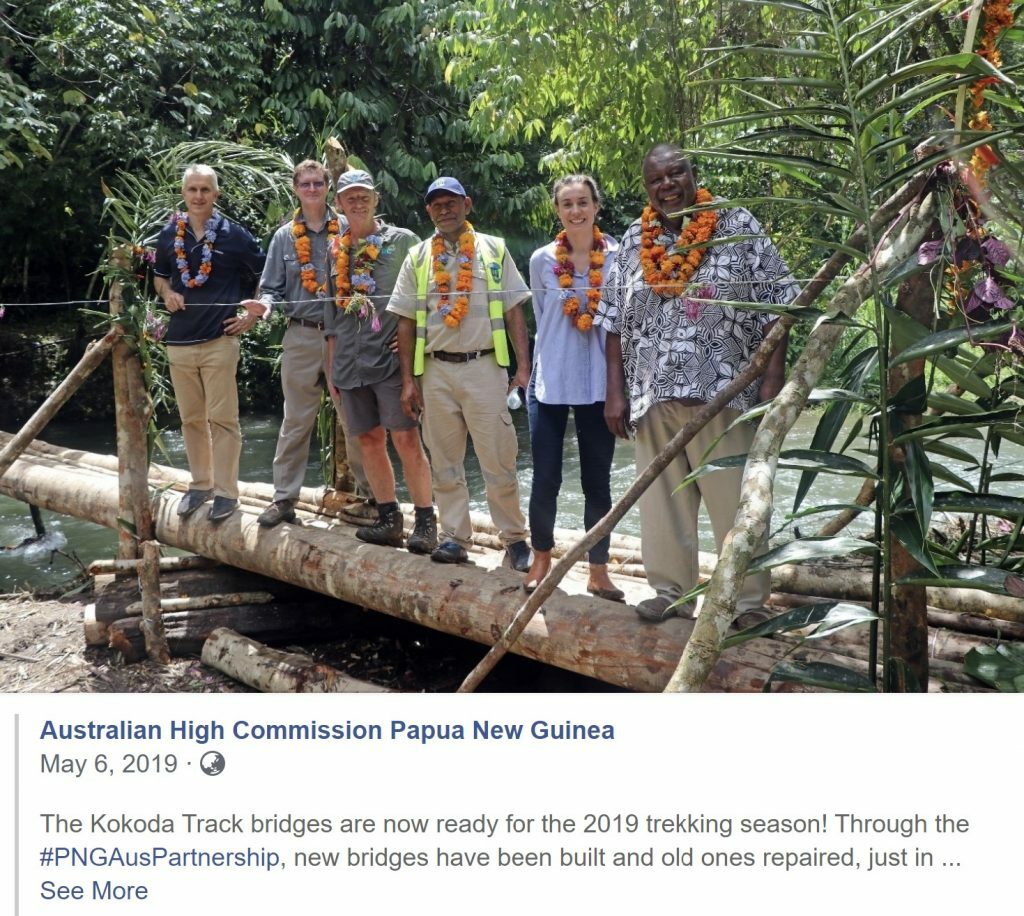 DFAT has to call a stop to these shameless, costly, PR stunts. On this occasion a contractor was engaged to build a bridge across Agulogo Creek – this is a knee-deep creek we have been crossing for 30 years without incident. The statement that 'new bridges have been built and old ones repaired' was only partly true – areas requiring more urgent attention to ensure the safety of trekkers further along the Trail were ignored – possibly because they were inaccessible to helicopters and PR opportunities! Trek operators could have provided the necessary information on these locations but were never consulted.

After the contractor completed the bridge DFAT chartered a helicopter to fly in a team of officials for an 'official opening'. Local villagers are not stupid – they understand that the cost of these PR stunts by Port Moresby based officials cuts into the aid budget which means less support in the areas of health and education for their communities.