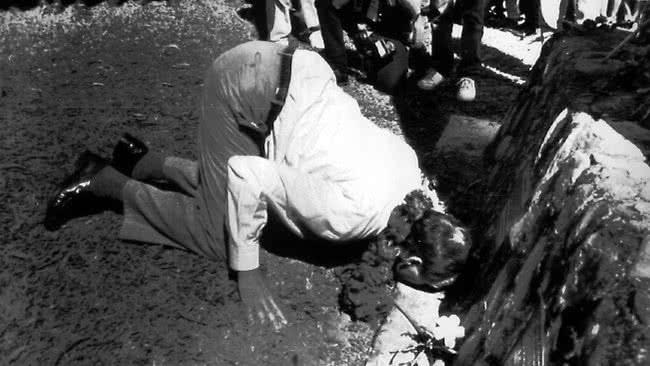 Interest in the Kokoda Trail lay dormant for 50 years until Paul Keating became the first Australian Prime Minister to visit the area in 1992. It was heightened with the opening of a significant memorial by Prime Ministers' John Howard and Sir Michael Somare on the 60th anniversary of the battle in 2002.
A proposal to mine the southern section of the trail for gold in 2006 saw the Australian Government react by establishing a Joint Agreement with the PNG Government to develop a case for a World Heritage Listing for the Owen Stanley Ranges.
Responsibility was allocated to the Department of Environment as they are responsible for our Register of Overseas Heritage Sites.
The Department of Veterans Affairs was not included in the Joint Understanding as wartime heritage is not a consideration for a World Heritage Listing.
The Australian Department of Environment assumed control of the Kokoda Trail in 2008. Responsibility was transferred to DFAT in 2015.
The Department of Veterans Affairs who are responsible for commemoration and overseas memorials have been sidelined in the bureaucratic process.
Up until 2001 approximately 70 trekkers crossed the Kokoda Trail each year. The combined income of all villages along the trail was estimated to be $30,000 per year.
Interest in the 50th and 60th anniversaries of the Kokoda campaign saw trekker numbers increase dramatically from 76 in 2001 to a peak of 5621 in 2008.
In 2003 the PNG Government established the Kokoda Track Authority (KTA) as a statutory government body of the Kokoda and Koiari Rural Local-level Governments to manage the emerging trekking industry and to ensure villages along the trail received a share of the benefits from it. Warren Bartlett, a former Kiap living in PNG was appointed CEO on a PNG salary of $12,500. A part-time assistant was engaged to assist him.
In 2006 a proposal to mine the southern section of the trail resulted in an Australian Government offer to assist the PNG Government develop a case for a World Heritage listing for the Owen Stanley Ranges.
Military heritage is not a consideration for a World Heritage listing so it did not rate a mention in the Joint Understanding which noted that 'The Owen Stanley Ranges are one of PNG's major carbon stores and will be assessed along with other locations as potential sites for demonstration Reduced Emissions from Deforestation and Degradation (REDD) activities within the Papua New Guinea-Australia Forest Carbon Partnership'.
Responsibility for our iconic World War 1 site (Gallipoli) and our iconic World War 11 site (the Kokoda Trail) was therefore split between two departments, Veterans Affairs and Environment – and later – DFAT.
In 2007 Australian Department of Environment (DoE) managers and advisors were dispatched to PNG and assumed control of the PNG Kokoda Track Authority (KTA). They were followed by a conga-line of consultants to advise Canberra on management, cultural and environmental issues along the trail. Numerous stakeholder forums were conducted in Australia and PNG. For reasons known only to Canberra there were no workshops/forums conducted in villages along the trail to get the input of landowners and local communities. Advice provided by ex-military trek operators who had been operating along the trail for a decade before their arrival was ignored.
In 2008 the Australian Department of Environment was allocated responsibility for the assistance package because of its responsibility for our register of overseas heritage sites.
A Joint Understanding covering 'the sustainable development of communities along the Kokoda Track corridor, and protection and sustainable use of natural and cultural resources of the broader Owen Stanley region' was signed by both governments.
In 2009 the Australian Department of Environment, Water, Heritage and the Arts (DEWHA)[i] assumed control of the Kokoda trekking industry. An Australian CEO was appointed on a 6-figure salary supplemented with generous allowances and tax concessions. A multi-million dollar budget was allocated along with a 10-fold increase in staff.
Responsibility for development along the Kokoda Trail was split between AusAID which initiated a Kokoda Development Program and the Department of Environment, Water, Heritage and the Arts which initiated a Kokoda Initiative. Both programs were focused on Kokoda but there was little evidence to show the left hand knew what the right hand was doing as they were responsible to different Departments in Canberra. The only common trait they shared was that neither organisation saw fit to consult with local villagers or experienced trek operators.
Soon after a $1.5 million Village Livelihoods Project, conceived by environment officials in Canberra (without any consultation with the PNG Department of Community Development) was developed to assist local villagers to earn additional income from trekkers. The program did not generate a single dollar in additional income nor did it produce a single vegetable from a local garden across the trail. It has since been dropped.
Canberra based DEWHA officials then extended the definition of the Kokoda Trail to the 'Kokoda Track Corridor' and later to the 'Kokoda Track Region' which now includes areas further afield such as Sirinumu Dam on the South Coast and the beach-heads of Buna and Gona on the North Coast. This subtle rebadging provided a smorgasbord of opportunity for Canberra based academics and consultants involved in social mapping, gender equity studies, capacity building and mentoring programs.
A Strategic Plan developed by the DEWHA managers for the period 2012 – 2015 contained 5 strategies and 33 objectives. The plan was developed without consultation with experienced Kokoda trek operators. Not one of the five strategies or any of the 33 objectives was achieved! No follow-up strategic plan has been developed since then.
In 2014 both the Kokoda Development Program and the Kokoda Initiative were amalgamated within the Department of Foreign Affairs and Trade under the Minister for International Aid and the Pacific. There were no staff changes – bureaucrats recruited by the DEWHA retained their jobs with DFAT.
In 2012 DEWHA transferred responsibility back to the PNG Department of Conservation, Environment and Climate Change without leaving a single management protocol in place. No legislation had been developed. They did not incorporate any local landowner groups. They did not develop any dispute resolution mechanisms. They did not conduct any due diligence checks on trek operators. No village workshops had been conducted. Not a single campsite was certified. Not a single dollar was invested in local campsite development – not a single toilet along the entire trail would meet the most basic of hygiene standards.
They have no enforcement provisions for breaches of their own Code of Conduct. 
The management system put in place within the PNG Kokoda Track (Special Purpose) Authority by DEHWA officials has not produced an audited financial report for a decade or even a newsletter for the past five years. They do not have a single management protocol in place and do not seem to be accountable to anybody. Nobody has any idea of what happens to the money they collect via trek fees but most of it seems to circulate within their office in Port Moresby rather than village communities along the trail. Under normal circumstances such a dysfunctional organisation would be placed 'under administration' however the responsible DFAT and PNG authorities seem reluctant to make that decision.
Summary of Management Outcomes
During the period 2004 – 2008, under PNG management, trekker numbers increased by 255% from 1584 to 5621.
Under Australian Government administration via DEWHA (2009-2012) trekker numbers decreased by 36% from 5621 to 3597 despite a 10-fold increase in staff and a multi-million dollar Aid budget.
This decline has continued with a further decrease of 16% from 3597 in 2013 to 3033 in 2018.
The overall decline in trekker numbers as a result of the management system put in place by the Australian Government has resulted in a loss of $15 million in tourism revenue for PNG; a loss of 70,000 working days for PNG guides and carriers; and a loss of $500K for campsite owners along the trail.
Kokoda Trail Military Heritage
The Australian Department of Environment and DFAT have failed to engage an accredited military heritage architect to develop a Master Plan for the Kokoda Trail since they assumed responsibility for the Kokoda Development Program and Kokoda Initiative in 2008.
They have also failed to develop a single memorial along the Kokoda Trail during the period 2008-2019.
In response to calls for the development of a Master Plan DFAT placed an advertisement for a 'National Military Heritage Advisor' during the peak holiday season period from 22 December 2017 – 8 January 2018. The advertisement was restricted to a small number of institutions. Neither the Australian War Memorial, the Returned Services League of Australia, nor the accredited Heritage Architect who designed and built interpretive memorials at Isurava, Hellfire Pass and Sandakan were advised of the position or consulted during the process.
The successful applicant was an American anthropologist whose thesis for his Doctorate was 'Ambivalent Empire: Indigenous and Colonial Historicities in the Trobriand Islands, 1832-1941'. He has no prior military historical credentials'.
As a result Australian taxpayer funds are being spent on lost battlefields that have never been lost and village museums of dubious relevance are being built in locations that have no historical significance along the Kokoda Trail.
Interpretive panels placed at Owers Corner contain information that is historically incorrect in their pursuit of being politically correct.
The word 'mateship' has been written out of their Kokoda narrative and replaced by 'friendship'.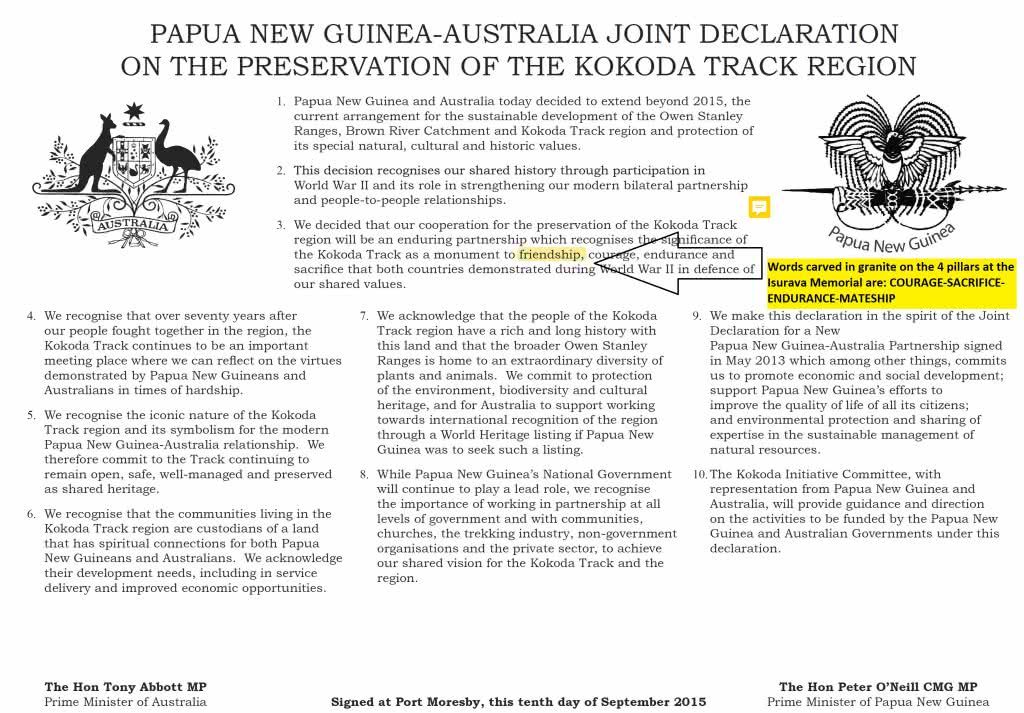 Conclusion
The Kokoda Trail, which many regard as our most important historical icon of the War in the Pacific, does not feature as a priority with the Australian Government.
After 10 years in situ, a plethora of consultants' reports and more than $50 million in taxpayer funding there has been no action taken to develop a master plan for the protection and interpretation of its wartime heritage.
DFATs failure to consult with either Department of Veterans Affairs or the Australian War Memorial during the selection process for a National Military Heritage Advisor in PNG and the flawed recruiting process they adopted to employ an American anthropologist indicates they are either ignorant of the Principles of Commemoration or ideological opposed to it.
What do you think?
Please let me know your thoughts so that I can pass them onto the Minister.
[i] 'Heritage' was eventually dropped from the Department which was rebadged as the Department for Sustainability, Environment, Water, Population and Communities (DSEWPC)