The long Green march through our Kokoda Heritage began when responsibility for the Kokoda Trail was allocated to the Department of Environment, Water, Heritage and the Arts (DEWHA) in 2008.
Since I wrote this letter to the First Assistant Secretary of DEWHA in 2009 trekker numbers have declined by 46% from 5621 in 2008 to 3033 in 2018 despite the expenditure of more than $50 million of taxpayers funds – not one of the issues we raised (apart from the upgrading of the road to Owers Corner) has been addressed.
Their failure to include the Department of Veterans Affairs and to engage an accredited Military Heritage Architect to develop a Military Heritage Interpretation Plan for the Kokoda Trail is indicative of their ideological opposition to commemoration.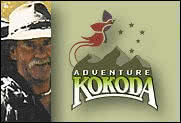 Letter from Charlie Lynn dated 8 May 2009 re Kokoda Concerns
James Shelvin
First Assistant Secretary
Heritage Division,
Department of Environment, Water, Heritage and the Arts
GPO Box 787
CANBERRA ACT 2601
Dear James,
During the battle of Brigade Hill, the Regimental Medical Officer of the 2/16th Battalion, Major Steward, wrote in his diary:

'Looking as dispassionately as possible at that man's throat, I hoped he couldn't sense the lump in mine. Emotion clouds calm clinical judgement but the hardest thing is not to flinch from the gaze of a man you know is going to die.'

If I was to allow my emotions to dominate my opinion over the performance of the Australian contribution to the operation of the Kokoda Track Authority in PNG, frustrated expletives would be the order of the day.
One of the trekkers who died on the track last month would most probably be alive today if the Kokoda Track Authority had an operational Trek Permit system in place.
This has not happened and a young Australian mother is dead.
I have been advised that the KTA issued a trek permit to an operator who did not have anybody trained in remote area first aid; did not have an appropriate first-aid kit; did not have a satellite phone; did not have a VHF radio; did not submit a trek itinerary with their application; and did not have a reliable rear-link in Port Moresby for emergency purposes.
If this is the case then the KTA could be exposed to some legal liability for the young woman's death.
Yesterday's announcement that the track has been closed at Kovello has caused me to put pen to paper yet again because, like the young mother's death on the track, it was preventable if the KTA had effective procedures in place for the practical operation of the track.

The pupose of this letter is to outline the failings of the KTA from a trek operators point of view and secondly to support the people of Kovello in their claims for a greater share of benefits from the Kokoda trekking industry.
It seems the Australian Government is using a 'top down' approach from Canberra to Port Moresby as its modus operandi. Whilst there have obviously been a number of conferences, consultations, workshops and overseas visits there is no evidence of anything being filtered past the KTA office in Port Moresby. For example, after 12 months in-situ:
There is no effective Trek Permit System
There is no requirement for applicants to submit an appropriate medical certificate with their application for a trek permit;
There is no requirement for applicants to submit a trek itinerary with their application for a trek permit;
There is no list of accredited camp sites along the track;
There is no campsite booking system;
There is no requirement for trek operators to have remote area trained first aid personnel accompany each group;
There is no requirement for trek operators to carry a recommended standardised medical kit with each group;
There is no requirement for trek operators to have a VHF radio with each group;
There is no requirement for trek operators to have satellite phone with each group;
There is no requirement for trek operators to submit a list of emergency contact details for each trekker;
There is no requirement for trek operators to submit the Travel Insurance Policy Number and Company for each trekker (essential for emergency evacuations in PNG);
There is no understanding of the needs of trekkers who pay for the Kokoda experience;
There is no understanding of the needs of villagers along the track;
There has been no action taken in training villagers to value-add from the trekkers passing through their villages.
Etc, etc, etc.
Most of the above issues were detailed in a Discussion Paper I submitted on 1 September 2007. I cannot recall a single outcome from this document that enhances trek operations or benefits villagers along the track. Needless to say, all the issues contained in the Discussion Paper remain relevant.

I am not sure who is responsible for practical decision making in regard to the effective operation of the Kokoda Trail – but whoever it is they are operating in a parallel universe and taking advice from the wrong people.

I am not sure how much money the Australian Government has invested in its assistance package towards the Kokoda Track Authority thus far but I do know that the outcomes on the track would generate a nil return.
I would hope that the rumour we have recently heard about a couple of 'consultants' being sent across the track to assess village needs 'before the end of the financial year' is indeed just that – a rumour. If it has any substance I would request that it be cancelled immediately and whoever approved it be removed from any further decision-making in regard to the Kokoda Trail.

This information already exists and can only be updated through the conduct of clan workshops in villages. Such workshops should be facilitated by people familiar with Melanesian culture and language, and attended by credible trek operators who have established a degree of trust with the villagers over a long period of time. If the information is required 'before the end of the financial year' a call to a couple of the credible Australian trek operators would provide it.
Kovello is not the only dispute on Kokoda. Last month landowners on Imita Ridge used a sorcerer to stop our scouts from proceeding along the original track because they want all trekkers to use their campsites. Our scouts bolted into the bush and lost one of our large cooking pots in their bid to escape his spell. This is difficult for us to understand but it is reality on the track!
We are working to resolve this issue and have hosted a meeting in Port Moresby, provided funds for campsite development and held meetings between our guides and landowners. The KTA should take a lead role in resolving these disputes but is currently dysfunctional in this regard.
I offer the following suggestions in assisting the KTA to fulfil its proper role in managing trekking operations along the Kokoda Trail:
The fundamental building block of trek operations along the Kokoda Trail is the trekker. These people invest a substantial amount of time and money in the venture. All they want in return (in addition to a safe and informative military historical experience) is access to basic hygiene facilities along the track i.e. environmental toilets and appropriate ablution facilities at campsites. Thus far they have paid more than A$2 million in trek and campsite fees and there is not a single environmental toilet for them to poop into.
The next most important building block is the villager along the track. They own the land that is sacred to us and therefore need to receive shared benefits from the trekking industry. Thus far most of the money has been 'ambushed' or misappropriated in Port Moresby – the closure of the track t Kovello is a symptom of the angst that exists on the track today.
To understand village needs the KTA has to be aware of the complex social/community relationships between clans, landowners, luluais', sorcerers, pastors, teachers, local councillors and Provincial Government officials. This can only be achieved by having people with an understanding of Melanesian culture and language living in villages for periods of at least three months. In the interim, experienced trek operators could be used as a resource to collect information via their PNG guides and carriers who are the sons of the clan leaders, landowners, luluais', sorcerers, pastors, teachers, local councillors and Provincial Government officials.
The only way to draw out village needs is via the conduct of Koiari and Orokaiva clan workshops in appropriate villages in each province. These must be conducted by professional facilitators with experience in Melanesian culture.
All plans for any development work along the Kokoda Trail should be put on hold until a critical review can be conducted with trek operators. Improvements to the track should be completed in partnership with relevant local landowners – once they have been identified.
If the Australian government has any money to spend it should be allocated to improving the road between Depo and Owers Corner. This road is a disgrace. It is more dangerous than any section of the Kokoda Trail and Australian lives are at serious risk whenever rain falls on the road – which happens on most days of the year. The diversion of trek fees to fix this road, which is an Australian/PNG Government responsibility, is akin to misappropriation!
Rogue Australian trek operators who have not paid their trek fees should not be issued with trek permits until their debt has been settled in full. It is immoral to expect subsistence villagers to indirectly subsidise their trek operations.
In addition to the above a Kokoda Trail Memorial Plan should be developed for the longer term. We should keep in mind that the military history of the Kokoda campaign is the reason the majority of Australian trekkers undertake the pilgrimage. There are many other challenging tracks in PNG for those who wish to have an environmental or other type of eco-trekking experience.
I understand AusAID has already completed a survey of the Kokoda Trail. I would request that a copy be provided to all trek operators for review and comment before any action is taken on the report.
As I said earlier, the Australian Government, via the Kokoda Track Authority, is currently operating in a parallel universe to trek operators and villagers on the track. There are people and organisations outside the Canberra clique who have the expertise and the desire to assist in a productive and meaningful way. It is time they were invited to tender for the job.

The KTA has just advised that a 'Track Analysis' will be undertaken shortly to determine the works program to repair the track to Australian Standards for class 4 walking trails (Newsletter No 1 – May 2009). I have attached a copy of this standard with my comments. I am most concerned that this allows for a licensing system that limits campsites to four tents and trek groups to six trekkers!
This standard poses a greater threat to the track than the recent proposal to operate a gold mine. It will effectively close down every Australian trek operator because it will be economically unviable for them to operate. It will also deny the Kokoda experience to Australians who wish to trek in the footsteps of the brave and learn more about our military history.

I would like an assurance that plans for a Track Analysis 'to repair the track to Australian Standards for class 4 walking trails' will be scrapped. I plan to keep the ex-service community, all veterans' organisations and former trekkers appraised of the Governments agenda for Kokoda so would appreciate your clarification in this regard.
Back to Kovello. The spokesman for the landowners is Ori Kennia. We have a very good relationship with him and with the people at Kovello. Ori's wife is Sister Margaret at the Kokoda Hospital and we have donated thousands of dollars of medical supplies to them over the past couple of years. We employ guides and carriers from Kovello village; we camp at the village; and we have donated large amounts of school supplies and musical instruments to their small school. Ori's statement in today's Cairns Post that the KTA 'need to realise this is PNG, not Australia', should be heeded. Ori was a major positive contributor to workshops we conducted in Efogi, Port Moresby and Kokoda during 2004 – 2005. No action has been taken since then and his frustration has culminated in the closure of the track. I fully empathise with him and his people.
I am available to further discuss any of these issues in more detail at your convenience.
Yours sincerely,
CHARLIE LYNN
Enc.
Attachment 1: Australian Parks and Wildlife Services Walking Track Classification System
The Kokoda Track Authority operating with Australian assistance from the Heritage Division of the Department of Environment, Heritage and Arts has advised of the following plans for the Kokoda Trail in its Newsletter No 1 of May 2009:

'Track Analysis

A Track Analysis will be undertaken shortly to determine the works program required to repair the Track to Australian Standards for class 4 walking trails. This is a minimum standard and seeks to provide sustainable use for the Track. Once this report is complete it will be circulated'.

Following are the Australian Parks and Wildlife Services specifications for Class 4 walking tracks and my comments on each one.
Australian Trek Standard for
Class 4 Walking Trails
Comment
Overview
Opportunity for visitors with
advanced outdoor knowledge to
find their own way along often
Indistinct tracks in remote areas.
Users can expect frequent
opportunities for solitude with few
encounters with others.
This opportunity exists for
eco-enviro trekkers to use the Kapa Kapa track across the Owen
Stanley Ranges to the east of the
Kokoda Trail.
Kokoda is not about 'solitude' and
'few encounters'. It is a military
historical pilgrimage that should
not be denied to Australians other
than bushwalking purists.
Length
No minimum width. Maximum 0.5m.
Are we serious about
instructing the landowners and
villagers of Kokoda how wide their tracks can be?
Gradient
Guidance for managers
Gradient limited by environmental considerations only
????????
Surfacing & Drainage
Improved surfacing/drainage
minimal – for environmental
purposes only
Self evident along the track
Scrub Clearance
Minimal. As a general rule
living woody vegetation
will not be cut except
where to ensure the track
continues to be navigable

Self evident along the track
Facilities
Bridges and Water
Crossings
Bridges or other constructed
crossings generally not provided,
except for essential environmentalpurposes.
Where possible natural crossings
are preferred.
Flood delays acceptable and
expected under normal conditions.
Agree
Track Markers
T4 tracks may be marked but
markers should be in a low key
manner.
Some tracks may be difficult to
follow in places.
No other facilities except where ecessary for environmental purposes – eg 'fan out' signs.
Agree No doubt about that – that'swhy we use PNG guides
Signage
Signage is limited and only for
management purposes.
Agree
Campsites
Visibly impacted (long-term) sites
for up to 4 tents.
Toilets of minimal design to
be provided only where
necessary for environmental
purposes.
The 'green extreme' agenda is
starting to emerge here. Whilst wecannot stop customary landowners from providing for more than four tents 'big brother' can obviously
restrict the number of trekkers
through a licensing system.
This is obviously why there is not a
single environmental toilet along
the track.
Maximum Usage
To be defined where required
for social, environmental and
management purposes.

Obviously to be decided according
to the 'extreme green' agenda.
Recommended Maximum
Party Size
Recommended max party size 6.
Party size of four will be
encouraged.
Parties of up to 8 acceptable
on some T4 tracks in the
Central Plateau SRRZ, subject
to environmental conditions.

This restriction makes it
economically unviable for all trek operators apart from eco-enviro
evangelists.
Publicity
All publicity to be discouraged. Not to be included on maps except
for internal management purposes.
Authors will be encouraged to keep route descriptions vague (eg in accounts of past expeditions).
Photographers and publishers willbe encouraged not to identify the
precise location of photographs
taken in areas accessible
only by T4 tracks.
Difficult to comment on without
using a range of expletives!
Route Guides
Inclusion of T4 tracks in route
guides will be strongly
discouraged.
Does this mean a mass burning of
Lonely Planet books and our own
trek guides?
Guided Tours
Licences may be issued on
condition that guided parties
conform to the recommended
party-size limit and to the
guidelines relating to the publicity of tracks and destinations.
This is the sting in the tail – an
instrument that will limit trekkingooperations to a few long-haired
'friends of Jesus' and mung-bean
advocates from the green
movement!
Charlie Lynn
Adventure Kokoda
PO Box 303
Camden
NSW 2570
Charlie@kokodatreks.com.au
www.kokodatreks.com