The annual KTA junket to Brisbane for a 'Tour Operators Forum' on 27 November 2019 should be cancelled and the venue switched to Port Moresby according to long-term Kokoda trekker, Major Charlie Lynn.
'The agenda for the forum is currently irrelevant to the reality of the Kokoda trekking industry' said Lynn.
'It is worth noting that there has never been an identifiable outcome from any previous KTA Forum conducted in Australia over the past 10 years – apart from setting the date of their next forum!
'Of more concern is the fact that if a motion is passed at a forum that the KTA does not approve of – even one passed unanimously by 63 PNG trek operators and leaders concerning the exploitation of their local guides anc carriers – the KTA will not action it or even publish the Minutes because of their fear of a backlash from the vocal Australian Tour Operators Association.
'As a result the KTA now operates in a parallel universe to the reality of the Kokoda trekking industry.
'They have not published an audited financial statement for 10 years so we have no idea where the K12 million in trek fee income has gone.
'They have not published a newsletter for the past five years so nobody has any idea what they do.
'All we know is what they don't do!
'They don't have a booking system for campsites. They don't have a trek itinerary management system so nobody knows who is on the trail at any time. They don't have an economic development plan for local villagers to earn additional money from trekkers. They don't have a trail maintenance plan – or a campsite development plan. They don't offer any protection for the welfare of local guides, carriers and campsite owners. They refuse to provide assistance to villagers needing urgent medical treatment. They don't maintain a database. They don't have a single management protocol in place. They don't answer emails. Etc. Etc. Etc.
'Recently the KTA 'donated' K350,000 to a 'friendly' Australian NGO but they refuse to provide any financial assistance to a young Kokoda schoolgirl who needs an emergency lifesaving operation on her heart.
'When the Acting CEO was recently challenged as to why they had only answered 3 of the 21 emails we had sent them this year he advised that he was under no obligation to have to do so!
'This surely takes unaccountable bureaucratic arrogance to a new level. We would have thought a customer who will pay them almost K200,000 in trek fees in 2019 might have received a more favourable response'.
'We therefore have no option but to use our blog and social media to provide a response to their proposed agenda for their annual junket to Brisbane.
'There are 13 topics on the proposed agenda and 7 hours available to present/discuss them. This allows only 32 minutes for each one which is clearly insufficient. It seems that the agenda has been designed to provide as many free flights to Brisbane for their mates as possible.
If the forum was to be held in Port Moresby, as it should be, it would allow time for discussion in issues that concern the primary stakeholders of the Kokoda trekking industry i.e. landowners, local trek operators, guides, carriers and campsite owners.
If the KTA refuses to reschedule the forum to Port Moresby it should be cancelled and the funds allocated to saving the life of the young Kokoda schoolgirl whose plight is becoming more serious by the day.
'If the Brisbane Forum does proceed then all KTA officials and their guest speakers should have to fund their own travel and accommodation as it was never intended for trek fees to be misused for such junkets – they were introduced to ensure local villagers along the trail received their fair share of benefits from the Kokoda trekking industry.
'This is clearly a corruption of that intent and it should therefore be cancelled' said Lynn.
Following are our comments on their proposed agenda:
ADVENTURE KOKODA RESPONSE TO DRAFT AGENDA FOR THE KTA TOUR OPERATORS FORUM IN BRISBANE ON 27 NOVEMBER 2019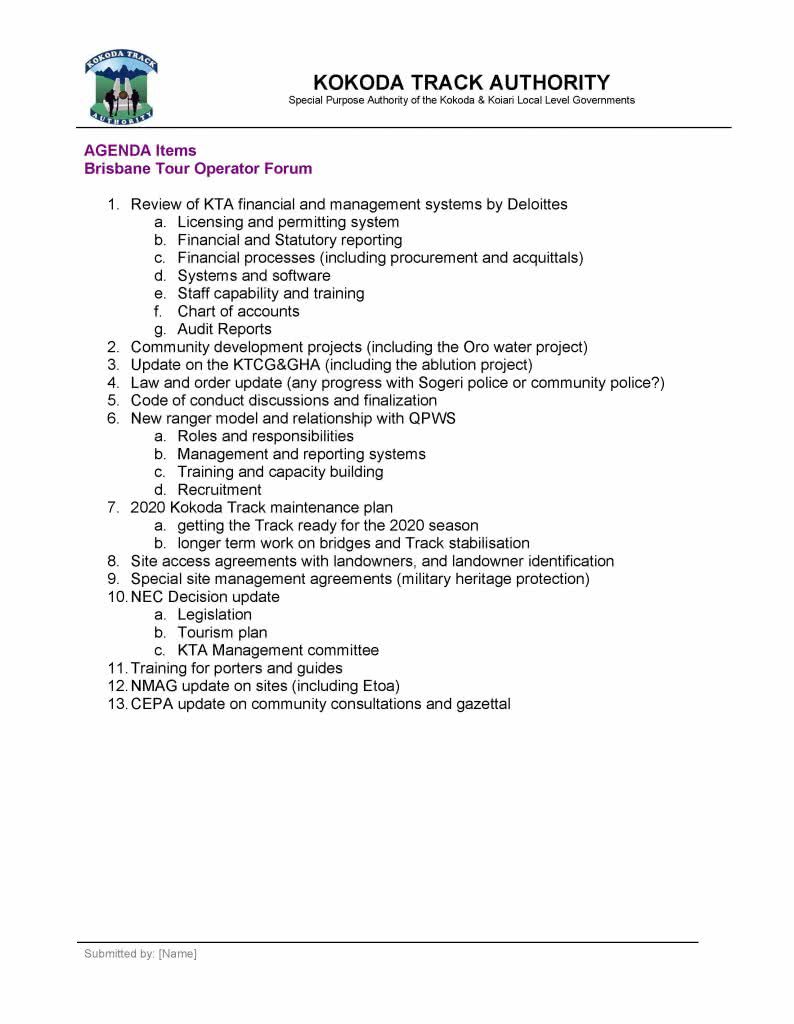 AGENDA ITEM NO 1:
Review of KTA financial and management systems by Deloittes:
Licensing and permitting system
Financial and Statutory reporting
Financial processes (including procurement and acquittals)
Systems and software
Staff capability and training
Chart of accountsAudit Reports
COMMENT
The failure of the KTA to publish an audited Financial Report to account for more than K12 million received in trek fees over the past decade would normally attract the attention of a Government oversight body such as the IPA but they seem to be immune from such scrutiny.
If Deloittes were commissioned to conduct a 'review of KTA financial and management systems' they should distribute a copy of their report and allow for interested parties to respond. The KTA do not need to use our trek fees to fly a team from Port Moresby to Brisbane to tell trek operators about it.
AGENDA ITEM No 2:
Community development projects (including the Oro water project)
COMMENT:
Our company, Adventure Kokoda has led 29 groups across the trail in 2019 however:
We a not aware of a single Community Development Project that has been initiated by the KTA.
We are aware that not a single $$ has been invested in any campsite development for the paying customers i.e. trekkers – and that there is still not a single toilet that meets the most basic of hygiene standards.
We are aware that not a single bridge across the trail would be classified as 'safe' for trekkers and that there are a number of sections of the trail that would be classified as 'dangerously unsafe.
We are aware that not a single creek or significant feature has been identified with the indigenous name or signposted.
This should therefore be a very brief session which could be contained in a PowerPoint presentation and sent out to trek operators.
AGENDA ITEM No 3:
Update on the KTCG&GHA (including the ablution project)
The 'ablution project' – which both the KTA and Kokoda Initiative have ignored for the past decade – is destined to fail because it has not yet dawned on them that the most important people to consult in this regard are those who pay to use them i.e. trekkers.
Unfortunately the KTA is unable to conduct a survey of the 50,000 trekkers who have crossed the trail over the past 10 years because they do not maintain a database – in fact they don't even have one to maintain – and therefore do not have a single contact detail of any trekker!
The two campsite surveys they refer to were conducted by people who had never trekked with a group of trekkers and were therefore unable to observe the disgraceful reality of the situation. They were also not qualified for the task they were given. Any reference to them should be regarded as irrelevant.
It is obvious that the presenters of this topic at a a forum would know less about the subject than the audience so it would be a waste of time to include it on the agenda.
The proposal to trial toilets at three campsites in Menari is obviously a bureaucratic delay tactic to avoid confronting the reality of the urgent need for hygienic toilets across the trail.
The Kokoda Initiative could use the modern toilets they built at the Isurava Elementary School with a ratio of one toilet per four students aged between 3 – 6 years! Similar toilets – with a privacy screen – would be ideal for trekkers.
The real need is for a strategic approach to the development of campsites along the trail to meet the immediate and long-term needs of trekkers. We should now be aware of the demand for such sites and the peak trekking periods during the year.
Each campsite should be discreet and not co-located beside other sites – they should be sited to avoid unnecessary impact on villages and should be designed to host different sized groups.
Each campsite should have a two kitchens, two dining huts and two drying huts – one for trekkers and one for their PNG support crew. They should also have adequate huts for the PNG crew to sleep in; level/grassed sites for trekkers tents; and hygienic ablution blocks that comprise an area for trekkers to change clothers before and after their shower. All ablution blocks and toilets should have privacy screens.
This topic cannot be covered adequately at a forum. It needs a discussion paper seeking submissions from trek operators and a great deal of consultation as part of the process of developing a strategic plan to enable the Kokoda trekking industry to realize its potential.
In the meantime at least three toilets based on the design used at the Isurava Elementary School (with a privacy screen added) should be built at the following locations in time for the 2020 trekking season:
Owers Corner
Goldie River
Goodwater (Imita Base)
Va Ule Creek
Ioribaiwa Village
Ofi Creek
Nauro
Agulogo
Menari
Brigade Hill
Efogi
Launumunu
Naduri
Kagi
Bombers
Diggers
1900 Crossing
Crossing 1
Templeton's Crossing
Eora Creek
Abuari
Alola
Isurava Memorial
Isurava Village
Hoi
Kovello
Kokoda Plateau
Kokoda Airfield
AGENDA ITEM No.4
Law and Order update (any progress with Sogeri Police or community police?)
This topic can be addressed in a newsletter or email to trek operators. The only issue relevant to this topic is the failure of the KTA to address the exploitation of guides, carriers and campsite owners by a majority of licensed trek operators and the increasing number of 'private' groups and unlicensed trek operators on the trail.
AGENDA ITEM No.5
Code of Conduct discussion and finalization.
The KTA Code of Conduct is a joke – and has been for the last decade. It will remain so until checkpoints are established at Owers Corner and Kokoda along with a couple of random points along the trail to ensure all trekkers have trek permits; that the welfare of guides and carriers is protected; and that campsite owners are receive proper payment for the number of trekers and PNG support crews.
KTA management has consistently ignored reports of exploitation of guides, carriers and campsite owners and there is no indication that this will change.
A Motion passed by 63 PNG trek operators at their own KTA Forum in Port Moresby in November 2017 has never been actioned. They did not even have the courage to table the Motion at the following KTA Forum in Cairns because of intimidation by the Australian Tour Operators Association and have refused repeated requests to publish the Minutes of that Forum.
The KTA has no credibility on this issue and any discussion in a 'fourm' environment would be regarded as a waste of time.
AGENDA ITEM No.6
New ranger model and relationship with QPWS
Roles and responsibilities
Management and reporting systems
Training and capacity building
Recruitment
The current ranger system introduced by the Kokoda Initiative/KTA was predicted tpo fail because of the lack of consultation with trek operators – and it has.
Any proposed new model will also be destined to fail if it ignores input from legitimate trek operators and involves organisations such as QPWS who are not familiar with trekking or the culture of the people along the trail.
This topic should be addressed in a discussion paper and circulated for comment as the basis for any policy development.
AGENDA ITEM No.7
2020 Kokoda Track maintenance plan:
getting the Track ready for the 2020 season
longer term work on bridges and Track stabilization
This topic falls under 'I'll believe it when I see it' category – there has been no coordinated track maintenance plan for the past 10 years under the watch of the KTA and Kokoda Initiative.
Feedback from trek operators regarding the environmental degradation of the trail; unsafe bridges and dangerously unsafe sections of the trail have been consistently ignored.
Some good work has been undertaken in recent years however it is piecemeal and does not seem to be part of any plan.
This topic should be addressed in a discussion paper and circulated for comment as the basis for any policy development.
AGENDA ITEM No.8
Site access agreements with landowners, and landowner identification
Trekkers pay K350 each for site access to the Kokoda Trail. If there is any issue with landowners in regard to access to certain sites this should be resolved by the KTA because that is what they are paid to do.
Landowners are certainly frustrated by the fact that neither the KTA nor the Kokoda Initiative have held any substantive village based meetings-workshops along the trail for the past decade.
Landowner identification should already have been part of the 'Social Mapping' work carried out by Kokoda Initiative consultants. If this has not happened one is entitled to ask, why not?
This topic should be addressed in a discussion paper and circulated for comment as the basis for any policy development.\
AGENDA ITEM No.9
Special site management agreements (military heritage protection)
The failure of the Kokoda Initiative to engage an accredited Military Heritage Architect to develop a Master Military Heritage Interpretation Plan since they assumed responsibility for the Kokoda Trail a decade ago is negligence of the highest order.
The Kokoda Trail has degenerated into a memorial junkyard under their watch and this has contributed to the 46 percent decline in trekker numbers since they arrived from Canberra.
The only solution is for the PNG Government to reclaim ownership of the trail and make a direct request to Prime Minister Scott Morrison to fund the Master Plan.
Any discussion on this topic in a forum would therefore be a waste of breath.
AGENDA ITEM No.10
NEC Decision update
1. Legislation
2. Tourism Plan
3. KTA Management committee

This topic can be addressed in a newsletter or email to interested parties.
AGENDA ITEM N0.11
Training for porters and guides
This topic reflects yet another disturbing level of ignorance of the reality of the Kokoda trekking industry by KTA management.
The recruitment, training and development of guides and carriers is the responsibility of individual trek operators. Those who invest in these aspects will benefit – those who don't will struggle.
If the KTA were sincere in the development of local guides and carriers they would introduce a registration system for them together with a log book for them to record the number of treks they have done; their role on these treks; and their trekking company.
The role of the KTA is to protect them from exploitation by low-rent trek operators and thus far they have clearly failed in this regard.
AGENDA ITEM No.12
NMAG update on sites (including Etoa)
According to military history records there was no battle known as 'Etoa' during the Kokoda campaign – and no Battle Honour was ever awarded in that name. The correct name of the Battle Honour is 'Eora Creek'.
The Eora Creek battlefield has never be 'lost' as earlier claimed by those ignorant of both the military history of the Kokoda campaign and the trail itself.
There should be no further funding wasted on this folly until a Master Military Heritage Interpretation Plan has been completed by an accredited Military Heritage Architect.
The Kokoda Trail will never realize its potential as a World Class pilgrimage until such a plan has been developed.
AGENDA ITEM No.13
CEPA update on community consultations and gazettal

This can be provided by email to interested parties or via the publication of a newsletter.