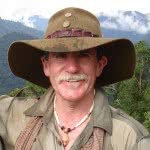 The recent revelation that the KTA donated K350,000 to KTF, an Australian NGO, to distribute cash disbursements to families on and off the Kokoda Trail is a serious misuse of trek fees.
The KTA was not established to support Australian NGOs'.
It was established in 2004 to provide for the development of campsites along the trail and to ensure local villagers received their fair share of benefits from the emerging trekking industry.
I know this because I initiated the idea and Adventure Kokoda funded its establishment with an advance of K25,000 to allow it to operate until trek fees started to flow.
Sir Peter Barter, Minister for Inter-Government Relations and Provincial and Local-level Government at the time acknowledged this when he wrote:
"Without Charlie Lynn's dedication to the people of the Kokoda Trail, and Papua New Guinea in general, and his assistance in early negotiations in the establishment of the Authority, the establishment of the Kokoda Track Authority and its future plans for assisting the sustainability of the Kokoda Track Tourism Strategy and its heritage, there would be no special purposes authority – it would still be sitting in limbo."
The KTA worked well for the first few years when it was run as a PNG enterprise by a former Kiap, Warren Bartlett. Trekker numbers increased rapidly by 255% from 1584 trekkers in 2004 to 5621 in 2008.
Since the Australian Government assumed control of the industry trekker numbers have declined by 46% and are now averaging a little over 3000 per year.
If we use 2008 as a benchmark this represents an annual loss of some K10 million for tourism in PNG and the loss of 4500 part-time jobs for guides and carriers each year.
The bureaucratic management system introduced by the Australian Government is now so dysfunctional the PNG Prime Minister ordered a review. 
Since 2009 the KTA has collected approximately K10 million in trek fees. We do not know how the fees were spent because they have never published an audited annual financial report.
What we do know is that nothing has been spent on campsite development and very little has been distributed to villagers along the trail.
The sorry story now is that there is not a single campsite that meets the accommodation needs of trekkers, guides and carriers and there is not a single toilet that meets the most basic hygienic standards.
The KTA seems to be unaware that good campsite facilities means more trekkers – and more trekkers means more income for villagers and more jobs.
If just 10% of trek fees had been invested in campsite development since 2009 they would all be now classified as world class. The major beneficiaries of this would be the villagers along the trail.
To add to the woe of the current situation the KTA operates an irrelevant website; does not have a database; and does not have a single management protocol in place.
As a result trekker numbers continue to decline and villagers are being robbed of their rightful share of benefits.
Last week we learned they 'found' a lazy K350,000 sitting in one of their accounts – but rather than allocate it to improving their website, developing a database, introducing proper management protocols and improve campsites to meet the needs of trekkers they decided to give it away to an Australian NGO so they can give it away to families with kids in schools on and off the trail.
It could be argued that this is an illegal heist by the Australian NGO because trek fees were never intended to be used for such purposes. NGOs are supposed to raise their own money for philanthropic purposes – not steal it from trekkers..
The honourable thing for the NGO to do would be to return the funds so the KTA can use them to bring toilets along the trail up to an acceptable hygienic standard for the paying customers i.e. trekkers who each pay a fee of K350 for this purpose.