'Our daughter's health is our priority and the further delay of her operation has been a concern for us which is becoming desperate, thereby resulting in our plea for your assistance' wrote Mrs Doreen Dumu, a nurse at the Kokoda Hospital on 29 January 2019.
Her 14 year-old daughter, Freda, has a serious heart condition – Tetralogy Fallot which is a serious congenital heart defect. The surgery she requires is not available in PNG and the cost of the operation and rehabilitation in Australia is in excess of $100,000.
I first approached our friends in the Children's First Foundation who did their best to assist but the cost of the operation was beyond their resources in view of their current commitments.
I then tried Rotary Oceana Medical Aid for Children (ROMAC). They were also keen to assist but there seems to be an issue with Children's Hospitals in NSW accepting patients from the Pacific.
I wrote to the Minister for Health to see if he could check it out on our behalf but did not receive a response.
I then contacted the Kokoda Track Authority (KTA) and suggested that they require every trek operator to submit the name and contact details of each of the trekkers they would be leading across the trail during the Anzac period on an Exel Sheet – a practice that should have been put in place a decade ago to capture the contact details of the 45,000 Australians who have trekked Kokoda over the past decade.
This would have allowed the KTA to contact each of the 600 Australians who trekked Kokoda during the Anzac period to seek donations for Freda's operation.
For reasons known only to the KTA they did not respond.
The Acting CEO was not present when Freda's parents called to seek his help. During our discussion I learned they were living in Port Moresby while trying to seek help. They had no money and no food. Freda's mother did some casual work for a day prior to our meeting and was paid K18 (A$7.60) which was all they had. I gave her enough to tide her over for the next week and pledged that I would continue to try and raise some funds for Freda's operation. Unfortunately the difficulties we are experiencing as a result of the ongoing dysfunction of the KTA has not allowed time to initiate an appeal.
Yesterday I learned that the KTA, which has not produced a financial statement for seven years, suddenly 'found' K350,000 (A$147,600) worth of trek fees in some KTA Account to donate to an Australian NGO to pay the 'parent contribution project fees' for 1,850 primary students from 'along and around the Kokoda Track'.
This is obviously an illegal disbursement of KTA funds which are supposed to be used for 'community development' along the Kokoda Trail. An amount of this magnitude should require KTA Board approval. This is obviously not possible because the KTA Board has been dysfunctional for a number of years – no Board Minutes have ever been distributed and no audited financial reports have ever been published to account for the K13 million (A$5.5 million) they have collected in trek fees over the past decade.
The CEO is in an acting position pending the Review of the KTA which is not into its second year (only an Australian consultant could take up to two years to review an office with a staff of six!). As a result he does not have the legal authority to donate such a large sum of trekkers money to an Australian NGO that has nothing to do with the Kokoda trekking industry.
DFAT officials attended the announcement. They are obviously unaware of the responsibility they have for transparency and good governance in the disbursement of other people's money. Did they ask the Acting CEO of the KTA where he found the money. In view of the fact that there is still K13 million unaccounted for did they ask if there is any more lying around in other KTA Accounts?
The Loop PNG report shows smug DFAT representatives, the NGO and the Acting CEO all aglow with warm feelings amongst smiling primary students at Sogeri.
But what about poor little Freda. She can't make it to school now because of the physical difficulties she is experiencing with her heart condition. Whilst her parents are beyond desperate in seeking support for her as she battles to stay alive it must gall them to know that her plight is being ignored by the very organisation that was established to help her.
Her only hope now is for the Acting CEO of the KTA to reverse his decision to give K350,000 ($147,600) trek fees away to an NGO and offer to pay for the operation that will save Freda's life.
Please lend your support my sending an email to:
Mr Julius Wargiral Acting CEO of the KTA: jwargirai@dplga.gov.pg
Mr Mark Nizette, Strategic Advisor to the Kokoda Initiative: mark.nizette@icloud.com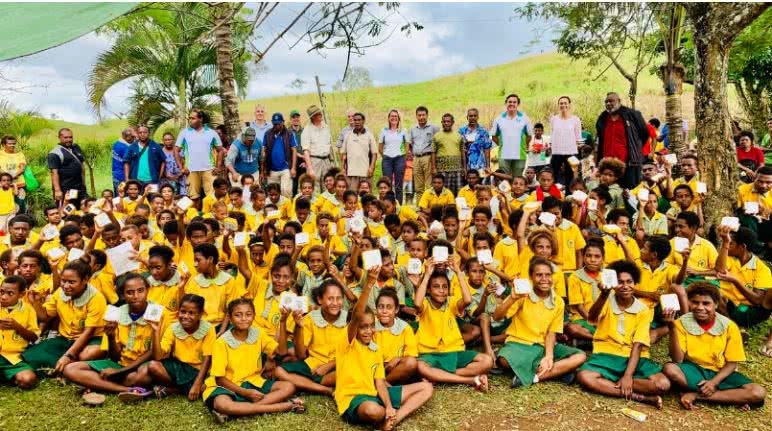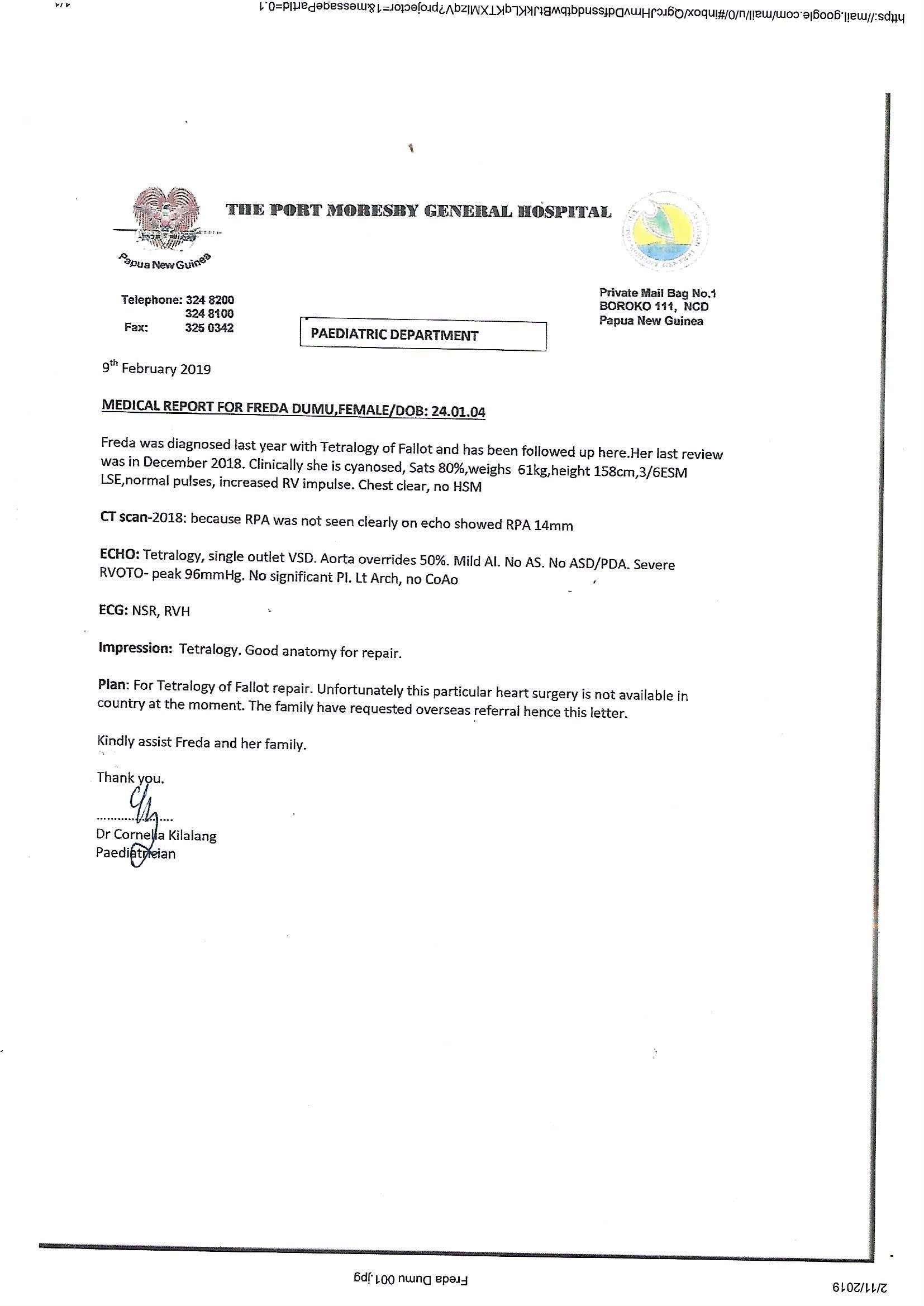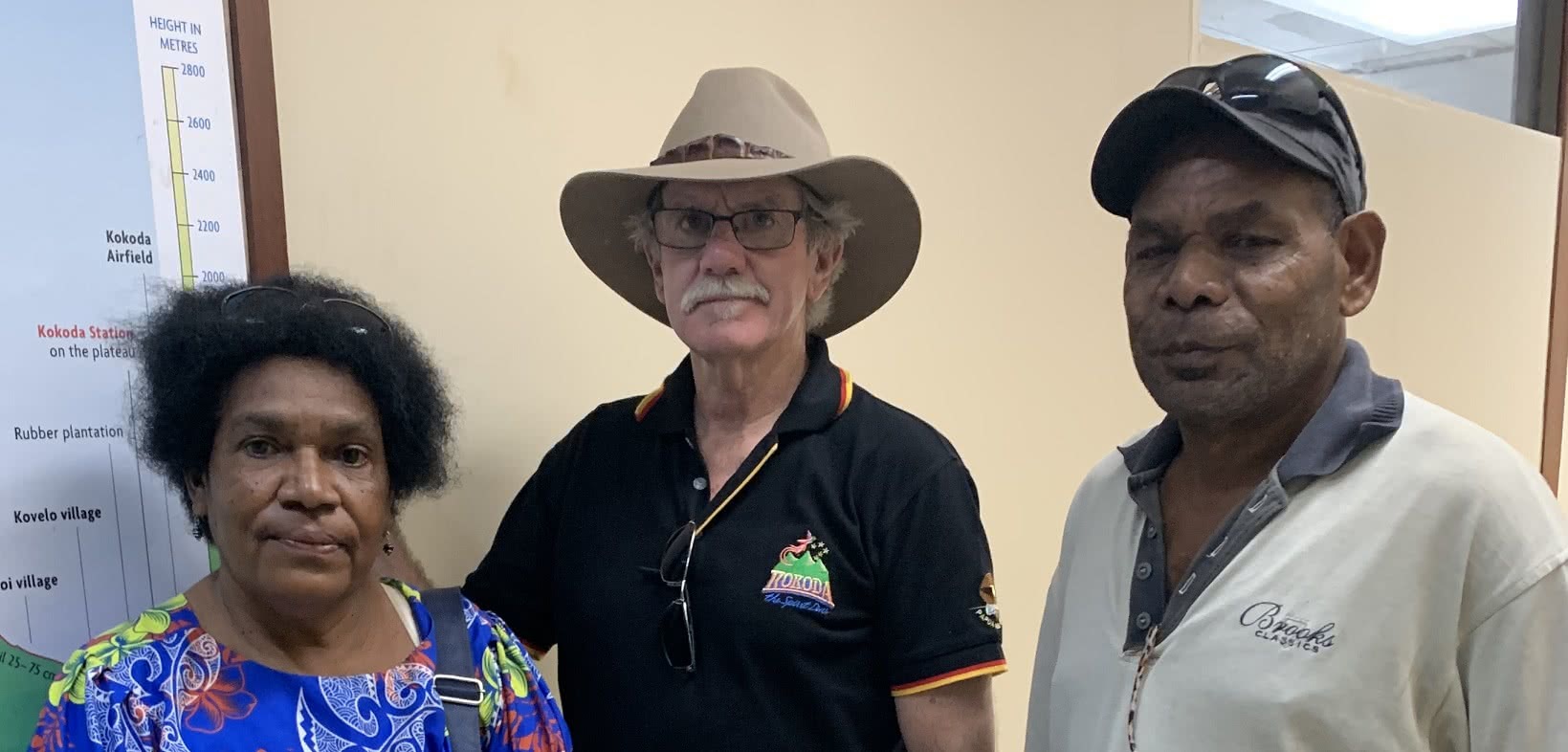 Charlie Lynn with Fred's parents at the KTA Office in Boroko on 26 April 2019