'The porters are the unsung heroes of this trip. They cook all our meals, carry our belongings, pitch our tents and sing us songs'  
so gushed ABC journalist, Nicola Gage, as she recounted her trek across the Kokoda Trail in the recent Air Niugini inflight magazine ('The big walk' – Jan-Feb 2019).
Apart from this observation it was difficult to ascertain her motive for her 'big walk'.
It wasn't the history of the Kokoda campaign as it only received scant mention.
Nor was it the 'fascinating cultural heritage' of the Koiari and Orokaiva people along the trail as neither tribal group was acknowledged.
It couldn't have been the desire to go where few had been as some 50,000 Australians had already beaten a fairly well-worn path over the trail before her.
It didn't appear to be an attempt to validate any facts. For example the Kokoda Trail is not a 96 kilometre journey as described by Nicola – it is a 138 kilometre pilgrimage. Her estimate of 5000 trekkers a year crossing the trail was a big stretch. Since the Australian Government assumed control of the Kokoda trekking industry in 2009 trekker numbers have declined by 43 percent – a little more than 3000 now trek across it each year.
And it certainly wasn't for the economic wellbeing of the porters she gushed over.
Under normal circumstances a team of eight trekkers would require a PNG support crew of 16 – plus a few more if some of the trekkers were only carrying day-packs as seemed to be the case from the video link attached to Nicola's travelogue.
On this occasion Nicola's team had only 10 porters which would result in them all being seriously overloaded – particularly if they had not arranged for a resupply along the trail which seemed to be the case as it wasn't mentioned.
Of more concern however was the research Nicola conducted in her choice of trek operator and the criteria she used in making her final selection from the 37 companies listed on the PNG Kokoda Track Authority (KTA) website.
While the operator she chose is licensed with the KTA they have not paid for any trek permits over the past two years – as a result the village communities she trekked through did not receive any shared benefits from her 'big walk'.
She also took an unacceptable risk in choosing an operator who did not have a Public Liability Insurance Policy.
As a journalist Nicola should have been aware of her 'duty of care' toward herself and each member of her group in minimising the risk of becoming a lifelong liability to the Australian taxpayer as the result of an injury which caused a permanent disability. This certainly would be the standard a journalist would apply to any business that neglected their 'duty of care' to employees and clients. We have all witnessed the media pack in full-throated cry when they get a sniff of such a dereliction of responsibility.
Only Nicola can explain why she would choose a trekking company without a Public Liability Insurance Policy to lead her across such a remote and hazardous area as the Owen Stanley Ranges. It is also highly unlikely they would have had a satellite phone or anybody trained in remote area First Aid.
During her trek she might have noticed a plaque commemorating a young mother of two who died from an asthma attack on the southern slopes of the Maguli Range near Ofi Creek. The company she trekked with did not have a satellite phone, anybody trained in First Aid, a medical kit, a reliable rear-link to co-ordinate an emergency evacuation or a valid Public Liability Insurance Policy. The company she had chosen was obviously much cheaper than other licensed trek operators who meet their legal and moral obligations in these areas.
The thought that this might also be the reason the operator she chose was so much cheaper than most of the licensed operators on the KTA website obviously didn't cross Nicola's mind during her research.
If Nicola had bothered walking around to where her porters were sleeping during her trek she would have noticed them huddled together in near freezing temperatures in the upper reaches of the Owen Stanley Ranges because the operator she chose does not provide them with zippered sleeping bags or mats. And if she had asked how much they were paid she would have learned that they probably received PNGK50 (A$21) per day or PNGK300 (A$125) for the trek. In view of the hours they spent on the trail each day this computes to about PNGK4 (A$1.70) per hour!
One can only imagine how the ABC would rip into a company in Australia if they were found to be exploiting their employees to that extent.
More research from Nicola would have revealed that Australians who exploited Papua New Guineans for cheap labour at the turn of the 20th Century were known as 'blackbirders' – a practice eventually outlawed as a form of slavery.
In recent years a similar practice has crept into the Kokoda trekking industry with increasing numbers choosing to trek with low-rent operators who are clearly exploiting local guides and porters from subsistence villagers along the trail.
Nicola should therefore have quietly crossed her 'big walk' off her bucket list rather than publicly boasting about it in the Air Niugini inflight magazine – exploiting subsistence villagers for an ego-trek is nothing to brag about.
Click here to read Nicola's travelogue on her 'big walk' across the Kokoda Trail.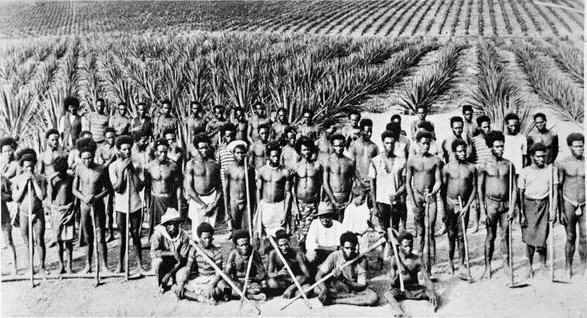 'Blackbirders' at the turn of the century