'What? Provide for the welfare of natives on the Kokoda Trail – you've got to be kidding!'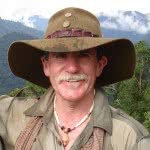 That's not exactly what they said but the Australian based Kokoda Tour Operators Association (KTOA) submission to a review of the PNG Kokoda Track Authority (KTA) ridiculed a suggestion that they should have to provide for the welfare of their guides and carriers. This could create an 'entitlement mentality' they wailed!
What is really required, according to the KTOA, is a combination of 'education – hard skills – and thought process'.
They don't explain how they would 'educate' a subsistence villager to carry loads far heavier than the maximum allowed for their 'fuzzy-wuzzy angel' forebears in 1942 – or how they would 'educate' them to sleep on freezing, wet ground without a sleeping bag or mat in the upper reaches of the Owen Stanley Ranges – or how they would 'educate' their bodies to be physically sustained on packets of two-minute noodles.
The KTOA assertion that 'for successful commerce, all parties must bring something to the table – there cannot be a hand out mentality' is reminiscent of a colonial blackbirder addressing a native work-party in the late 19th Century.
Whilst their submission acknowledges 'the legitimate right of landowners to participate in and benefit from the Kokoda Track tourism experience' they maintain that 'this right needs to be translated to viable means by which this can happen; education and mentoring is needed to develop the skillsets required and the appreciation that self-sustainable change and development requires a contribution from oneself'.
WTF! This surely takes patronising arrogance to a new level.
All a subsistence villager can bring to the table is often a ragged t-shirt, an old pair of shorts, one or two thongs and a homemade bilum bag containing a thin blanket and a few local vegetables.
They don't explain what sort of skill-set is required for them to carry an overweight backpack across the Kokoda Trail! They also don't acknowledge that one of their own carriers died on the trail last year – according to the local KTA Ranger at Owers Corner he was seriously overloaded. In the eyes of the KTOA he obviously didn't bring enough horsepower to the table!
Perhaps it's time for PNG authorities to do a review of the KTOA which was established by a group of Australian trek operators to protect their own interests.
A first glance at their website indicates that their corporate ideals are beyond reproach and their 'collective desire to see real, short and long term benefits to the Kokoda Track (sic) communities, landowners, Porters, Guides, Carriers and PNG stakeholders' is laudable.
But in reality individual members of the KTOA have been honing their skills at dodging their responsibilities for years.
When the KTA was established an Australian operator successfully 'influenced' the new organisation to introduce a 50 percent discount for students as these made up a large proportion of their clientele. PNG thus became the first and only country in the world to require subsistence villagers to subsidise wealthy Australian private school students.
Another member of the KTOA had previously been caught out trying to get 378 trekkers across the trail without trek permits which denied local villages their fair share of benefits from the emerging trekking industry. So much for their 'collective desire to see real, short and long term benefits to the Kokoda Track (sic) communities!'
At a KTA forum in Sydney in 2015 it was unanimously agreed that this immoral discount should be repealed. For reasons known only to the KTA and KTOA this never happened and their members have continued to claim it.
A review of decisions made at these annual forums shows a pattern of decisions aimed at improving the 'short and long term benefits to the Kokoda Track (sic) communities, landowners, Porters, Guides, Carriers and PNG stakeholders'. For reason known only to the KTA and KTOA these decisions are never implemented.
PNG guides, carriers, landowners and village representatives smelt a rat and more than 40 attended the latest forum in Port Moresby in November 2017 along with their Governor, representatives from local level government along the trail, the National Museum and Art Gallery, PNG Tourism and an Australian representative from the Kokoda Initiative.
The forum voted unanimously in favour of decreasing the maximum weight for a carrier to 18kg, increasing the daily rate of pay to K70; introducing a 'Walk-Home Allowance of K250; and ensuring each guide and carrier was issued with a full trek uniform, sleeping bag and mat.
Minutes recording the outcomes of the forum were duly distributed to the participants with instructions for the KTA CEO and Operations Officer to table them for discussion with the KTOA and others at a forum in Cairns the following week.
For reasons known only to the CEO of the KTA he did not table the minutes or discuss the issues at the forum.
It is not known what they discussed because the Minutes have never been distributed even though they were taken by an Australian Government employee attached to the KTA.
The CEO of the KTA has gone to ground over the issue and refuses to answer emails or take phone calls to explain why outcomes of the forum in Port Moresby were not tabled or even discussed.
On 14 May 2018 The Spectator magazine published an article on the 'blackbirder curse' relating to the Kokoda trekking industry in PNG:
'The unwitting supporters of the blackbirders are those who go for the cheapest option with the trek operator they choose. They are usually so engrossed with their own their own egos they neglect to check if their blackbirder limits the weight of backpacks to 18 kilograms for their porters which was the maximum allowable weight imposed by the Australian army during the Kokoda campaign in 1942.
'They are so concerned with their own comforts they forget to check if their blackbirder issues each of their PNG support crew with a sleeping bag as temperatures drop to near freezing in the upper reaches of the Owen Stanley Ranges – and a suitable mat to protect them from the wet ground they have to sleep on.
There are many other issues to check to avoid supporting a blackbirder. The quantity and quality of the rations for their porters – their rates of pay – their 'walk-home' allowance – their trek uniforms – their medical support. These are not important issues for blackbirders but they should be vital to any trekker with a conscience.'
The article, which can be read here, drew a swift response from the KTOA President, Ms Sue Fitcher:
'My first question is, do you have any sort of fact checker on articles put to you before you publish? This is an article big on allegation and extremely short on substance. Where are the examples, where is the verification?'
When the facts were presented to Ms Fitcher by the editor of The Spectator with an offer to publish her response nothing further was heard. The full article can be read here.
It is now time for Ms Fitcher to come clean and admit that exploitation of local PNG guides and carriers is an abhorrent practice.
If Ms Fitcher and the KTOA are not prepared to subscribe to a moral Code of Conduct that limits the maximum weight of loads to be carried by the guides and carriers they employ to 18 kg; includes a zippered sleeping bag and sleeping mat for each one; increases the daily rate of pay to K70; pays a 'Walk-Home-Allowance of K250 to each one; and provide a full trek uniform (cap, shirt and shorts) to them they should wind up their operation over the Kokoda Trail because exploitation of native labour is contrary to the spirit of Kokoda.