Newspaper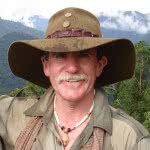 reports of a British 'Reality TV star' and his American girlfriend being ambushed, tortured, tormented and raped  by 'cannibals' on the Kokoda Trail went viral last month.  After escaping from their captors the near-naked couple apparently trekked in bare feet for 15 kilometres from Templeton's Crossing to Alola from where they were evacuated.
The story generated the most negative publicity PNG has experienced in decades. International tourism will take a big hit as a result.
Hopefully it will precipitate a wake-up call amongst government agencies responsible for the Kokoda trekking industry because this couple should never have been issued with a permit to trek without a PNG guide or any emergency equipment. Time will tell.
PNG could become the wartime tourism capital of the Pacific –  if they get the model right! It's an industry waiting to happen.
The welfare of PNG guides, carriers and campsite owners continuest to be a concern. There are no checks to ensure that guides and carriers are issued with sleeping bags and mats or that campsite owners are paid the correct amount. If trek operators don't lift their game then the management authority should do it for them. Trek operators should not expect their guides and carriers to sleep on wet ground without proper protective bedding.
The shameful practice of having villagers along the trail subsidise students from some of Australia's wealthiest schools by providing them with a 50 per cent discount on their trek permits must cease. If these students can afford to go skiing in Colorado during other semester breaks they can afford to pay the full price for their trek permits.
Our Network Kokoda Not-For-Profit company is now producing fresh produce for 1,200 boarding students at Sogeri and Iaowari High Schools and has six villages on the Sogeri Plateau with small market gardens supplying supermarkets in Port Moresby. Our Network Kokoda Community Learning Centre comprising a bulding with two self-contained flats, a classroom, a market garden, a vegetable cleaning/storing area with cool-room and freezer is now operational.
Our fundraising initiatives over the next year include dinners in Melbourne and Sydney, a corporate golf day, a PNG team in Oxfam, and a trekkers team in the City-to-Surf. A generous benefactor who trekked with us has allowed us to engage a full-time development officer, Ms Heather Crichton, to 'make things happen.'
We hope you enjoy catching up on our Niugini Nius.