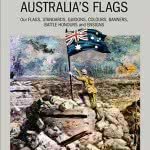 This morning I had the honour of attending the official launch of Major General Gordon Maitland's book 'The Story of Australia's Flags which was hosted by the Department of Veterans Affairs in Sydney. It follow on from his previous publication 'Honours and Awards of the Australian Army. Both are published by Playbill Military Productions and are essential references to anybody with an interest in the customs and traditions of our Australian military forces.
In his dedication to his book Major General Gordon Maitland wrote:
'Australians formally announce themselves by flying our flag or singing our National Anthem.
'Sometimes we may do so more informally by flying a flag bearing an image of one of our unique fauna or by singing Waltzing Matilda.
'Another favourite song is: 'We are one, but we are many, and from all the lands on Earth we come, we share a dream and sing with one voice – I am, you are, we are Australian'. It was written by Bruce Woodley and Dobe Newton in 1987 and is owned by Telstra. I am biased and would prefer 'flag' to 'dream'.
'No doubt my upbringing contributed to my bias for I am of that generation which, at school, recited:
I honour my God; I serve my King; I salute my flag.
'Like many of our wonderful ways it has been lost by progress [?]
'However this book is about the formal side of our flag flying and is dedicated to all who are proud to be an Australian and have taken the spirit from our flag.
A moth-eaten rag on a worm-eaten pole
It does not look likely to stir a man's soul
'Tis the deeds that were done 'neath the moth-eaten rag
When the pole was a staff and the rag was a flag.
'During the 1990s two new domestic campaigns emerged, one claiming that Australians needed to establish their identity, and the other pressing for a new flag to exclude the Union Jack[i]. Ex-service people in particular were quick to point out that they had always known who they were and, whom they were fighting for; furthermore they strongly resented the move to change the flag under which they had fought and under which, when possible, they were buried.
'I can clearly recall my emotions when ships of the RAN entered Bima Harbour in the Sunda Islands to initiated the 1945 surrender arrangements. The ships were in line abreast with the crews at action stations and the billowing Australian National Flags and White Ensigns gave rise to immense pride in the way that Australia had acquitted itself in those six years of war. Its relatively small volunteer army had defeated the professional armies of Italy, Germany, Vichy France and Japan; it had lived up to the traditions set by the Anzacs. In doing so, its people had kept faith with their forebears, who had shown such great fortitude in leaving their homeland and forging a nation and a people capable of such performance.
'Similar feelings obviously moved Robin Northover to write:
OUR FLAG
Our flag bears the stars that blaze at night,
In our southern sky of blue,
And the little old flag in the corner,
That's part of our heritage too.
It's for the English, the Scots and the Irish,
Who were sent to the end of the earth,
The rogues and schemers, the doers and dreamers,
Who gave modern Australia's birth.
And you who are shouting to change it,
You don't seem to understand,
It's the flag of our laws and our language,
Not the flag of a faraway land.
There are plenty of people who'll tell you,
How when Europe was plunged into the night,'
That little old flag in the corner,
Was their symbol of freedom and light.
It doesn't mean we owe allegiance,
To a forgotten imperial dream,
We've the stars to show where we're going,
And the old flag to show where we've been.
It's only an old piece of bunting,
It's only and old piece of rag,
Bur there are thousands who've died for its honour,'
And shed of their blood for OUR FLAG.
'In 1907 Edmund Barton, Australia's first Prime Minister, delivered the following thoughts:
'In the first place, we should insist that if the immigrant who comes here in good faith becomes an Australian and assimilates himself in us, he shall be treated as an exact equality with everyone else, for it is an outrage to discriminate against any such man because of creed, or birthplace, or origin. But this is predicated upon the person's becoming in every facet an Australian and nothing but an Australian . . . There can be on divided allegiance here. Any man who says he is an Australian, but something else also, isn't an Australian at all. We have room for but one flag, the Australian flag . . . We have room for but one language here and that is the English language . . . and we have room for but one sole loyalty and that is a loyalty to the Australian people.'
During the debate in the 1990s former Prime Minister Paul Keating was reported as saying that Australians had never fought under the Australian flag. It's a pity he did not have access to Major General Maitland's book then because he would have seen Australian War Memorial images of Lieutenant Arthur Hull planting the Australian flag on top of a German concrete blockhouse during the battle of Menin Road on 20 September 1917 and a photo of Major General Vasey raising the Australian flag at Kokoda on 3 November 1942. He would also have seen an image of the Changi flag now held at the Australian War Memorial.
I recall a letter to the editor from a veteran during the debate. He wrote:
'When I went to school I saluted the Australian flag. When I went to war I fought under it. When I die I want to be buried under it. But if you change it – forget it'.
Twitter-happy chardonnay warriors who have never worn the uniform might like to keep his words in mind before they seek to destroy the most important national symbol for our veterans during the dark days of WW1 and WW11.
Major General Maitland has made an invaluable contribution towards recording our flags, standards, guidons, colours, banners, battle honours and ensigns.
The book is available online at shop.playbill.com.au/books/
[i] Jack: Originally a national flag that was flown from the jack staff at the bow of a ship. Through custom, the Union Flag of the United Kingdom came to be known as the Union Jack.
Raising of the Australian Flag on the Kokoda Plateau on 3rd November 1942