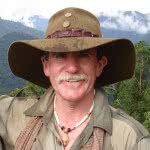 The shame of the Isurava battlesite as reported in the Sun-Herald on 26 July 2015 is the result of a flawed process that began with the planning of the memorial in 2001. http://www.smh.com.au/national/kokoda-track-landowners-demand-fee-for-access-to-battlefield-sites-20150725-gikclz.html
The Department of Veterans Affairs (DVA) commissioned the establishment of a memorial on the site of the battle for Isurava for the 60th anniversary of the Kokoda campaign in 2002. It was to be opened by Prime Ministers John Howard and Sir Michael Somare.
Prior to this DVA has shown little interest in honouring the military heritage of the Kokoda Trail.
Unfortunately the Department was led by two of the worst Ministers ever to be appointed to Veterans Affairs – Bruce Scott and Danna Vale. Scott was an arrogant fool and Vale had been described by Alan Ramsay of the Sydney Morning Herald as a twit. Both were obviously awed by their bemedaled departmental Director, retired Air Vice Marshall Gary Beck AO. One can only assume the department's dealings with their PNG counterparts were influenced by Beck's ignorance of local conditions and his arrogance.
A year after the opening of the memorial at Isurava Gary Beck was sacked because of major departmental stuff ups with a road that desecrated part of the Gallipoli peninsula and a water-wall at the London memorial.
Neither of the pioneering trek operators who had been operating along the trail for more than a decade was consulted in the process of developing the memorial. If they had bothered they would have learned that they were dealing with the wrong landowner. DVA selected one who could speak good English and could spin a good yarn.
All the customary landowner, Mr Lovi, could do was sit and fume as he watched the bureaucrats deal with their 'Captain's choice' and ignore him in the process.
After a successful opening of the memorial on 26th August 2002 the DVA cult departed in their Blackhawk helicopters.
Mr Lovi then exerted his authority as the traditional owner of the land and dispatched DVA's 'Captain's choice' back to his village.
To add insult to injury Beck and his boofheads from DVA contracted a third party from Port Moresby to cut the grass at the memorial. For anybody with the slightest inkling of customary land ownership in PNG this was beyond stupidity. For the next 12 years Mr Lovi and his clan sat and watched as the Port Moresby based sub-contractor cut his grass.
DVA also decided a 'trekkers hut' should be built at the site despite our objections. What were needed were campsite areas with good ablution facilities and traditional huts built for PNG guides and carriers. Our objections were over-ruled and a galvanised iron hut without ventilation was built at significant cost to the Australian taxpayer. It is totally unsuitable for trekkers needs and stands as a monument to bureaucratic ignorance, arrogance and stupidity.
Mr Lovi and his clan then watched as 40 000 trekkers visited the memorial on his land and left without paying a cent. If they had been required to pay a small 'significant site fee' of just $5 per trekker – the equivalent of a cup of coffee in Sydney – Mr Lovi would have around $200 000 in his bank account.
In 2008 the Australian Department of Environment assumed responsibility for the Kokoda Trail under the auspices of a 'Joint' Agreement signed with the PNG Government. Their lack of appreciation of the military significance of the Kokoda Trail was reflected in their decision to build a 'Remedial Massage Parlour' on the memorial site on the 70th anniversary of the Kokoda campaign!
If Mr Lovi and his clan had been trained to conduct a daily ceremony involving the raising and lowering of flags at dawn and dusk each day in traditional PNG army dress and how to conduct a Dawn Service trek groups would be clamouring to stay there. If they were trained in providing freshly brewed PNG coffee, scones and toast they would now have more than a million dollars in their accounts.
After Mr Lovi passed away in 2013 traditional ownership of the site was passed onto his son, Martin. His frustrations over the lack of respect paid to his late father and the ongoing lack of interest in his circumstances by Australian government officials led to the fencing off of the memorial.
Martin Lovi had nowhere else to go. The management authority established by the Australian Department of Environment in 2009 is unaccountable and is now beyond dysfunctional despite a $40 million investment of taxpayers money under the 'Joint' Agreement. Despite this investment there is not a single management protocol in place for the management authority and not a single vegetable has been harvested to benefit local villagers.
It is little wonder that landowners such as Martin Lovi are now taking matters into their own hands!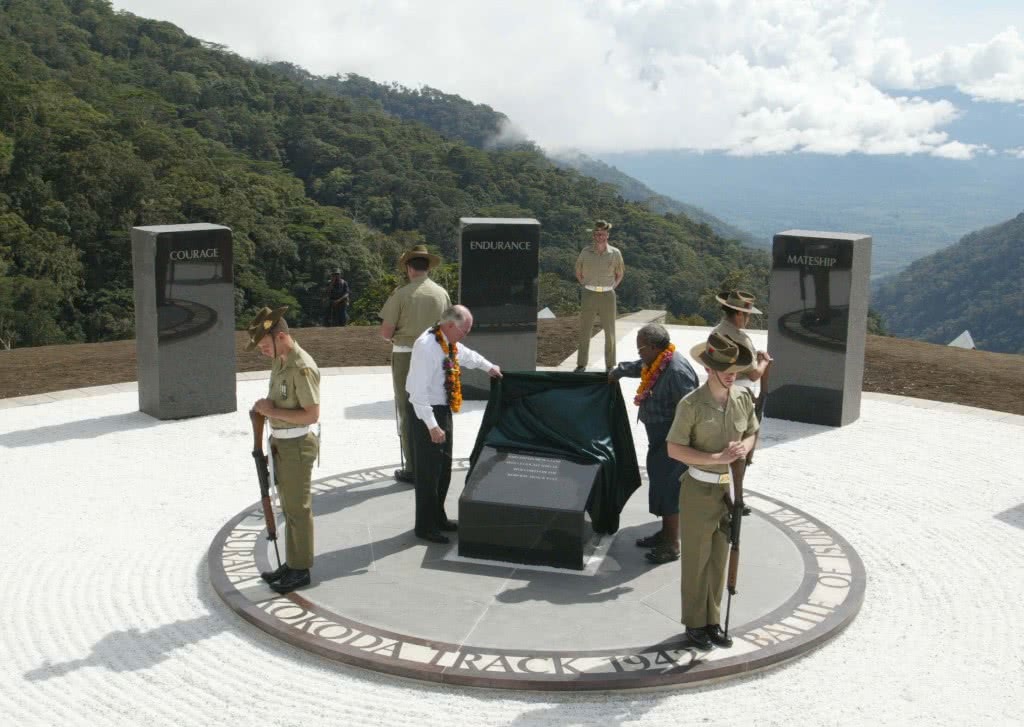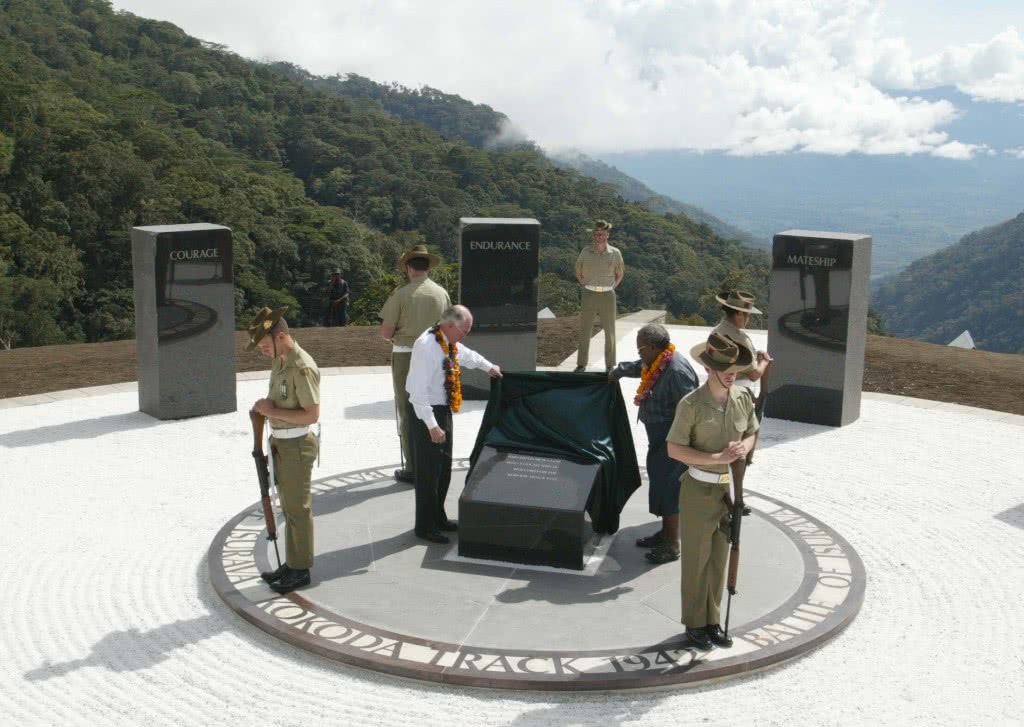 The Hon John Howard and The Grand Chief Sir Michael Somare officially open the Isurava Memorial on 26 August 2002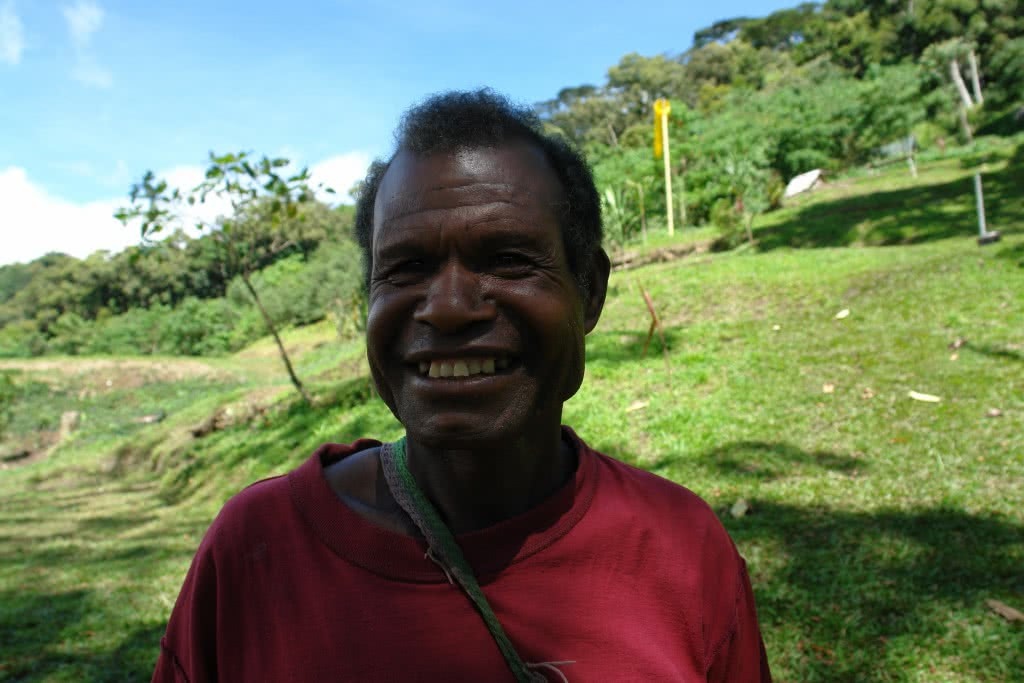 The traditional owner of the Isurava battlesite, Mr Lovi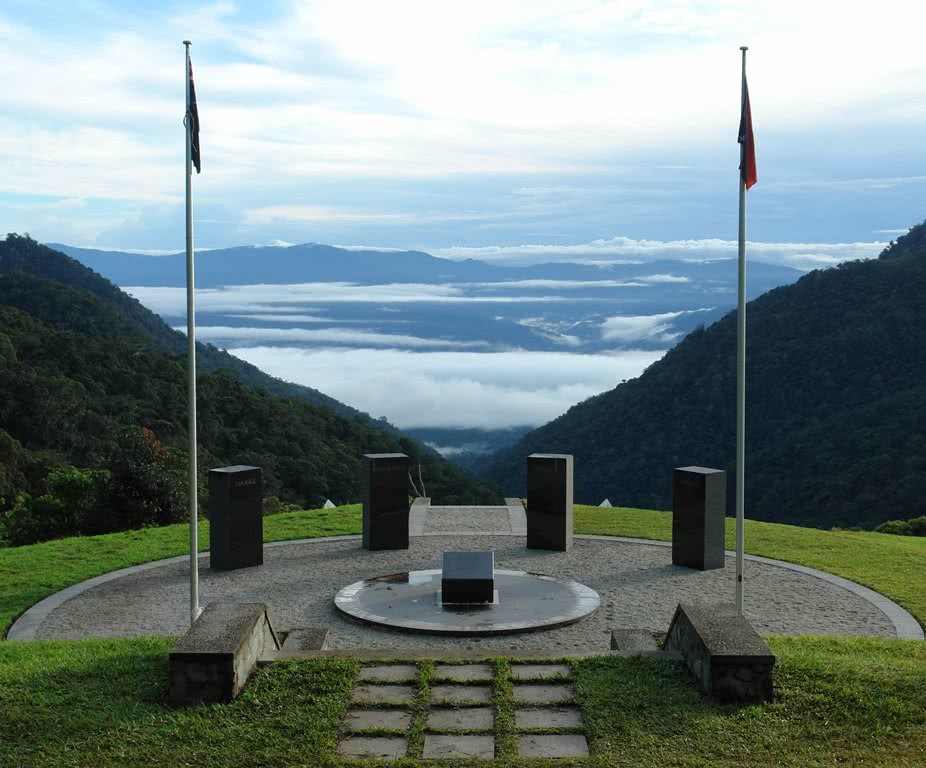 The Isurava Memorial