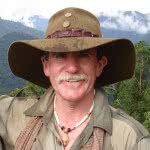 The most relevant guide to the potential of the Kokoda trekking industry is the continued growth in Australians making the pilgrimage to Gallipoli.
Each year up to 9 000 Australians visit the Dawn Service at Anzac Cove. Thousands more visit it at other times of the year. It is now becoming a pilgrimage for more than a million Turkish people also visiting Gallipoli each year.
Papua New Guinea has the potential to be a world class adventure-tourism destination but it has to address negative perceptions in regard to safety and reliability – particularly after the recent 'Black Cat Track' murders. This will require a focused investment in national marketing and support for the development of niche adventures such as wartime pilgrimages, eco-trekking, white-water rafting, caving, bird-watching, diving, surfing, fishing and culture.
People who participate in these niche adventure activities are generally more aware of the sensitivities of culture and environment and do not expect 5-star accommodation and service. They are also more tolerant of 'surprises' that are often experienced in the 'land of the unexpected'.
Recent interest in wartime tourism indicates that it has great potential as a niche industry for PNG tourism. This is evident by the rapid increase in the number of trekkers since the 50th anniversary of the Kokoda campaign in 1992.
'Kokoda' is almost the complete adventure experience for Australian baby-boomers and young adventurers. It requires physical stamina and mental tenacity. The wartime history evokes strong emotions. The unconditional care and support of local PNG guides and villagers is humbling. The environment is rugged, remote and pristine.
Beyond Kokoda are wartime adventures in Rabaul, Milne Bay, Buna, Gona, Salamaua, Nadzab, Lae, Finchafen, the Finisterre Ranges, Death Valley, Shaggy Ridge, Madang and Wewak. These are not only different battlesites – they are inhabited by different cultures with different traditions that create an adventurous smorgasbord. The 75th anniversary period from 2017 – 2020 will lead to increased numbers of Australians visiting these locations if PNG Tourism develops a wartime tourism strategy to develop and market these significant locations.
Wartime tourism is not restricted to trekkers. It has the capacity for wartime cruises to Port Moresby, Milne Bay, Lae, Madang, Wewak, Aitape, Manus, Rabaul, Bougainville and the Solomon's. Imagine an Anzac Dawn Service at Owers Corner; a showcase of PNG culture along Ela Beach; a 'Beating-of-the-Retreat' at Bomana War Cemetery followed by a 7-day Pacific War Cruise to each of the significant coastal/island battlesites.
The most important challenge for PNG is to develop a sustainable model that can be applied to each area. The development of the Kokoda trekking industry provides a timely opportunity for a case study as the basis for developing such a model for wartime tourism.