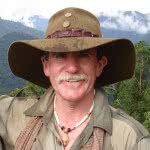 The recent publication of 'Australia's Secret War' by Hal Colebatch is a disturbing reminder that not all Australian's supported our diggers as they fought and died along the Kokoda Trail and in other campaigns during World War 11.
Colebatch's research has lifted the scab off the suppressed and hidden story of the war waged from 1939 to 1945 by a number of key Australian trade unions against their own society and against the men and women of their own country's fighting forces at the time of its gravest peril. In a review of the book, Miranda Devine wrote:
"One of the most obscene acts occurred in October, 1945, at the end of the war, after Australian soldiers were released from Japanese prison camps. They were half dead, starving and desperate for home. But when the British aircraft-carrier HMS Speaker brought them into Sydney Harbour, the wharfies went on strike. For 36 hours, the soldiers were forced to remain on-board, tantalisingly close to home. This final act of cruelty from their countrymen was their thanks for all the sacrifice."
'Australia's Secret War' was published by Quadrant and is available at http://quadrant.org.au
It is a timely reminder that not all Australians were heroes as we approach the Centenary of Anzac in 2015 and the 75th anniversary of the War in the Pacific in 2017.
There is no doubt that the politically correct brigade will attempt to reinterpret our military history by exposing 'Anzac myths', denigrating the 'glorification of war', uncovering stories of 'rape, pillage and plunder' and attributing war to the evils of capitalism, Fortunately the majority of Australians will seek to commemorate these historical anniversaries with the respect they deserve.
We are fortunate that our political leaders have always exhibited a bipartisan approach to commemorating our military history and honouring the legacy of our veterans. This doesn't mean they always get it right but their intentions are generally noble. One of the best illustrations of such bipartisanship are the 'mateship pilgrimages' organised by Liberal MP Scott Morrison and Labor MP, Jason Clare. They have led young leaders across the Kokoda Trail, the Sandakan Death March Route and the Black Cat Track in PNG. Whilst Scott and Jason are political opponents they are good friends and their initiative is a wonderful example of Australian mateship, with its roots embedded in our Anzac heritage, transcending politics.
Our experience with Kokoda over the past 22 years has been an extraordinary journey. It started out as a bit of adventure but slowly seeped into the wider Australian consciousness as media personalities took up the challenge to trek it and report on their experiences via television, radio, newspapers and magazines.
A threat to mine a section of the trail led to an 'intervention' by the Australian Government as they committed to assisting the PNG Government in developing a proposal for a World Heritage Listing for the Owen Stanley Ranges. The 'intervention' had an unintended consequence of becoming a honeypot for environmental bureaucrats and a conga-line of consultants engaged to address problems they will never understand. It also led to a rush of well-intentioned individuals and NGOs to address the 'cycle of poverty' they 'discovered' along the Trail. Villagers have since been provided with an abundance of charitable handouts and 'livelihood' assistance based on the principle of 'feelgood' rather than needs assessment and mutual obligation.
Australian 'management' of the Kokoda Trail during the period 2008-2011 could best be described as a disaster. Shonky trek operators were allowed to flourish; no management protocols were developed; local PNG guides and carriers were overloaded, ill-equipped, underfed, underpaid and exploited to the max; the wartime integrity of significant battlesites were trashed; massage parlours were built; and NGOs emerged as a new form of cargo-cult contributing to a hand-out mentality along the trail. Despite spending more than $20 million of taxpayer funds there is still no master plan to protect the wartime integrity of the Kokoda Trail – and little evidence of any sustainable outcomes from the investment.
Mismanagement during this period led to a steep decline in the number of Australians trekking as Kokoda lost its 'X' factor.
The appointment of Mark Nizette to head up the Kokoda Initiative and his relationship with the Secretary of the Department of Conservation, James Sabi, has arrested the decline and restored trust in the protection of the wartime integrity of the trail. Mark lived in PNG as a child, is fluent in Tok Pisin and has a strong empathy with Melanesian culture. He has previously worked at the Australian War Memorial and is currently studying for a Doctorate in Anthropology. We can only hope that his posting to the Kokoda Initiative extends beyond the 75th anniversary of the War in the Pacific in 2017.
We hope the model for Kokoda can be re-examined to improve the management of the trekking industry and ensure local villagers get a greater share of the economic and social benefits. The model should be used as a basis for the development of a wartime tourism industry for PNG as they are the custodians of a large part of our Pacific war heritage.
Wartime tourism is a most effective way to re-establish personal relationships between Australia and Papua New Guinea and dispel many of the negative myths about the country. Australians returning from their experience with PNG guides, carriers and villagers have nothing but praise for the friendly help and unconditional hospitality they receive. They also become aware of the potential to further explore the 'land of the unexpected'.
Papua New Guinea is currently experiencing an unprecedented economic boom however the real wealth of the country exists within its cultural diversity, its rugged pristine environment and its wartime heritage. Kokoda is now established as their gateway to a world class adventure tourism industry.
Younger generations of Australians and Papua New Guineans will never forgive us if we fail to develop a strategy to protect the wartime integrity of significant battlesites in areas such as Kokoda, Milne Bay, Buna, Gona, Sananada, Black Cat, Shaggy Ridge, etc,
We recently established 'Network Kokoda' as a not-for-profit' entity to take a role in this area. Brigadier Phil McNamara AM CSC ESM (Ret) is our Chairman and in PNG our Board included Brigadier Ken Noga, former Chief of the PNG Defence Force and High Commissioner to Australia; Dame Carol Kidu, former Minister for Community Development; and Marianna Ellingson, Secretary of the Office of Arts, Culture and Tourism. We have adopted the strategy of Community Learning Development Centres developed by Dame Carol during her time as Minister.
Last year we engaged an Agricultural Field Manager, Mr Oggie Erehe, to develop a large market garden at the Sogeri National High School to provide fresh produce to around 400 boarding students. We recently extended the project to Iaowari High School and will be able to provide fresh produce for an additional 400 boarding students in 2014. Oggie Erehe, will be working with Iaowari to establish a fisheries and poultry learning project for students interested in agriculture. Oggie was born in Kokoda, educated at Popondetta and recently obtained his degree in Tropical Agriculture.
Oggie has also established an Agricultural Outreach Program which has been replicated in seven villages on the Sogeri Plateau. We plan to replicate this program in the Kokoda area in 2014.
Network Kokoda was approached to support the establishment of a Koiari Rugby League Association to provide an incentive for young men on the Sogeri Plateau to commit to the game. We agreed to sponsor their training camp for a competition in Port Moresby where they were runners-up. We also sponsored their trophies and medallions for their Grand Final at Sogeri. In return the Association has agreed to provide labour support for our gardens at Sogeri and Iaowari High Schools.
Our 'Bring-a-Buk' program resulted in more than 800 school books being donated by our trekkers to the five schools on the Sogeri Plateau and along the trail. Our 'Yumi Helpim Pikinnini' program resulted in further trekker donations of footballs and school supplies to village students.
One of our star scholarship students, Margaret Aitsi, graduated with a Degree in Commerce from the Divine Word University in Lae this year. Our trekkers have supported Margaret since she graduated from the Port Moresby Grammar School three years ago. She has repaid us with distinctions in almost all subjects and was one of the first graduates to be recruited by Price Waterhouse Coopers in Port Moresby and begins her new career on 6 January 2014. We are very proud of her and proud of our trekkers who made it possible for her to graduate.
In 2013 we led 419 trekkers in 31 trek groups across Kokoda. We paid a K146,125 ($70,000) in trek fees to the Kokoda Track Authority and injected K1,315,775 ($500,000) into village communities via wages, campsite fees, food, artefacts, 'sing-sings', etc. This is more than 10 times the combined income generated by all the villagers along the trail when we first started trekking in 1991.
We were happy to see Dr Charlie Teo return to complete another trek with his angelic daughters Katie and Sophie. We introduced Charlie to the General Manager and Board of the Port Moresby General Hospital and he has generously agreed to provide some pro-bono neurosurgery in PNG.
We were also able to assist Dr Alice Lee and Sue Huntley to meet up with the Governor of Oro Province, Gary Juffa, to organise a large-scale vaccination program to help make PNG Hep B free. They are leading a medical team to Oro in January and are planning to vaccinate 5000 villagers in the Kokoda area in July 2014. We also met with the First Lady of PNG, Lynda Babao-O'Neill to discuss extending the program into other provincial areas. Network Kokoda will provide in-country logistic support to Dr Lee's medical teams.
Our last trek of the year saw the Penrith Panthers complete our normal 10-day trek in 6 days. Ivan Cleary, Tim Grant and Jamie Soward were well known to the villagers because of their State-of-Origin matches and participated in a couple of games of touch in Efogi and Menari. Krystyna Pollard led a documentary crew from the University of Western Sydney and has posted a copy of their promotion at http://www.youtube.com/watch?v=rRuDEPPaYpI&feature=youtu.be
Our Adventure Kokoda team would like to thank all of our trekkers, friends and supporters in Australia and Papua New Guinea and wish you all a Happy and Prosperous New Year.
Charlie