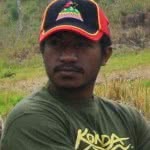 Adventure Kokoda
was the foundation sponsor of
Network Kokoda
– a foundation established to honour the sacrifice of our Kokoda veterans and PNG wartime carriers. Network Kokoda has based its philosophy on Community Learning Development Centres established by the former Minister for Community Development, Dame Carol Kidu. We have engaged Mr Sandy Lawson, an agricultural scientist who has spent most of his woking life in PNG. Sandy is fluent in Tok Pisin and Motu and familiar with a number of other languages.  He has an empathetic understanding of Melanesian culture and is highly respected by Koiari and Orokaive leaders. We have also engaged Oggie Erehetonz (pictured)who has a Diploma in Tropical Agriculture from University of Natural Resource and Environment in Popondetta. Oggie is an outstanding young graduate who is very keen to manage our Integrated Community Agricultural Learning Centres on the Sogeri plateau. Our next objective is to replicate this project at Kokoda. Following is Sandy Lawson's latest report on our Integrated Community Agricultural Learning Centres program: 'The program will involve a series of carefully structured workshops and activities designed for high impact within the chosen target production groups. Two experimental groups will be selected in the first place to trial the process and fine-tune the techniques. 'By such an integrated learning approach we aim to enhance the ability of participants to cooperate with each other for mutual benefit. 'The aim of the project is to produce more knowledgeable and 'emancipated' farmers more capable of making their own farming decisions about their own commercial activities. 'The learning is therefore sustainable and ongoing, and not dependent on a continuous intensive input from an agriculturalist. 'Work with the schools is designed to awaken the students to the possibilities of agriculture as an enterprise and a means of making a good living, rather than something that grandparents and parents used to do, and not something that modern young people do. 'Consequently work with four schools is planned for the coming year, from primary to high school level, and will be designed in consultation with the respective heads  of the schools involved. '
UNDERSTANDING THE ISSUES.
'Working with small-scale and often resource-poor farmers in Papua New Guinea requires a particular type of approach that allows them to develop their farming and working skills as they develop their farms in accord with the demands of the market. This kind of approach has been pioneered successfully with rice farming among smallholders in Indonesia. Many such farmers are used to producing food for their own subsistence. Creating product specifically for market is for many a new and different experience, and requires a different set of learning approaches and skills. 'Rarely in a position to take many risks, small scale farmers stick to tried and true old ways. For change to occur, they must convince themselves of the value to them of the new ways they are being shown. This is a very important issue, the crux of the whole project. The consequence of what we see as expedient short cuts, is frequently the giving of ownership to an outside agency. (i.e. if things go awry, it is the fault of the outsiders). 'Without ownership of the work resting firmly in the hands of the farmers, (as perceived by them), the project will fail. 'Traditionally, agricultural extension and learning has been handled something like this: technology packages are developed at research institutions, and these are then 'promoted' by extension staff, who go out into the field and tell the farmers what to do. Farmers are not supposed to deviate too much from the recommendations, nor is it thought necessary they understand the reasons behind the recommendations being promoted by the extension service. All they need to do is to follow the instructions. This time-honoured approach to agriculture is a reason why so much of the work with so many smallholders is stillborn. 'The issue is not in the main how to grow the crop, but rather the question of ownership, and consequently who makes the decisions.
'PART 1 – THE COMMUNITY
 'WHAT WE ARE DOING AND HOW WE'RE DOING IT.
'Creating a learning experience in an encouraging learning environment 'Over the course of the period of our engagement with a farmer group, we are passing into the farmers' hands new techniques of working with crops, the ability to make judgments about their own particular farming circumstances, and the ability to make useful commercial decisions about their cropping possibilities. They will be learning how to do this from their own experience on their own farms. Our job is to engineer and guide the learning environment for maximum quality impact. In short, we are facilitators. 'Integrated agricultural learning centres for sustainable farmer livelihoods. 'The city of Port Moresby is growing at a very rapid rate. The Koiari people of the Sogeri plateau are ideally placed to take advantage of this situation by the production and marketing of high quality food for the Port Moresby markets. 'The Sogeri Integrated Agricultural Learning project set up by Network Kokoda will engage the local people in a production process which they control, and which will aim to supply high quality agricultural products for this expanding Port Moresby market. 'A solid content of quality learning activities. 'Our task, as facilitators, is to make this learning as engaging and inspiring as possible.  By carefully preparing structured activities which cover all phases of crop supply and cultivation, we aim to engage the farmers in a seasonally relevant series of workshops and on-site activities which will rapidly advance their knowledge and understanding of the crops and animals they are producing. 'Effective and attractive learning methods and mechanisms enhancing knowledge and skills. 'An encouraging, interesting and sometimes challenging environment and facilitation sets up a stimulating environment in which adults can continuously learn and maintain enthusiasm.  Farmers may thus expand their learning in a safe and interesting way in order to develop their capabilities and operational sophistication. 'As facilitators, we are continuously working for learning with inpact. 'Farmers must themselves own and control the process. 'Without farmer ownership the process will never be free of the need for ongoing outside professional input, and so as a learning process, it must be regarded as a failure. 'Farmers need to feel they have control over their own work and their own learning, and can comfortably ask the professionals for help. This is not an invitation for outsiders to take control, but a request for a specific input to enhance the local farmers' understanding and perception.
'A 'toolkit' of materials and techniques.
'The job of the facilitator is rarely to tell others what to do. Rather it is to seek to create and enhance a learning environment for farmers so they can discover what to do for themselves. The difficult task of the facilitator then becomes one of finding materials and methods to enhance and encourage the learning and understanding experience. 'Successful facilitators have at their disposal a 'toolkit' of materials and methods to enhance and make compelling farmers' understanding of their crops and the agro-environment within which they operate. 'Why is this so important in extension work in Papua New Guinea? 'The history of colonial development in PNG has been modelled on foreign 'experts' telling locals what to do, either the result of local fieldwork on research institutions, or research done overseas. It was also assumed that  farmers had no real 'knowledge' of their crops and their requirements. It is not that such station research produced incorrect results, but that it was used out of context. 'Farmers' fields rarely match research conditions. Especially in the tropics, a wider variation in conditions is likely to occur than in more temperate climates, where western scientific research methods were originally developed. Labour supply and availability of resources was also likely to be markedly different. 'So for local farmers to be convinced of the relevance of our project work, it is important that they have a major input into its design and execution. 'Achievement of real impact will only be attained when local farmers are self-starters, and so the agricultural learning projects will be looking to apply more emancipatory ways to agricultural learning among farmers than has often been the case in the past.
 'PART 2 – THE NEXT 2 MONTHS (October – November 2012)
'We will choose two experimental villages which are eager to let us trial the vegetable and small livestock program. 'The beginning of the program will be the planning and delivery of introductory workshops with the chosen participating farmers in their villages. 'The building up of a kit of materials will be a priority for intensive learning in the future.
(An example would be a soil thermometer which can be used to show temperature of the soil in the root zone. Many people are keen to remove any growth other than the chosen plant, which exposes the root zone to intense heat in the sun, in turn significantly affecting plant growth. A soil thermometer would allow us to demonstrate the very significant effect of such heat in the root zone.)
'A school program with appropriate teachers/heads will also be planned at an appropriate level for the various participating grades. 'It is difficult to overestimate the potential significance of the Sogeri Agricultural Community Learning Project. Properly designed, the flow-on benefits are huge; every bit as significant on  a smaller scale as the rice project in Indonesia'.
Sandy Lawson 16 September 2012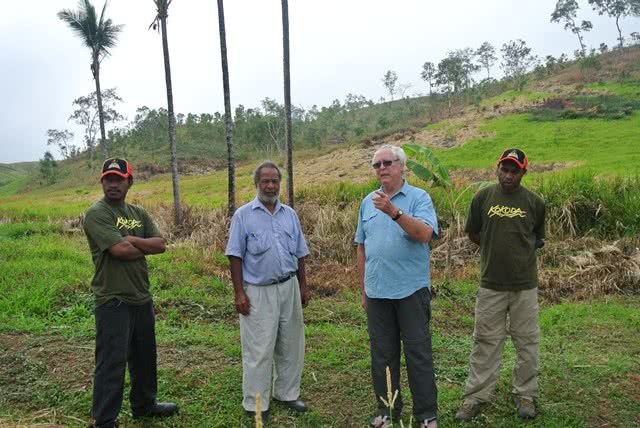 Oggie Erehetonz, Gus Maino from the PNG Fresh Produce Development Agency, Sandy Lawson and Dick Noel from Adventure Kokoda onsite at our Sogeri Integrated Agricultural Learning Project