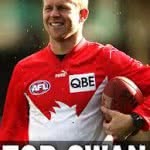 The seeds of greatness for a number of Sydney Swans footballers could well have been planted by Sydney Swans CEO in 2001, Kelvin Templeton – a former Brownlow medallist and John Coleman medallist with the Footscray Bulldogs. Things were looking grim for the Swans in 2001. Brett Kirk had been told that he wouldn't make the grade; Leo Barry's form was so bad they couldn't even offer him for trade. Ryan O'Keefe had potential but needed to be more flexible in his approach to his team-mates and his game.
Templeton was a visionary and believed each one had the potential to be among the best. After Kokoda, Brett Kirk went on to become one of the most courageous captains the game has ever see. Leo Barry took the confidence mark mark of the century in the 2005 Grand Final; and Ryan O'Keefe won the Norm Smith Medal for best on the ground in the Swans 2012 Grand Final victory over Hawthorn. The following year Adam Goodes trekked Kokoda – and went on to win two Brownlow Medals!

Swans conquer the Kokoda
By Cameron Bell Sunday, January 14, 2001
Six swans have tackled pre-season with a difference, trekking Papua New Guinea's Kokoda Trail. Cameron Bell reports.
'I forgot to mention the poem Charlie read about the Digger spirit. It was inspiring and sent shivers up and down my spine. This war was all about endurance and the human spirit. It was being fought by mostly teenagers and they showed heroism beyond belief. My pop is the bravest person I have ever met.'
SYDNEY Swans rising star Brett Kirk was in a tent after a 14-hour day in which he had pushed his body to the limit, when he sat down to record the above entry in his diary.
The rain was tumbling down outside and his every muscle was stinging … and yet he had four days of physical and mental torture to endure. It was late last month and Kirk was one of six Swans players trekking 110km along the Kokoda Trail.
The Charlie mentioned in the diary is Charlie Lynn — a local politician who has taken countless groups to Kokoda in the past 10 years to raise awareness of one of our truly great war campaigns.
Late last year, Lynn was with Swans chief executive Kelvin Templeton at a function.
The two had previously spoken about sending a group of players to Kokoda, under Lynn's guidance, and on this occasion Templeton thought the time was right.
"I hoped the experience would be a growth enriching one for the players' total life and bring home the importance and understanding of what a fantastic opportunity they have," Templeton said.
"The exercise was not designed as a commando course training thing … the spiritual and and historical aspects of Kokoda were integral components in the whole exercise."
The club chose six players, with Templeton wanting a mix of senior players and up-and-comers.
Those chosen were last year's best and fairest Andrew Schauble, Kirk, Leo Barry, Rowan Warfe, Gerard Bennett and Ryan O'Keefe.
And the six days they spent trekking Kokoda — sometimes for 14 hours a day carrying 32kg backpacks — changed their life.
For Kirk, the trip held special significance, as his grandfather Wally Moras was a member of 39th Battalion — a group of 18-year-olds charged with keeping the Japanese at bay in 1942.
"During the trekking I was thinking about my grandfather and what he and the young soldiers must have been going through," Kirk said. "I really couldn't envision it.
"With the terrain and the weather it was one of the toughest things I've ever done … and we weren't even getting shot at."
'Saturday, December 16. Charlie made a point today. We have been given the skill to play footy. Use that opportunity. Those men in the battlefields didn't have that opportunity. To be the best you must have an edge. You must do extra than the others.'
Another diary entry by Kirk — one that convinced Templeton the trip was a raging success.
"These players are young and healthy and playing sport as a living and have a greater opportunity than the average person in the street," Templeton said. "Compared to the men who fought at Kokoda, they have every advantage in the world. I thought exposing that contrast would really bring that home."
And it did.
Kirk couldn't stop thinking about his grandfather every step his took.
"I guess I have returned with a great appreciation of what my grandfather went through and the spirit of Kokoda," he said. "I know I talk on behalf of the others when I say we can use that spirit to help us in all parts of our life these days."
For Schauble, last year's best and fairest Swan, the trek was more than just another trip away.
"It was the closest war has ever come to Australia and that track is such an important part of our history but it isn't recognised like it should be," Schauble said.
"We certainly got a greater understanding of what happened there and it was interesting to see each individual evolve over the trip as well. What might have frustrated them at the start became non-issues towards the end."
But there were heated moments among the six.
There was one night in the heavy rain when some of the team got animated towards leader Lynn.
"Charlie was trying to play a few games with us to see how we would deal with the distractions," Schauble said. "He would tell us there was only half an hour to go when really it was more like two and a few of the boys got a bit heated."
At one stage a physically and mentally exhausted, Warfe wrapped his walking stick around a tree and another day O'Keefe belted his fist into the ground, frustrated at not being able to find his footing in the wet, rugged, terrain. But there were also light-hearted moments such as when the group broke into spontaneous singing during a storm one evening.
And then there was a meeting with a genuine fuzzy wuzzy angel.
And while each took their own memories and their own experiences, perhaps Kirk's diary entry in the middle of the trek best sums up the experience.
' When times get tough not only here but in my life I am going to think back to Kokoda and what Pop and the Diggers went through.'
As a tribute to his Pop, Kirk didn't change out of his wet clothes for the final day of the trek because he knew the Diggers didn't have that luxury.
And when he returned home for Christmas — lighter due to weight loss but heavier on life's experiences — he had a special present for his 79-year-old Pop.
An enlarged, framed photograph of himself, standing next to a hunched fuzzy wuzzy angel. It brought a tear to Pop's eye … and Kirk and his five team-mates knew exactly why.
Ryan O'Keefe:
'Being the youngest of six players I might have been a bit more naïve in taking on the Kokoda and it certainly hit me on the first night.,
'Knowing virtually nothing about Kokoda my initial thoughts were that it would be a long walk but being as fit as we were I thought it wouldn't be anything too tough. I was to be given a rude awakening.
'It turned out to be the experience of my life but in saying that I'd definitely do it again.
'Physically and mentally it was exhausting, probably tougher mentally because I could never have imagined how hard it would be getting myself up for day after day.
'In the end I think that's one of the things I took away from Kokoda more than anything else – the enjoyment of having adapted to something completely foreign.
'After the first few days I found that we had settled into what we were trying to achieve and it became easier as the trek went on. But there were still days when I wondered how we would get through it but nobody wanted to let anybody else down and I think we gained strength from that.
'You end up with a totally different mindset as to how you approach things and in the end I'm certainly tougher mentally because of the Kokoda experience.
'One of the things that was driven into us was the fact we all have a talent and we have to appreciate what we've got, we have to use that talent to the full.
'As well as learning about myself and my team mates it was also such a great opportunity to learn about the Australian heroes of Kokoda and to also see how the village people live, their happiness with their lot.
'To see the look on the faces of those who had seen few white people before is something I'll never forget about Kokoda, it was amazing'.
Check the Channel 7 television feature on the Swan's 2001 trek at:
Part 1:
http://www.youtube.com/watch?v=BAiajXkG_m0&list=UUt5HgeeT0V6nKa9rFxgOV2A&index=36&feature=plcp
Part 2:
http://www.youtube.com/watch?v=PoEIhlU3OTY&list=UUt5HgeeT0V6nKa9rFxgOV2A&index=37&feature=plcp
Part 3 :
http://www.youtube.com/watch?v=X1zOXD8brHU&feature=relmfu
Part 4:
http://www.youtube.com/watch?v=bD45HxKhy70&feature=relmfu