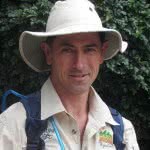 Adventure Kokoda have high standards and high expectations for our trek leaders. We have to because we are committed to getting our trekkers safely across the Kokoda Trail and to ensuring they have a safe, informative and enjoyable journey.
Dave Sherry first trekked with us a few years ago then returned to trek it again on a further two occasions. We then offered him a position as a Trek 2IC which he accepted immediately. Since then he has trekked with each of our professional trek leaders – Major Chad Sherrin, Lieutenant-Colonel Rowan Tracey and Commodore Simon Hart. He was able to glean a great deal of information from them in regard to how we conduct our battlesite presentations, how we approach our duty of care to our trekkers, how we relate to our PNG guides and carriers and how we manage our philanthropic programs in the various villages along the Kokoda Trail. This allowed him to develop his own leadership style and gave him the confidence to step up a grade.
Last year we promoted Dave to trek leader and since then he has led four treks across Kokoda. The following testimonial regarding his last trek in July 2012 is a great indication of Dave's ability to meet the standards we expect from our trek leaders:
G'day Charlie,
I promised myself upon return from Kokoda I'd drop you guys a line and say thanks for an unforgettable experience.
It was a 'bloody hard slog' – but extremely rewarding.
Dave Sherry isn't just a wonderful guide, he's a wonderful bloke, a bloke the whole group took a liking to the minute we shook hands at Port Moresby.
Our journey across the trail with Dave was everything we'd hoped for and more, you guys really do have it sussed, I felt completely moved and safe the whole way.
I still can't believe how they did it, in those conditions and terrain, I feel forever in our soldiers debt.
I was particularly impressed with AK's contributions to the local economy: funding schools, developing villages and providing medical assistance to the 'boys' and their families.
You should be very proud of the difference AK has made thus far.
Trekking Kokoda really is something else, something that every capable Australian should do once in their lifetime, as words and photo's do not, do it justice.
I'll be back.
Thanks again.
Rippa.
[aka Brad Salmon]