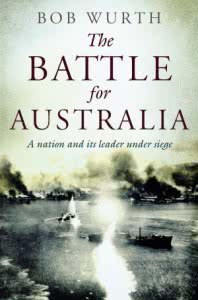 This is a must read for anybody interested in the international circumstances that led to the War in the Pacific in 1941. Following is the speech by the Governor of Westerns Australia, His Excellency Malcolm McClusker AC CVO QC, when he launched the book at Curtin University:
The first Wednesday of September each year is Battle for Australia Day.  It commemorates all of the battles, great and small, fought against Japan by the United States and Australia, to repel Japanese aggression.
Bob Wurth's book, the Battle for Australia, is a gripping account of that perilous time in Australia's history. As our Governor-General of Australia wrote in the Foreword, it fills an important gap in our knowledge of that critical period for, 70 years after the bombing of Darwin and the invasion of New Guinea, we are still learning about what happened and just how beleaguered Australia really was – to an extent which was certainly not fully disclosed at the time, for fear of causing panic.
The sub-title to the book, "A nation and its leader under siege", is very apt; for this book is not only a fascinating account of the military history of the war in the Pacific, when Australia truly was "under siege"; but it is also an insightful political biography of Australia's war time Prime Minister John Curtin.  He too, was "under siege", as Bob Wurth makes clear.
The John Curtin Prime Ministerial Library is therefore a very fitting venue for the launch of this book, which not only points out Curtin's achievements, but also his frailties, flaws and failings. [Read more…]