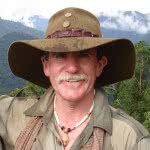 Since former Prime Minister Paul Keating visited Kokoda on the 50th anniversary of the campaign in 1992 the name has become synonymous with 'Anzac' and 'Gallipoli' because of its wartime historical significance.
The Kokoda Trail is unique because there is no other known challenge in such a remote jungle environment with such a compelling story – an experience that allows modern day trekkers to conquer their own adversity as the wartime history of the Kokoda campaign unfolds.
Kokoda, like Gallipoli, is a wartime pilgrimage where heroic stories of courage, mateship, sacrifice, endurance, initiative, egalitarianism and leadership are experienced in a way that has no equal in today's civil society.
Australians do not trek Kokoda to have an environmental levitation or a cultural awakening – that comes later.  They trek it to walk in the footsteps of the brave. [Read more…]