Our Kokoda pilgrimages for schools incorporate:
Student-Parent Treks,
Historical Treks tailored to suit school curriculum, and
Youth Leadership treks.
Student-Parent Treks

There is no greater bond of mateship, or commitment to one another, than that developed between soldiers in the crucible of war.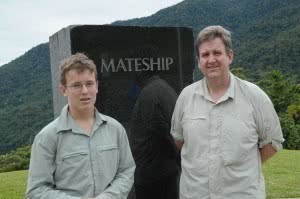 Shared adversity, extreme conditions, privation, reliance on each other and the dry humour that develops in such situations combine to forge lasting personal bonds.
In a similar way, the Kokoda Trail offers the unique opportunity to experience elements of this bonding and relationship building for students and parents in a way that cannot be replicated in normal society.  The Kokoda Trail is wilderness trekking in its most pristine form. The pilgrimage is free of the distractions of everyday life that so hinder relationships in today's busy world.
The relentless terrain, testing climate, perceived dangers (all carefully managed) of unfamiliar jungle, river crossings and grinding climbs will challenge the mental and physical tenacity of participants as they conquer their own self-doubts and replace them with self-confidence. The awe of walking in the very footsteps of our heroic 'diggers' who fought and died along the trail will put their own struggle into perspective and inspire them to conquer whatever obstacles they will inevitably face.
For the diggers Kokoda was a profound personal experience that established lifetime bonds: for student-parent groups it offers a similar opportunity to experience the power of a shared struggle in a unique learning environment. [Read more…]