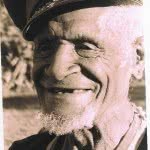 Kokoda trekkers who had the great pleasure of meeting Ovoru Indiki in Naduri village will be saddened to learn of his passing on 15 November 2013.
Ovoru was a respected chief of Naduri Village which is about halfway across the Owen Stanley Ranges east of the Kokoda Trail. I believe he would have been in his early 60's when I first met him in 1991 however it is difficult to substantiate his exact age because of the lack of records in PNG at the time of his birth.  He would therefore now be in his late 80's.
Ovoru was a teenager when war came to PNG with the bombings of Port Moresby in 1942.  Like many Papuans at the time they did not understand the war and did not know what was happening. Like many others he fled back to the safety of his village from the city. It was a long trek and he recalled to me that he was very frightened at the time. He was later recruited to help carry desperately supplies forward for the Australian troops fighting on the trail.
On his return journeys he often came across wounded Australian's who could struggle no further. Ovoru and his friends would always stop and build a stretcher to carry the wounded digger back to 'the care of doctor's at the bottom of the track' on the Sogeri Plateau.  It was a slow and tortuous journey which took up to three weeks to complete.  Ovoru was always proud that he was able to help our diggers in this way. There sacrifice on our behalf was immortalised by Sapper Bert Beros in his tribute poem, 'Fuzzy-Wuzzy Angels'. Beros wrote it in the field hospital at Sogeri whilst he was convalescing after being carried off the track.  His grandson and great-grandson have followed in his footsteps with Adventure Kokoda. [Read more…]