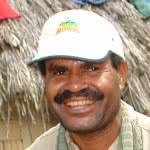 Alex Rama was my guide on my first trek across the Kokoda Trail in 1991.  At the time I had no idea what lay ahead. Alex's English was unintelligible and my Pidgin was non-existent. Our only map was an old sketch of the trail and there were no signs. There was no chance of resupply so everything we needed, plus stuff we might have needed, were loaded into our army A-frame backpacks which hit the scales around 35 kg.
It called for a large measure of trust between two blokes who couldn't understand each other.
The jungle swallowed us up in seconds and we obviously disturbed the spirits because rain soon pelted down which turned the track into a slithering mudslope.  Within the first half-hour I passed Alex at least three times on my back looking helplessly up at him.  It set the tone for the next few days as we were enveloped by our surroundings.
After a couple of days we arrived at Efogi village.  During a break Alex was indicating that we had to trek to the top of a hill to the east. I argued that the sketch map indicated that our next stop should be Kagi to the north.  I was buggared and didn't want to waste any energy unnecessarily. Alex persisted with his gestures so I picked up my pack and set off after him.  A few hours later we arrived in a village called Naduri which wasn't on the map.
Alex disappeared without saying a word and I plonked myself down in the centre of the village and pulled out my old army hexi stove to make a brew.  It was late in the afternoon and a low mist hung over the village.  By the time my cup had boiled I was aware of large group of elderly people who seated themselves at a respectful distance to observe the white stranger in their midst.  Young ones began to tip-toe towards me but quickly retreated when I looked up at them.
After about an hour there was still no Alex. I later learned it was his village and he went to see his parents – maybe his girlfriend as well! Either way I had been effective abandoned for awhile.
One older villager approached me with a large grin and extended his hand. He had the demeanour of a leader.  I later learned his name was Ovoru Indiki and he had been a wartime carrier.
Soon after another bloke with a billum and machete came over, introduced himself as Mark, and invited me to follow him. 'Where to' I asked. 'Myola' he replied. 'How long'? 'About an hour and a half' he said. I discounted the fact that he wasn't wearing a watch and slung my pack on my back as he set off up towards Tovovo Ridge in the setting sun.  I didn't see Mark again until three hours later after limping through the endless slush of the 'dry' lakebed to a warm hut on the other side.
Alex turned up about an hour after I had settled in.  I later learned that Alex was telling the villagers that I was on a reconnaissance and would be bringing Australian's back to trek across the trail.  This was news to me but I didn't argue.
A couple more hard days and nights saw us arrive at Eora Creek – the most treacherous of all crossings along the trail in the wet season.  It was not a reassuring sight.  Alex told me to wait then headed off to the edge of the thundering whitewater with a coil of rope to check out a crossing point.  After a couple of hours and many probes he decided we would go further downstream and fall a tree to create a bridge to what was a small island.  Our next obstacle was gap of around two metres between two large rocks with a funnel of rushing of water between them.  Alex secured the rope to the tree trunk we had felled then stood on the nearside rock with the rope coiled in his hand. He bent his legs, rocked slowly back and forth then leapt into the air. He landed on the other side as if he had suction cups on the bottom of his feet. He looked back and flashed the biggest grin I had seen him display thus far.
He then then secured the rope and beckoned me to jump into the current between the rocks.  It was yet another leap of trust and very difficult to edge forward with the pressure of the water against my backpack. The expression on Alex's face matched the rock he was standing on as he stretched his arm out and beckoned me closer. It seemed an eternity before he was able to clench my hand in a vice-like grip and haul me up onto the rock.  Another big grin from Alex said it all.
It had taken us almost seven hours to cross.  We took some time out before getting back on the track.
A couple of days later we trekked into Kokoda. A journey I could never have completed without Alex.
Over the next year, in the lead-up to the 50th anniversary of the Kokoda campaign, I visited Port Moresby a number of times. It was not a popular destination in those days and as I left the plane I would always see Alex and a few of the other boys waiting on the on the side of the wire at the old airport.
After awhile I began to get the feeling I was arriving home rather than paying a visit.
I returned in April 1995 with around 20 people to get Alex to lead us from Kokoda back to Owers Corner then march down off the Sogeri Plateau via Snake Road to attend the 50th anniversary Dawn Service at Bomana War Cemetery. We stunk enough for the pre-dawn crowd, which included former Prime Minister Paul Keating, to part when we walked through.
Alex led every trek I organised over the next 10 years. He had assembled a loyal group of guides and carriers who were truly masters of their environment. I have lost count of the number of time he would pick up an exhausted trekker's backpack and sling it on top of his own to continue the trek up a mountainside.  He was a man of few words but there was never any doubt trekkers mind who was the boss-man!
To me he was indestructible.
In 2004 we developed our logistic base at the Sogeri Lodge and put Alex in charge of the receipt, issue and storage of our camping gear and made him responsible for recruiting our guides and carriers from villages along the trail. He was highly respected by them all.
In November 2013 he joined us again on the trail to help lead the Penrith Panthers across our 10 day route in six days. It was an epic trek with pre-dawn starts and a few night treks. On one occasion we lost the Panther's star recruit, Jamie Soward who took a wrong turn and headed off towards Tovovo Ridge from the Kagi Gap. Jamie eventually ended up in Alex's home village of Naduri before meeting up with the group at Kagi.  We dispatched a couple of search parties out from the Kokoda Gap as dusk fell and were left with the problem of having to get two additional backpacks down to Kagi.
Alex stepped forward, slung one onto the top of his pack and strapped the other one to the front of his body, gave a grunt and a grin then headed off down the mountain.  It was the Alex of old.
When I was at Sogeri Lodge after our Centenary of Anzac Trek I was told that Alex had taken sick and was in Port Moresby hospital.  A couple of days later I was told that the doctor had told him there was nothing they could do for him and he should go to his brothers place.
Tonight I was received a call to say that he had passed away at 8.00 PM.
For me Alex's sad passing represents the end of an era 25 years after sharing an epic experience that is vividly recorded in my mind.
I will never forget Alex.  Over the years his English never improved and my Pidgin is still non-existent. But we didn't have to speak to communicate. We shared gestures that often led to bursts of laughter – but when the going got tough – Alex got going – and we always made it through.
RIP Alex. You were a great bloke – a great leader – a great friend – and you will never be forgotten for as long as I trek. The Kokoda trekking industry might never have been if it hadn't been if it hadn't been for the respect you commanded from local village leaders during those turbulent times. I look forward to meeting you again someday 'on the other side of the wire'.