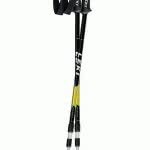 When we first started trekking more than 20 years ago our PNG guides would cut us a few sticks and these acted as a prop for the steep climbs and descents, creek crossings and slippery sections. Trekkers then began to bring their own trekking poles with them so I thought I should give them a try. For the first couple of treks I used a single pole but after awhile I brought another one to use. I now wouldn't trek without them.
Good quality trekking poles such as Leki are light, strong and easy to adjust. I shorten my poles for the steep climbs to allow me to leverage off my arms and ease some of the weight off my legs. I lengthen them on the steep descents and use them as a break to ease the pressure of my knees which give me a bit of curry from time to time. I adjust them to just above waist height for flat sections and I find they provide good leverage and allows me to use my upper body to share the workload.
But most importantly, trekking poles are grear for balance.  The trail can be muddy and the rocks can be very slippery.  After awhile your trekking poles, because they are so light, become virtual extensions of your arms to be used instinctively to correct your balance if you take a wrong step.
They can also be used to dry your socks and jocks over the fire at night, hang your hat and sweat rag on when you take a break, etc, etc.
I simply wouldn't trek without my Leki's.
You can check a YouTube video on Leki Trekking Poles by clicking here.
Please let us know what you think about trekking poles – and tell us about your favourite brand.