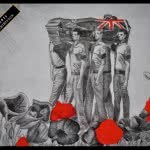 Adventure Kokoda is a proud sponsor of the RSL Anzac Art Awards announced by NSW Premier Barry O'Farrell and NSW RSL President, Mr Don Rowe AM in Sydney last Friday.
The awards comprise a colouring and art competition for all NSW School students.
Primary students from year 1 to year 6 can select one of the 10 stencils on the website abd creatively colour it in.  They then get enlist the help of mum or dad to photograph it and submit it to the website entry page for this section.
Secondary students from year 7 to year 12 are required to submit a sketch or painting on a theme advised by the RSL.  This year the award theme is 'The Poppy'.  They then submit a photograph to the relevant section on the website.  Original artworks will be submitted to the RSL in late November for final judging.
Adventure Kokoda is sponsoring the NSW Premier's Kokoda Anzac Art Award with an Anzac Medal and a trek across the Kokoda Trail for the winner.
Click here to view the webiste for the RSL Anzac Art Awards
Theme: The Poppy